[ad_1]
SAN DIEGO, California – When trying something new we all start as beginners and either have help along the way or learn the rules step-by-step as we go learning from each experience. Mistakes are inevitable, they happen to the best of us so in order to give you a jumpstart and get you some insight on what you should avoid while SUP surfing we've chatted with some of the best in the business to give you some tips. Check it out:
1. Avoid Crowds
As someone who isn't well-versed in the etiquette of stand up paddle surfing, or rather, surfing in general, it is important to know that there is usually a negative stigma associated towards stand up paddle surfers. With this in mind, it is advised that you avoid crowded lineups: one reason being that you don't want people moaning and groaning because you're out there, and another reason being that as a beginner you're not going to be completely comfortable or fully in control of yourself or your surroundings so you don't want to put yourself or others at risk or in danger of getting hurt.
Crowded lineups are not ideal for beginner SUP surfers. | Photo: ISA / Sean Evans
"As a beginner, you're not quite used to your equipment and you don't really have the basics down so paddling out where is crowded is a bad idea," says World Champion SUP surfer and SIC Maui athlete Caio Vaz. Vaz added, "You can hurt yourself and others around you."
ISA World Champion and Starboard SUP athlete Sean Poynter added to this point by saying, "It's not going to help you out, it's not going to help anyone else out because as a beginner you can very well be a hazard yourself. Find a break with no-one out, it will be easier for you to get the hang of the ocean environment when you're all by yourself."
2. Make Sure Your Board is the Proper Size
One huge mistake stand up paddle surfers make is riding a board that too small or too big. Having a board that is too small or big can ruin your experience in the water. "If you have too small of a board you're never going to catch a wave and you're not going to have fun," says professional SUP surfer and Naish athlete Noa Ginella. And, on the other side of the spectrum, having a board that is too big can also cause issues like not being able to fully control the board. A great size to start with would be around a 10-foot board.
Pros like Caio Vaz (pictured) ride such small boards that they barely float when being paddled on. This, however is a process that takes time and practice to develop the skills. | Photo: ISA / Sean Evans
3. Don't Paddle Straight to the Peak
Paddling straight to the peak is one of the biggest no-no's that you can make as a SUP surfer. Unless you're paddling out to a lineup where you are a respected local and people know you, you definitely do not want to paddle straight out to the peak the moment you get in the water. Rather, you want to make your way out slowly, sitting on the inside and catching the leftovers that no one wants to show your respect and also to show others that you know what you're doing.
Paddling in to a wave from the peak. | Photo: ISA / Sean Evans
"Even if you have been to the break before you still shouldn't paddle straight out to the peak," says Noa Ginella. Ginella continues on to say, "Work your way out there. Start catching a few on the inside and give people distance. Establish to others around you that you are comfortable on your board and that you know what you're doing."
Champion stand up paddler and Werner Paddles athlete Fiona Wylde adds to this by saying, "Do not paddle out into a crowded line up and just start catching all of the waves. You want to be respectful and know the lineup. We are all out here for the same reason, but there are rules that you need to abide by when you are surfing."
4. Make Sure Your Leash is Long Enough
Wearing a leash should be a given when you're stand up paddle surfing as it is extremely dangerous if you aren't wearing one. However, wearing a leash can also be dangerous if you're not using the proper length of leash so it's important that you are using the right type of leash for SUP surfing. If your leash is too short, you put yourself at a higher risk of your board being slingshotted at you once the leash stretches to its max, which can hurt and cause some serious damage to you or someone else. If your leash is too long, it can be a hazard of others getting caught in your leash, or also allowing your board to hit someone that is near you. A good length to have your leash would be to have it at minimum the length of your board and no longer than a foot longer of the length of your board.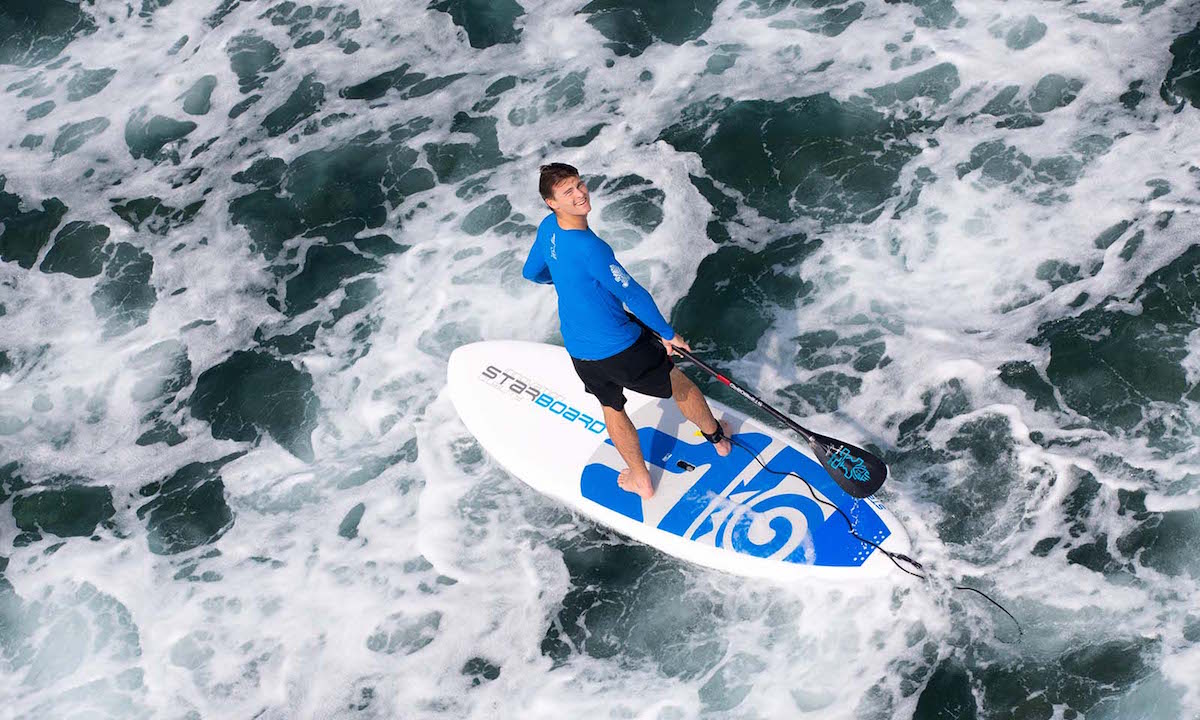 Pro SUP surfer Sean Poynter. | Photo: Starboard / John Carter
5. Know Your Limits
Being overly confident can be a big mistake in the SUP surf world. While confidence is great, you don't want to be overly confident and put yourself into a situation that is too dangerous or that you cannot handle. It is important to know your limits and know when to pull the plug on your session once you know that you're in over your head.
Know when you've reached your limit. Izzi Gomez (pictured) reaching her limit in Fiji. | Photo: ISA / Sean Evans
Implementing these tips and mistakes to avoid into your next surf session should help you to have a great SUP surfing experience. Do you have any recommended mistakes to avoid while stand up paddle surfing? Share your thoughts in the comments below!
To see more SUP Surfing Tips, click HERE.
© Supconnect.com Copyrighted Exclusive Content
[ad_2]
Source link