[ad_1]
SAN DIEGO, California – One of the best things about paddle boarding is the ability to do it just about anywhere… as long as there's water. The downside? Traveling with a paddle board isn't always the easiest, especially when you've got a 14-footer. We checked in with some of SUPs best athletes, and pro world travelers, to share their tips on how to travel with a paddle board. Check it out:
1. Do Your Research
A major lesson that's been a process of trial and error for those who wish to paddle with their SUPs have resulted in them learning the need to do their research beforehand. Because the sport is so relatively new, most airlines don't even have policies on paddle boards, so it's important to research and find out what the policies are for the airline you're traveling on.
"For Air travel, it's a good idea to check the airlines 'surfboard' policy so you know how much they are supposed to charge you," says Fiona Wylde. "Sometimes check-in agents don't know how to categorize long surfboards, so if you have the details for how much you need to pay ready to present to them, it makes the process go much faster."
"Double check the airlines baggage policy before you book," says SIC Maui's Seychelle Webster. "Most do not have a category yet for paddle boards and most have size restrictions on surfboards but most do not have size restrictions on "windsurf" boards. I have had to travel with my 14' "windsurfer" before to ensure the airline would accept my luggage. It's also a good idea to call the airline 48 hours in advance to book space for your large item."
2. Fly Nonstop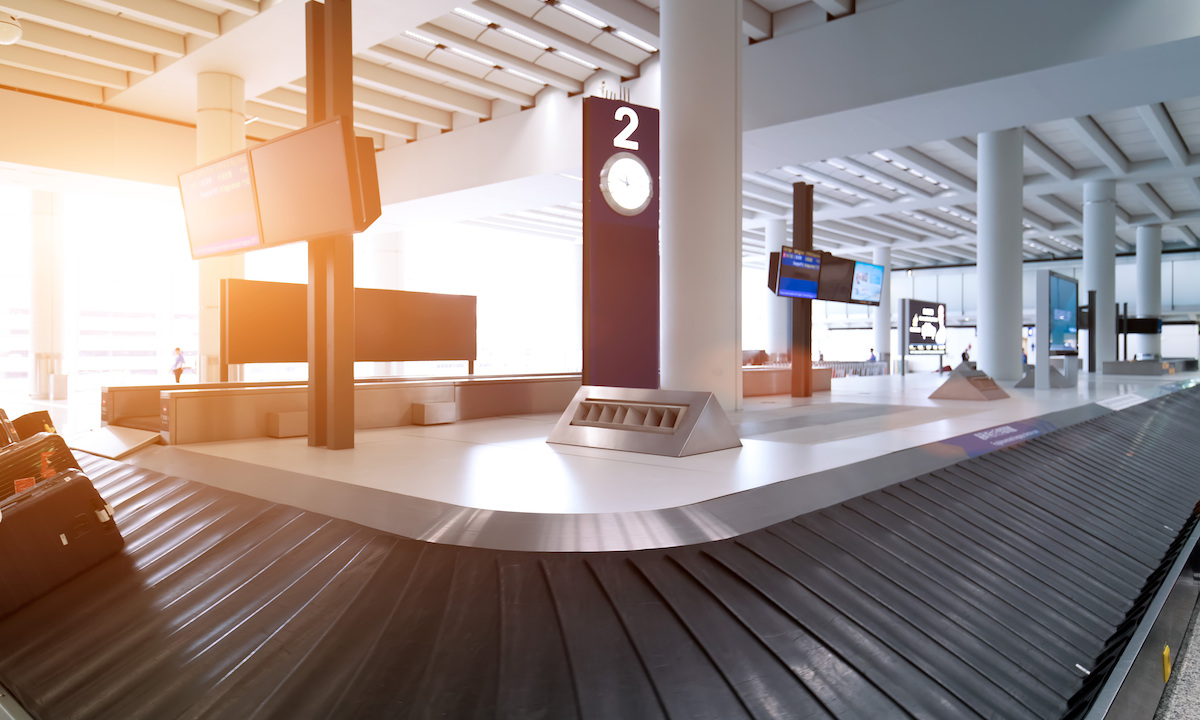 Photo: Shutterstock
Flying nonstop, while sometimes might be the more expensive choice, it's the choice that gives you a better chance of arriving to your destination with your gear in one piece. Without having layovers and plane transfers there's less of a chance that your paddleboard won't make the connecting flight, and with less movement between planes through transfers, there's less of a chance that your board will arrive damaged.
"Book a nonstop flight," recommends Seychelle Webster. "The risk of something going wrong while transporting your boards, and all luggage in general, is significantly higher when you have a connecting flight. Nonstop flights also usually ensure the plane will be large enough to handle your board."
3. Protect Your Board
When flying with your paddle board it's almost a guarantee that at some point whether it's one trip or the next, that your board will arrive damaged. It's unfortunately the name of the game when flying with such fragile goods but can be avoided most of the time if you pack your paddle boards carefully.
"One of most important lessons I've learned is to make sure my gear is appropriately packed, says newly crowned Paddle League World Champion, Lincoln Dews. "A good quality bag, with appropriate padding inside goes a long way in both protecting your board and looking okay to help when your sweet talking your way onto the plane."
"Package the F out of it!" says Seychelle Webster. "Cardboard, bubble wrap, foam noodles, foam blocks, or all of the above. Then, get a good quality padded, travel bag and place it all inside."
"-Starboard has some reenforced boardbags, so you don´t actually need to wrap the board in carton or bubble plastic," notes Sonni Honscheid. "I normally use two board bags for one board, just to be on the safe side."
4. Switch to an Inflatable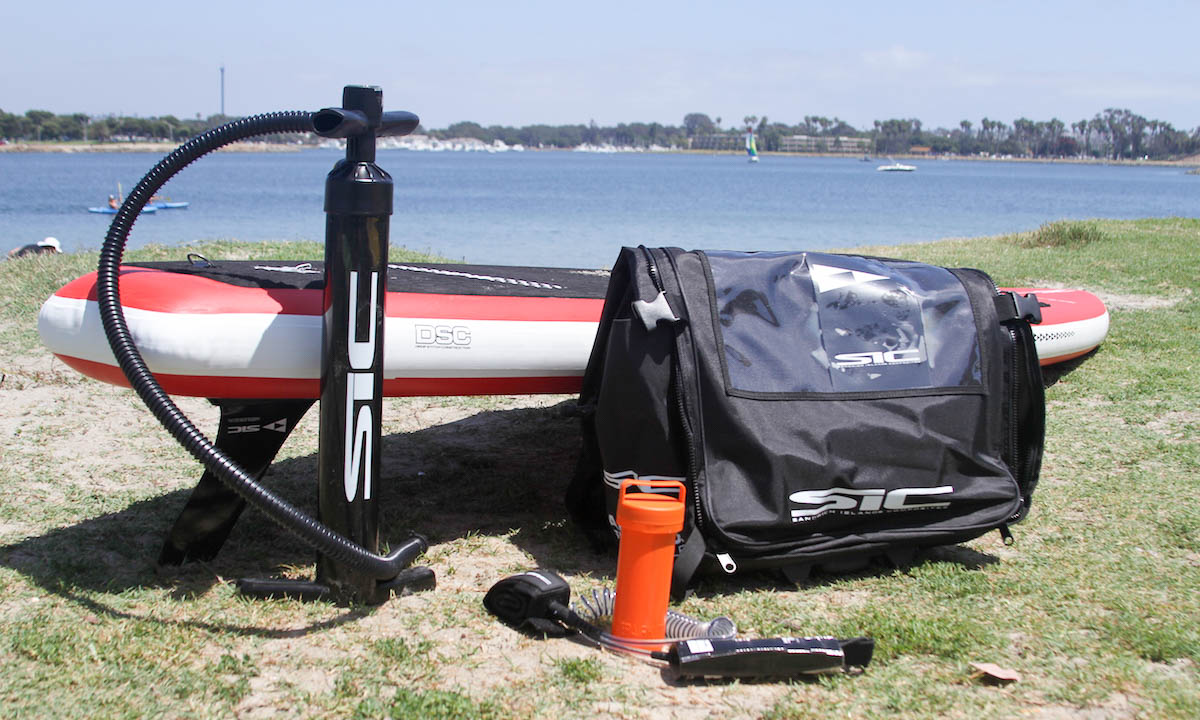 Photo: Supconnect 
If you're not traveling for a race or somewhere where it's crucial to have a composite board, try and switch to an inflatable for your trip. Bringing an inflatable can completely solve the hassle of dealing with ticket counters and airline policies since inflatables count as a checked bag.
"For an all around SUP, I would strongly recommend taking an inflatable with a 3-piece paddle," says Seychelle. "These pack up nicely inside a single checked piece of luggage. There is often room inside the bag for extra bulky items you might be traveling with like shoes or snorkel gear."
5. Be Friendly
Yes, board fees are frustrating, there's no doubt about it. But getting frustrated with the counter agent won't do you any good. Having a friendly attitude however might come in handy from time to time when trying to avoid extra baggage fees, oversized baggage fees, etc.
"Being polite can go a long way," says Lincoln Dews. "You'd be surprised how far a friendly smile can get you, especially when it comes to extra baggage."
"At the airport counter be friendly and assure the staff member it can be done and you've done it with the airline before," says Michael Booth. "Also, make sure to give yourself extra time at the airport, don't get there just before departure as to get your board through it will always take longer."
6. Bring Your Own Straps/Soft Racks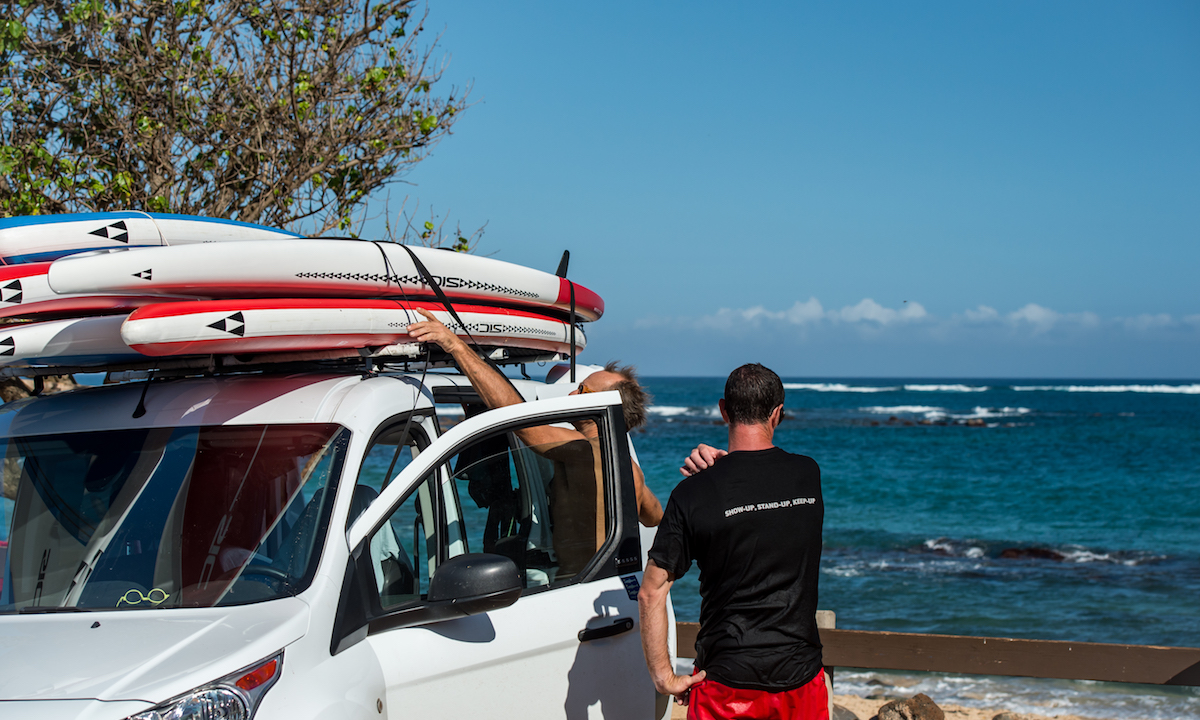 Photo Courtesy: SIC Maui.
Once you've arrived at your destination with your paddle board in tow you've either hired transportation or rented a car on your own and unless your transportation is a truck or van that fits the boards inside, you're going to need some straps or soft racks to get your paddle board on top of the car. You can't count on your transportation providing these items so it's important that you bring them yourself.
"A must have when traveling with board bags," says Lincoln Dews. "For Ubers, hire cars and anywhere you need your boards to go."
"Always hire a car. It makes it a lot easier getting to and from airports and to paddle spots," notes Michael Booth. "Make sure it's got a long roof so the board sits on it flat and comfortably. When tying the board on the roof there are many tricks but what I would recommend is finding a mounting point at the front of the car, either the recovery point or the bonnet launch I find perfect. You can also loop the board with longer straps and use the boot hinges as mounting points at the back."
Traveling by plane with a paddle board can definitely be rough sometimes but hopefully with these tips from the pros it will make your travels that much easier. There's nothing more rewarding than jumping off a plane and into the water with your own equipment!
© Supconnect.com Copyrighted Exclusive Content
[ad_2]
Source link