[ad_1]
LONG BEACH, New York – Day 2 of the APP World Surfing Tour's competition in Long Beach, New York held some surprising moments and outstanding performances as athletes began to shine at Stop #1 on the 2018 World Tour. Round 2 and 3 of the competition saw several top competitors knocked out and young hopefuls begin to rise to the challenge in the surf in Long Beach. We are headed toward a grand finale this weekend!
Men
Day 2 was held in small 2-3 foot surf, making the athletes work for their turns and maximize their speed for maneuvers. Kai Lenny turned up the heat in Round 3 against Justin Holland where the two exchanged waves and peak performance styles to lead off the exciting countdown to the Quarterfinals. Kai prevailed but not before Holland gave him a proper run for his money.
Round 3 also saw Wellington Reis knock out Camille Bouyer in a strong performance that had the Brazilian smiling all the way back to the competitor's camp. "I feel so blessed right now. I'm so happy," he said about advancing to Round 4, that is likely to kick off Friday morning, Sept 21st.
Tamil Martino took down Fanatic legend Airton Cozzollino in his heat. "Airton is an amazing player," Martino concedes. "I am happy to have made it through the round against him."
Photos Courtesy: APP World Tour / John Carter
Ever competitive, World Title Contender and Starboard athlete Sean Poynter edged out Alex Pinto with solid scores from the judges. Sean credits the stellar teaching from his coach, Ian Cairns as part of his success this week. Lastly, Tahiti's Poenaiki Raioha scored the highest wave of the day in his heat against young Dave de Armas from Puerto Rico. "I waited for the right wave," he says. "And, I'm happy I did because it afforded me the chance to execute the maneuvers to get that high score."
The remaining Round 3 heats will take place first thing Friday morning.
Women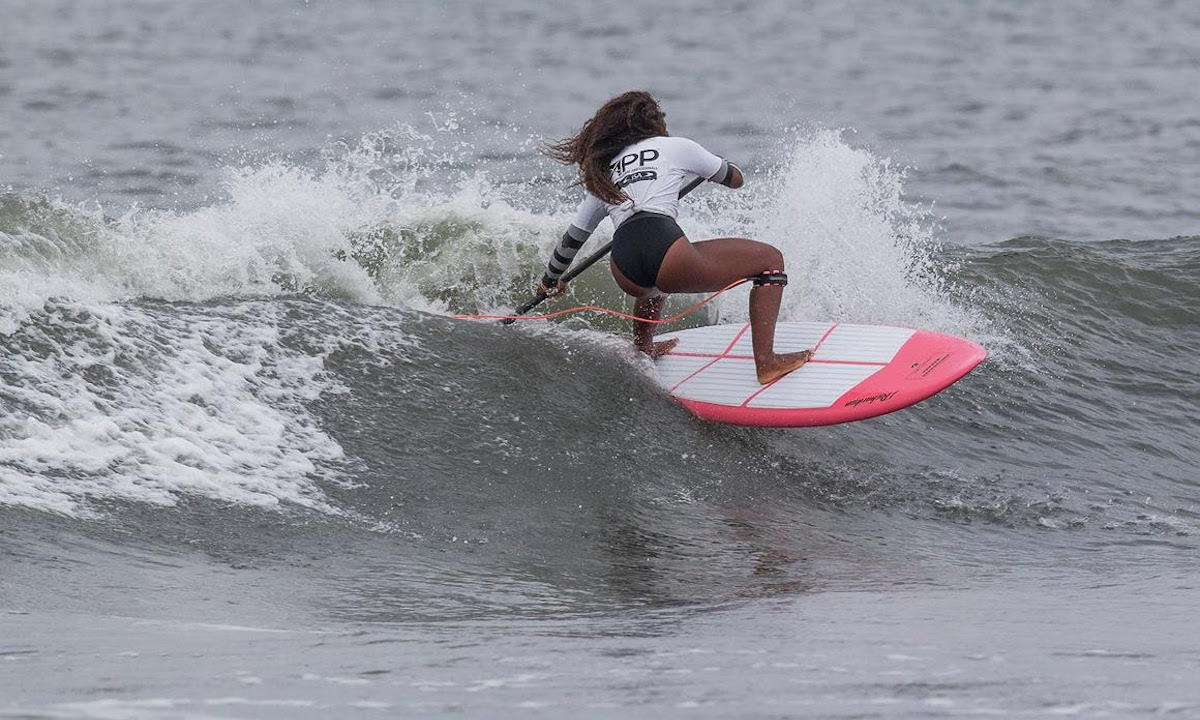 Dominique Miller turned quite a few heads with her performance on Day 2. | Photo: APP World Tour / John Carter
The Women's Round 2 held some upsets and surprises. The gals were given first go at the surf Thursday morning with a first heat at 7:30AM. Cleaner conditions and a 2-3 foot swell gave the girls a chance to showcase their talents here in Long Beach.
One of the highlight stories is the journey of young ProAm surfer Dominique Miller from Hawaii. Dominique arrived to test her skills and registered for the ProAm event. She quickly proved herself as one of the better riders and advanced into the Main Event. Her ProAm heat was immediately followed by her next round where she squared off against Brissa Malaga and Vania Olivieri Torres. Advancing again to Round 2, Dominique entered the surf on Thursday against the formidable force of Naish's Annie Reickert. These two gals, similar in age and a few islands apart, held down a good show here at the APP World Surfing Tour only to have Dominique edge out Annie to advance herself to the Quarterfinals.
"I am so happy," said Dominique. "I came all this way and I wanted to compete. I'm so pleased to be in the Quarterfinals… I have to surf against Izzi Gomez there, but I'm looking forward to the experience and will do my best."
Left: Candice and Terrene hug it out after an intense heat. Right: Vania Torres ripping. | Photos Courtesy: APP World Tour / John Carter
In a surprising twist to the day we said goodbye to some legends today as both Aussie World Champion Shakira Westdorp and San Clemente's Queen of SUP Candice Appleby both got upset in their Rounds by formidable opponents. Candice Appleby squared off against Terrene Black in Round 2. Both extremely capable riders, Appleby looked strong in her heat catching multiple waves and proving she could generate speed down the line even in less than optimal surf.
But Black waited and surfed each wave will, skill and intelligence. Her wave choices and strategy for maximizing every ride created a building dynamic throughout the heat. Appleby scored. Black answered. Back and forth the friends raged until the final horn sounded. Black had surfed a solid, clean heat with excellent wave selection and was able to edge out Appleby for her seat in the Quarter Finals. What a showdown!
In another great upset from the day, young Vania Olivieri Torres from Peru managed to outsurf multple-time World Champ Shakira Westdorp. Westdorp dropped into the heat with her characteristic strength and power. Fearless in the waves, her strengths include riding every wave to completion and taking chances where there are none. Torres also surfed smart, clearly knowing the advantage Westdorp had, Vania chose to ride the second sandbar throughout her heat which gave her extended rides and more time to add maneuvers to each wave. Wave by wave and point by point, Torres built her game plan.
It came down to the wire when the final horn blew and no one knew who had won. With Torres' final score on the boards, the judges announced the win to her and the young Peruvian broke into a huge grin as she ran up the beach to celebrate with her coach and teammates.
Stay tuned for more updates as the event progresses on into the weekend.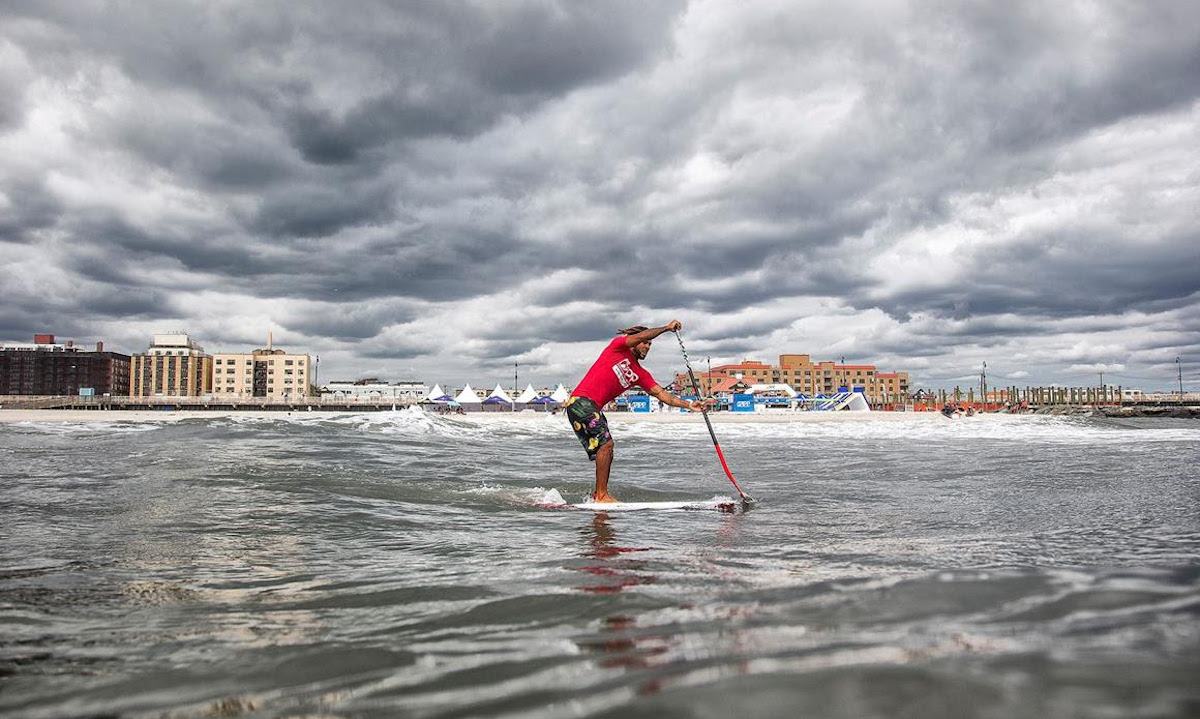 Photo Courtesy: APP World Tour / John Carter
About the APP World Tour and Waterman League International
The APP World Tour is the Professional World Championship Tour for the Sport of Paddlesurfing (also known as SUP / Stand Up Paddling / Paddleboarding), officially sanctioned by the IOC recognized Federation for Surfing Sports, the ISA (International Surfing Association). Re-branded in 2017 as the APP World Tour (previously known as the Stand Up World Tour and Series) the APP has been crowning the sport's World Champions for both Men & Women across Racing and Surfing since 2010.
The APP World Tour produces a complete inventory of programming, including live and post produced broadcasts from its events, with distribution to over 100 countries worldwide via premier global networks such as CBS Sports and Fox Sports Asia & Australia. More Information is available at www.appworldtour.com and fans can follow events @appworldtour on Facebook & Instagram. For more information on the APP's City Paddle Festivals please visit www.citypaddlefestivals.com
[ad_2]
Source link