[ad_1]
As many people might know already, Holland is a country filled with water, a shore line along the country, lakes, rivers and lot's of canals to wander through on a paddleboard. One of the best places to go out for a paddle is Amsterdam, famous for its beautiful canals and bridges.
Highlights
Sights around Amsterdam from the water. | Photos courtesy: Morene Dekker
Amsterdam has always been known and famous for her waterways, initially meant for cargo and since the late 60's tourists are enjoying the the most original way to experience the city. By boat, waterbike or in a canoe or kayak. Nowadays you can also experience the beautiful city by paddleboard all year round! What makes it most fun is that it is a small city but has so many canals that you could paddle around all day long without passing the same canal or bridge, and if you do you probably wouldn't even notice. During a paddle tour with M&M SUP in Amsterdam you will pass enough highlights such as the canals, Skinny Bridge, Seven bridges, Amstel River, Maritiem Museum, the Amsterdam replica ship, De Gooyer windmill, Old Church and also the Red Light district could be an option for a paddle tour. If you have never paddled before not to worry, the great team of instructors always include a little tour into a beginner lesson to make sure you always get to see some of Amsterdam's highlights.
Seasons
Year-round paddling is available in Amsterdam. | Photos courtesy: Morene Dekker
The best season to go out paddleboarding in Holland is April till October, but if you're an experienced paddler fall and winter in Amsterdam can be stunning as the canals are quiet and the city itself is less busy at that time of year. During the season M&M SUP has a SUP location based in Amsterdam center, 100 meters next to an original windmill (Gooyer see picture md) and for those who are more into open water and outdoor paddles they also have a SUP location at the IJburg city beach located at the IJ-lake. This is about a 10 minute tram ride or 25 minute bike ride from the center.
The IJ lake is the huge inland fresh water lake that counts about 260 km2. From the IJburg beach it's an option to paddle to Durgerdam or Muidercastle (see picture md) which are both very beautiful and actually must see places if you have the time to book another tour next to the city tour. Of course for some of these tours paddling experience is required or they might adjust routes due to weather circumstances.
Other Paddlers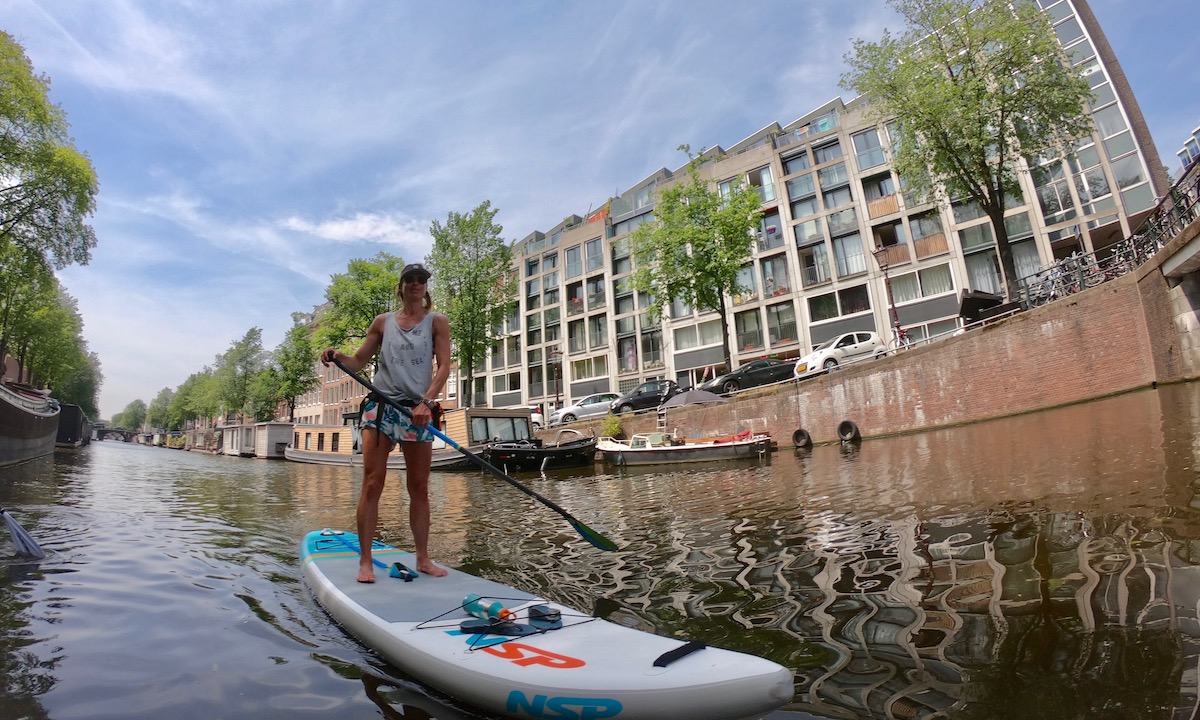 Morene Dekker of M&M SUP in Amsterdam. | Photo courtesy: Morene Dekker
Since 2011 pioneer Morene Dekker, founder of M&M SUP Amsterdam, has been taking people out for SUP classes and SUP tours in Amsterdam and the surrounding areas. Morene started paddling herself in 2009 and as she was the first one to paddle around in Amsterdam many people on the shore asked her where they could learn paddleboarding and join tours to experience the Dutch waterways this unique and active way. As there was no place to rent a paddle board or learn this accessible new sport, the idea was born and in 2011 M&M SUP was founded; offering SUP beginner classes, SUP yoga and organizing SUP tours. Within a couple of years people discovered stand up paddle boarding and Amsterdam became one of the most fun cities on Earth to paddle. The city is well protected from wind, has hardly got current and the only chop you might experience is from passing boats on a busy summer day.
Jen Scully Yates from Dubai has paddled all over the world as the founder of LiveLoveSup and she loves Amsterdam: "Its simply a must when visiting and it's also a great way to meet other stand up paddlers. I have paddled in about 25 countries and Amsterdam remains as a top destination. Being able to experience the city go by while you paddle by looking at the houseboats, the architecture, the beautiful covered bridges is just a great way see from a different view. You might have to contend with some boat wake, but with stable boards and plenty of support and instruction it's not a problem for even newer paddlers."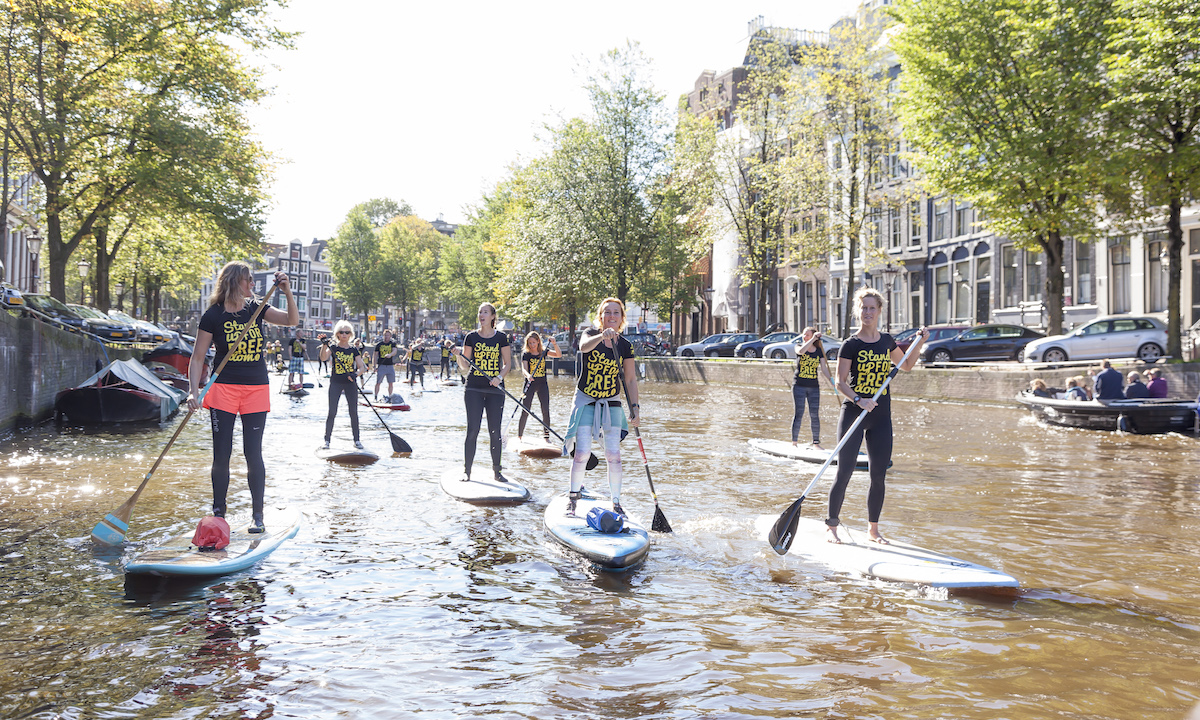 On tour with M&M SUP. | Photo courtesy: Morene Dekker
M&M UP Stand Up Paddling Amsterdam is open for a variety of sup classes from April – October. You can either book one of the group classes or contact them for a private sup class or tour. In season you can either book a session in Amsterdam or at the IJburg beach. Of course it is also possible to book some tailor / custom made multiple-day tours if in Amsterdam long and want to see more of the city and area around. Off season October – March it's only possible to book a private sup session or sup tour: one – eight persons. In winter the sup tours always start at Funenkade where the windmill is located.
To explore more SUP destinations, click HERE.
[ad_2]
Source link