[ad_1]
PERTH, Western Australia – In sunny conditions with south-west winds picking up 15 to 18 knots, over 100 competitors entered from around Australia and overseas and began the 24-kilometer Stand Up Paddleboard race from Dawesville Cut to Secret Harbour on Sunday, December 1st.
Australians James Casey from Sydney and Angela Jackson from the Gold Coast were crowned the respective King and Queen of the Cut crossing the finish line at Secret Harbour first in the men and women's categories of the 2019 Stand Up Surf Shop King Of The Cut. Both smashed the race records. Casey with a time of 1:40:18 finished 7:06 minutes faster than his time last year and 56 seconds faster than the record that was set by Jake Jensen in 2017. Angela Jackson won the double, the Queen of the Cut and the first 14-foot board, with a time of 2:05:13 smashing her own record by 2:28 minutes that she set in 2017.
James Casey. | Photo: John O'Sullivan
James Casey has won back-to-back Stand Up Surf Shop King Of The Cut, this year in 2019 and 2018 and he also finished second but on a foiling SUP at the Shaw and Partners Doctor last Saturday.
"I'm absolutely stoked to take the win," Casey said. "The conditions were great, the wind came in as we started and the bumps were linear and I was just surfing, you can't really ask for anything more," said the 28-year-old. He continued, "I'm stoked with this win. Michael Booth wasn't here last year and he's one of the best SUP racers in the world. In flatter conditions, he's unbeatable so I was thankful that the wind picked up."
In the men's, finishing a close second to Casey just 47 seconds behind was ISA World Champion Michael Booth (WA) and in third place was 17-year-old Sam McCullough who was also the first 14-foot stand up paddleboard across the line.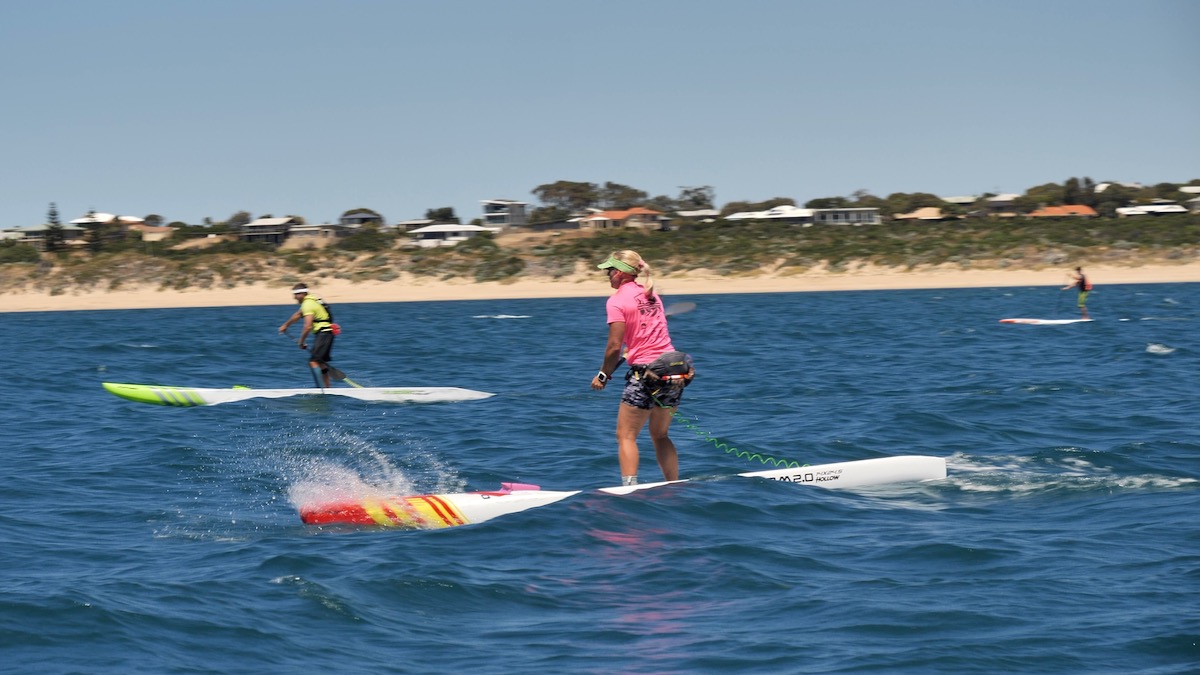 Angie Jackson. | Photo: Reflex Films
Angela Jackson who wasn't able to compete in the Stand Up Surf Shop King Of The Cut last year due to an Achilles injury, said that her goal in her 15-month recovery was to be fit for this year's Stand Up Surf Shop King Of The Cut. "To win my come-back race is awesome and to beat my record is amazing. This sets me up really well for 2020 – I plan on doing most of the EuroTour and in the US-based races."
Jackson was also the first female 14-foot board over the line, and along with first male Sam McCullough, both winning a travel voucher from Broadway Travel and free entry into sister-event, the Hood River Challenge in Oregon, USA. Equal prize money was awarded to males and females, each receiving $1,000 and the coveted 'saw blade' trophy.
The eighth Stand Up Surf Shop King Of The Cut, Australia's most prestigious Stand Up Paddle (SUP) race and one of the world's fastest downwinders, included competitors from Japan, Singapore, New Caledonia, Switzerland, Ireland, New Zealand, Greece, Sweden and across Australia.
Left: Guy Linton in the Wing Foil Division. Right: Ben Tardrew in the SUP foil division. | Photos: Reflex Films
The other categories included this year were foiling SUP, wing foils, outrigger canoes and prone paddleboards. First place in foiling SUP was Ben Tardrew (Qld), who also finished first at Shaw and Partners The Doctor last Saturday. "I grew up in Falcon and used to do this run all the time with my brother. It's awesome to be able to enter and event of this calibre in WA," Tardrew said.
This year, the 12-kilometre race was held on the same day and started at the same time as the main race, from Dawesville Cut and finished at Doddies Beach, Halls Head in Mandurah. Finishing first of 23 competitors the 12-kilometer Stand Up Surf Shop King of the Cut fastest was Wade Carberry (NSW).
On Friday, event organizers made the call to utilize the event's two-day window to move the race from Saturday to Sunday 1st December citing better conditions. SUPWA King of the Cut Race Director Steve Malcolm said that competitor safety would always be paramount.
"An offshore breeze poses a risk and our top priority is competitor safety, so that's why we moved the race to today (Sunday)," Malcolm said. "The conditions were near-perfect today and we had a good, safe event."
The Stand Up Surf Shop King of the Cut is supported by the Stand Up Surf Shop North Fremantle, Western Australian State Government, City of Mandurah, City of Rockingham, Broadway Travel and SUPWA.
For more information visit kingofthecut.com
Results 2019 Stand Up Surf Shop King Of The Cut
2019 Male Pro Class (14′ or Unlimited) – 24km
James Casey – 1:40:18 (Northern Beaches, Sydney NSW)
Michael Booth – 1:41.05 (WA)
Sam McCullough – 1:45:29 (WA) – first 14-foot
Ty Judson – 1:45:58 (NSW)
Clement Colmas – 1:49:41 (New Caledonia)
2019 Female Pro Class (14′ Only) – 24km
Angela Jackson – 2:05:13 (Qld) –first 14-foot
Marie Buchanan – 2:12:31 (UK)
Jade Lane – 2:13:55 (WA)
OTHER CATEGORIES
Foiling SUP – 24km
Ben Tardrew 1:23:05 (Qld)
Paul Jackson 1:24:45 (Qld)
Marcus Tardrew 1:26:09 (WA)
Wing Foil (demonstration category) 24km
Guy Linton 1:34:40 (Qld)
Scott McKercher 1:53:20 (WA)
Kent Wright 2:24:06 (WA) 
Outrigger – 24km
Adam Fahey 1:43:23 (WA)
Mac Nichols 1:45:20 (WA)
Brett Buller 1:50:32 (WA)
Prone Paddleboard – 24km
Neil Atkinson 2:38:47 (WA)
12km
2019 Male Pro Class (14′ or Unlimited) – 12km
Wade Carberry – 0:57:35
Tyler Tai – 1:12:20 (Hong Kong)
Paul Goodwin – 1:14:00 (WA)
2019 Female Pro Class (14′ Only) – 12km
Aya Okano – 1:17:05 (WA)
Tashka Goswell – 1:19:30 (WA)
Tracey Mouque – 1:2135 (Qld)
[ad_2]
Source link