[ad_1]
SAN DIEGO, California – Premium Lifestyle Essentials brand Red Original has just launched an amazing new Dog Buoyancy Aid to keep your four-legged friends safe when they are in and around the water. Whether you're a paddleboarder or surfer, kayaker or sailor, staying safe on the water should be the number one priority of any water sports enthusiast. Personal flotation devices like the Red Original Airbelt PFD are commonly used to help keep people safe, but Red Original wanted to make sure that there was something for their four-legged friends as well.
The Red Original Dog Buoyancy Aid has been designed to help dogs maintain a positive and comfortable swimming position. It achieves this thanks to strategically placed foam of varying thicknesses that line the buoyancy aid throughout. This foam supports key areas of a dog's body and allows them to conserve energy, prolonging their life should they get into trouble in the water.
Professionally designed by water sports enthusiasts who also happen to be passionate pet lovers, the Red Original Dog Buoyancy Aid provides support without hindering movement or maneuverability. The wide front leg opening allows for free, unimpaired movement and they have selected to use Cordura® Fabric throughout to ensure there is enough 'give'. Having said that, while it is indeed flexible, Cordura® Fabric was chosen as it is also hard-wearing, tear-resistant, abrasion-resistant, and – needless to say – water-resistant.
Photos courtesy: Red Paddle Co
Clearly built to last, the Red Original Dog Buoyancy Aid has been packed full of thoughtful features that make them convenient for both pet owners and the dogs that wear them as designer Katie Eaton explains: "Whilst designing this product it was important to look at the design from both a human and animal perspective. The main focus of the project was floatation, and whilst this was key other important factors that needed to be addressed were handle placement, the dogs swimming position and adjustability. The four grab handles needed to make the jacket as easy as possible to use and have been specifically placed to allow the owner to safely assist the dog when in the water without placing extra strain on their lower back. It was important that a user could pull the dog out of the water from multiple positions and situations in the water. We also wanted to make sure that any clips we used were easily accessible by the owner whilst not near any points on the dog that could be caught, this makes the jacket more enjoyable for both owner and pet."
Eaton continues "We repeatedly consulted a local canine hydrotherapy centre to ensure there was minimal impact on the dogs movement whilst offering the best buoyancy and creating a positive swimming position. We worked hard on the shape to reduce the load across the shoulders increasing range of movement but also wanted to make the jacket as easy as possible to put on the dog. A lot of our research showed that dogs often don't like things being put over their heads, as a result we were able to make the jacket clip around the neck, again making the experience more comfortable for everyone concerned."
Available in 5 sizes (XS, L, and XL to be available early 2020), please reference the chest measurements below to find the most suitable Dog Buoyancy Aid size:
XS – 330 to 480mm
Small – 460 to 640mm
Medium – 610 to 810mm
Large – 760 to 940mm
XL – 890 to 1140mm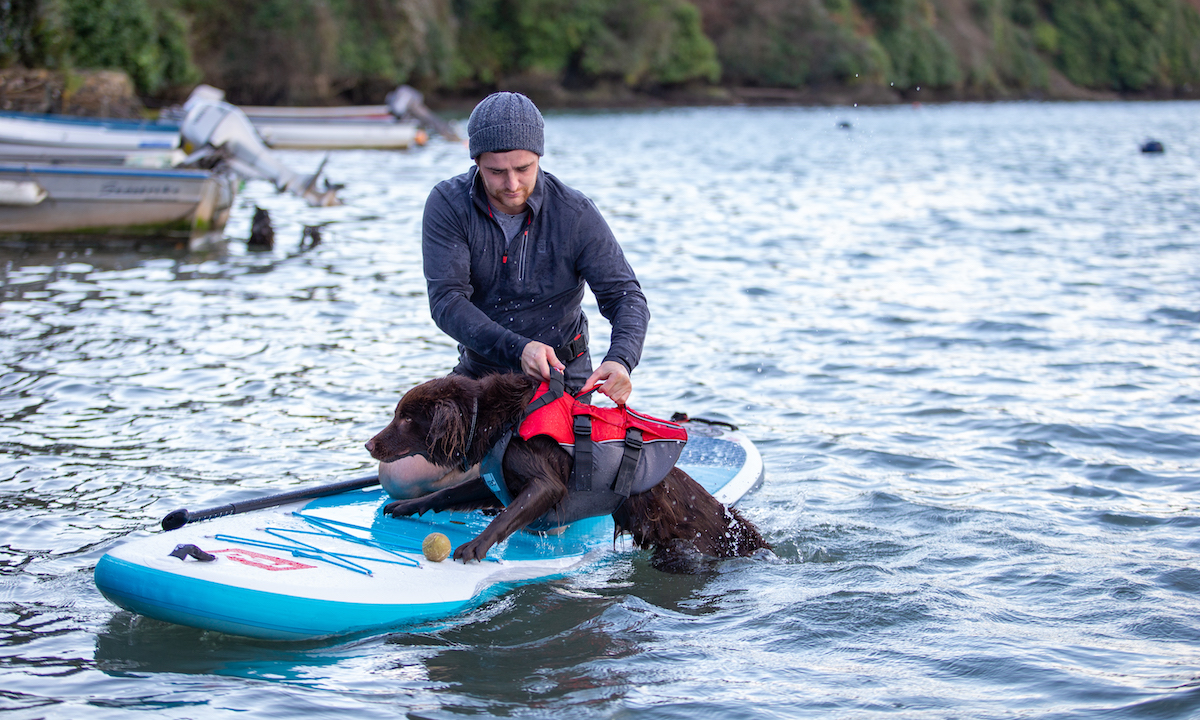 Photo courtesy: Red Paddle Co
Some key features of the Dog Buoyancy Aid:
Cordura water-resistant fabric: Soft, comfortable and very durable.
Chest Buoyancy: adds flotation to where the majority of weight is helping raise them out of the water
4 Grab handles: Makes picking the dog up simple.
Reflective visibility detailing: Helps keep track of their location in low light conditions
Metal Stainless steel lead attachment: Can be used off the water as well
Adjustable straps: Makes getting the perfect fit easy
Various foam thicknesses: distributes buoyancy correctly to create the optimum floating/swimming position
Wide front leg: Increased range of motion and comfort.
No-pinch clip design: Prevents your dog from getting hurt when putting the jacket on
[ad_2]
Source link