[ad_1]
 QINGDAO, China – American Connor Baxter posted the fastest ever time for a men's 200 metre sprint and France's Olivia Piana won the women's gold at her first ever sprint event in a thrilling day of competition at the ICF stand up paddling world championships in Qingdao, China, on Saturday. Baxter shocked even himself with his speed in the semi-final, officially stopping the clock at an incredible 46.38 seconds – the first athlete to ever go under the 47 second mark. "It felt fast, for sure," Baxter said.
"The boys and all of us were pushing hard. I felt my arms cramping and I felt the speed was going good, but to say 46? No I did not think I was going that fast. To beat that today, it's not just a great accomplishment, but to end up in first place. "To win like this today is an amazing feeling, I'm really stoked." Italy's Claudio Nika and Brazil's Arthur Santacreu both posted times that would have won them gold on nearly any other day this year, but instead had to settle for silver and bronze behind the blonde bazooka from America. "These races are intense," Baxter said. "Those short bursts, where it's long burners and feel so bad in the moment. Like my trainer always says, if you're not feeling like you're about to throw up, you're not going hard enough."
Olivia Piana was also shocked after her women's sprint final. Not because of her time, which was bullet-train fast, but because she considered herself a novice. "It's the biggest surprise because I have never done a sprint race before, this was the first one of my life," Piana said. "It's nice to discover this format, and it's an even bigger surprise to win it. I was so happy to make the final, I could see that I wasn't weak. It's so good to have the surprise of the win.
| | |
| --- | --- |
| | |
"I never did it before because I thought it was a bit boring. But now I think wow!" Piana showed no ill effects from a grueling long race on Friday, when she battled hard to win silver behind Germany's Sonni Honscheid. "This is strange, but I feel that I am sometimes stronger when I race the day before," she said. "All the girls had raced the distance and were racing again, but I have this feeling that when I race and then race again, I feel pretty good. I just enjoyed the moment and did my best." Brazil's Jessika Souza took the silver, with South Africa's Tarryn King finishing in third position.
RESULTS
SPRINT OPEN WOMEN
PIANA Olivia (FRA) 00:58.62
SOUZA Jessika (BRA) 00:59.17
KING Tarryn (RSA) 00:59.84
SPRINT OPEN MEN
BAXTER Connor (USA) 00:46.38
NIKA Claudio (ITA) 00:47.26
SANTACREU Arthur (BRA) 00:48.79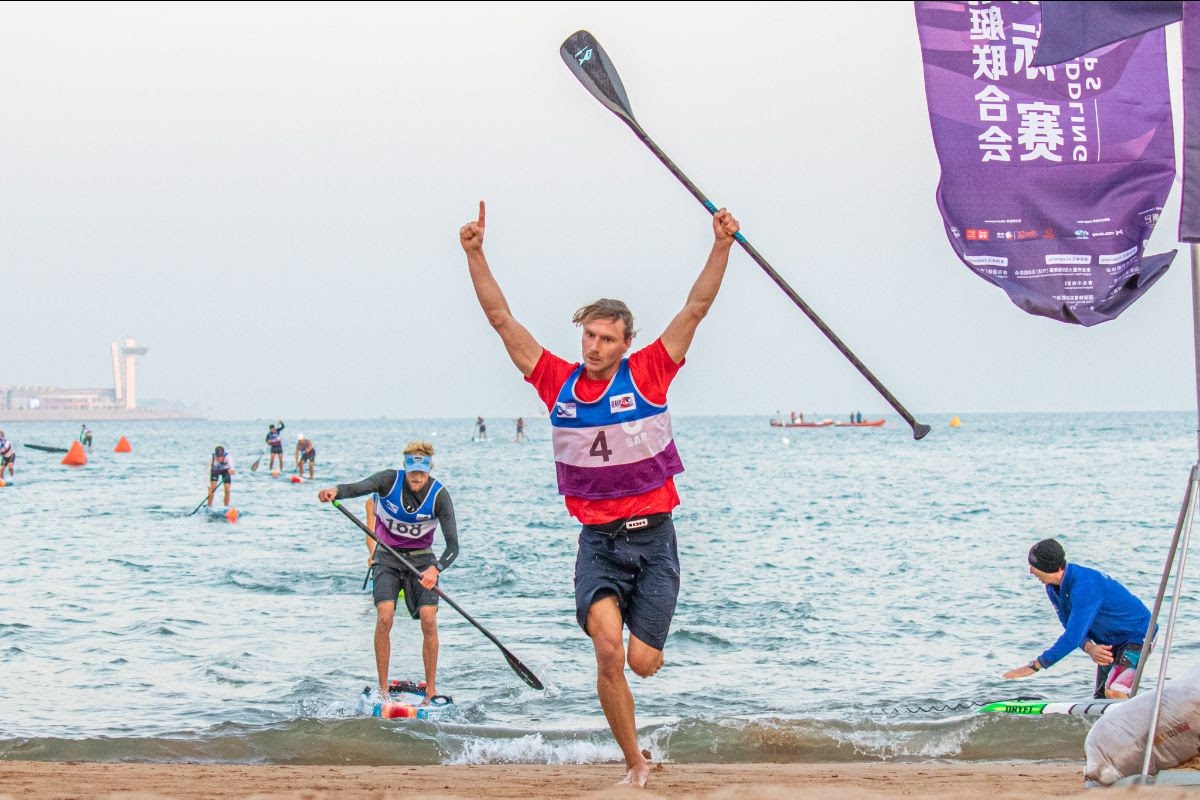 France's Olivia Piana completed an incredible weekend of paddling by picking up her second gold medal and Australia's Lincoln Dews turned on a SUP masterclass on the final day of competition in the 2019 ICF stand up paddling world championships in Qingdao, China. Piana followed up her silver medal in the long race and a surprise gold in the sprint with an impressive win in the women's technical race on Sunday. She took the lead early and stretched the margin the longer the race went on, confirming her status as the paddler of the world championships.
"This morning I woke up and I felt so tired after my win yesterday, and I slept only five hours last night," Piana said. "I was surprised again to fly around the water, I was like 'wow, what's happened today'. It's an historic event and I am so happy to be a part of it." Spain's Susak Molinero took the silver, and USA's Fiona Wylde took the bronze. Australia's Dews bounced back from a disappointing start to the ICF world championships with a gutsy win in the technical final. Dews led from the start, with 200 metre sprint world champion Connor Baxter pushing him all the way.
He said he felt strong enough throughout the race to lead all the way. "When I race I like to wear my heart on my sleeve and I want to race in the front," Dews said. "Today was a good example. I was either going to die, or win. It hurts a little bit less when you come across the line first, but it was a very tough race and a very tough weekend. "I had a pretty average form coming into today. My distance race was pretty average, so I knew I just needed to get out there and find my own water, and get my rhythm again. But even my heats and semi-finals, I started to feel better but I wasn't 100 per cent. "But I think I got out there this afternoon and get everything right, and everything started to click."
USA's Baxter finished second, with fellow Australian Ty Judson taking third position. Japan finished the ICF SUP world championships as the most successful nation, winning seven gold medals and 11 overall, with Australia finishing with four gold and five overall. Host nation China finished third on the medal table with two gold and a total of 15 medals.
RESULTS
TECHNICAL OPEN WOMEN
PIANA Olivia (FRA) 00:34:45.25
MOLINERO Susak (ESP) 00:35:28.41
WYLDE Fiona (USA) 00:35:54.63
TECHNICAL OPEN MEN
DEWS Lincoln (AUS) 00:30:00.61
BAXTER Connor (USA) 00:30:05.19
JUDSON Ty (AUS) 00:30:13.41
[ad_2]
Source link