[ad_1]
PUNTA ROCAS, Peru – Sunday's final day of competition kicked off with all the Bronze Medal heats in Shortboard, Longboard and SUP Surfing. The winners of the Bronze Medal matches advanced to the Gold Medal match, while those who finished second were crowned the Bronze Medalists. In attendance at the event was President of Peru Martín Vizcarra who came to support the six Peruvians competing on Sunday. Vizcarra's presence attests to the significance and value that Surfing has brought in its debut to the Pan American Games.
Left: Silver medalist Tamil Martino (PER) / Right: Bronze medalist Daniel Hughes (USA) | Photos: ISA / Pablo Jimenez
The SUP Surfing discipline was swept by the Colombian siblings Izzi and Giorgio Gomez. Izzi took the Women's Gold over Peru's Vania Torres, while Giorgio took the Men's Gold against Peru's Tamil Martino. Taking bronze was USA's Daniel Hughes for the men and Brazil's Nicole Pacelli for the women.
Along with the dual Gold Medals in the Shortboard discipline, Peru also earned a Gold Medal from Benoit 'Piccolo' Clemente and three Silver Medals from Vania Torres in Women's SUP Surfing, Tamil Martino in Men's SUP Surfing, and Maria Fernanda Reyes in Women's Longboard.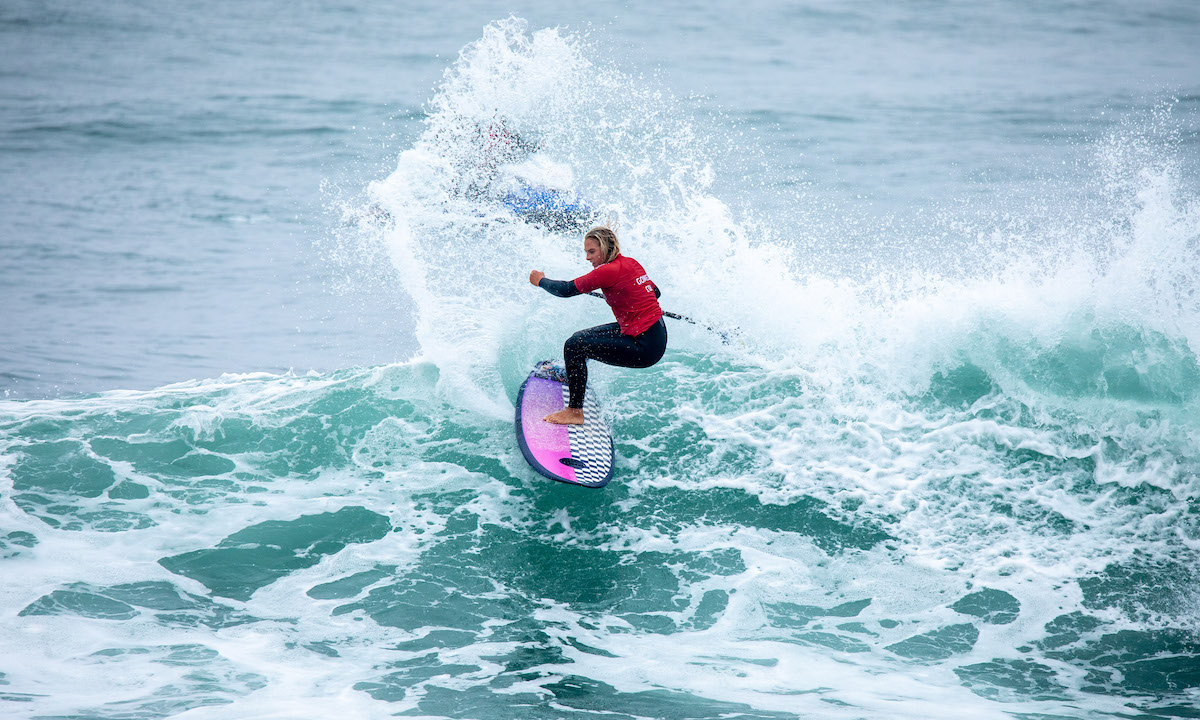 Colombia's Izzi Gomez on her way to winning SUP Surfing Gold. | Photo: ISA / Pablo Jimenez
The aforementioned medals together with Itzel Delgado's Men's SUP Racing Bronze earned on Friday make a grand total of seven medals for Peru, the most of any nation in the Surfing competition at the Pan Ams.
USA and Brazil followed with four total medals each.
Left: Silver medalist Vania Torres (PER) / Right: Bronze medalist Nicole Pacelli (BRA). | Photos: ISA / Pablo Jimenez
ISA President Fernando Aguerre said:
"What a historic finish to a historic week of competition. Surfing's first inclusion in the Pan American Games has been a true milestone achievement for the sport and a sign of the bright future that our sport has in store. The resounding success will certainly reverberate through the Surfing and sport culture on all continents of the globe, and certainly within Olympic Movement multisport events as well. It has been a memorable and unrepeatable competition. It was a day full of emotions. The dream of Pan Am inclusion became a reality and, of course, we brought the love for the ocean and the passion that is part of Surfing to this incredible edition of the Games."
For more news on the 2019 Pan American Games, click HERE.
SUP Surfing podiums, men & women. | Photos: ISA / Pablo Jimenez
Results
Men's SUP Surfing
Gold – Giorgio Gomez (COL)
Silver – Tamil Martino (PER)
Bronze – Daniel Hughes (USA)
Women's SUP Surfing
Gold – Izzi Gomez (COL)
Silver – Vania Torres (PER)
Bronze – Nicole Pacelli (BRA)
[ad_2]
Source link