[ad_1]
WRIGHTSVILLE BEACH, North Carolina – In the lead up to the infamous Carolina Cup, where the majority of the world's best racers gather to battle it out, we saw the Carolina ProAm take place which attracts both elite and amateur SUP surfers to the shores of Wrightsville Beach, North Carolina.
The Carolina ProAm is more than just your average surfing competition. This event mixes both tho Pros and the Amateurs and is also a qualifier for the APP World SUP Surfing Tour. The Carolina Pro-Am was started as a contest to appeal to a broad range of competitors and to reward those with a wide range of surf skills. This contest has divisions for all ages; divisions for shortboard and longboards; divisions for amateurs and professionals; and the combined overall trophy to the surfer who takes top honors in both the Pro Open and Longboard divisions. This years event had $15,000 in prize money up for grabs and the top 2 Men's Pro Open and finishers and top 2 Women's Pro Open finishers were qualified into the APP World Tour New York SUP Open to be held on August 31-Sept 5th, 2019.
This year, it was none other than Izzi Gomez to take the women's title in both the Pro Open and Pro Longboard divisions, leading to her unprecedented recognition with the 'Haywood Newkirk Sr Trophy' which is given to the competitor with the highest finish in both the Pro Open and Longboard divisions. In the past, this award was only given to the male competitors as the women did not have a longboard division so the fact that Izzi won this award in only the first year of having a longboard division for the women shows just how far women's surfing has come.
Left: Mo Freitas, Right: Colin McPhillips. | Photos: Laura Glantz
For the men, Boardworks/Rogue athlete Mo Freitas took the title in the Pro Open division, just slightly edging out fellow competitor Fisher Grant for the top spot. Both surfers displayed high performance surfing on their paddle boards that wow'd the crowd and made for an exciting performance. In the Pro longboard division the legend himself, Colin McPhillips took the victory over Fisher Grant with his stylish and seasoned approach.
In the amateur divisions, Maximillian Torres and Elle Newkirk won for the boys and girl 17U, Joel Jimenez and Sherry Correl took the top spots in the 18-49 category and Haywood Newkirk and Nancy Salter won in the 50+ category. In another fun addition the event was the first-ever Group SUP division with 5 teams taking their shot at catching the best waves giving quite the entertainment for both competitors and spectators alike.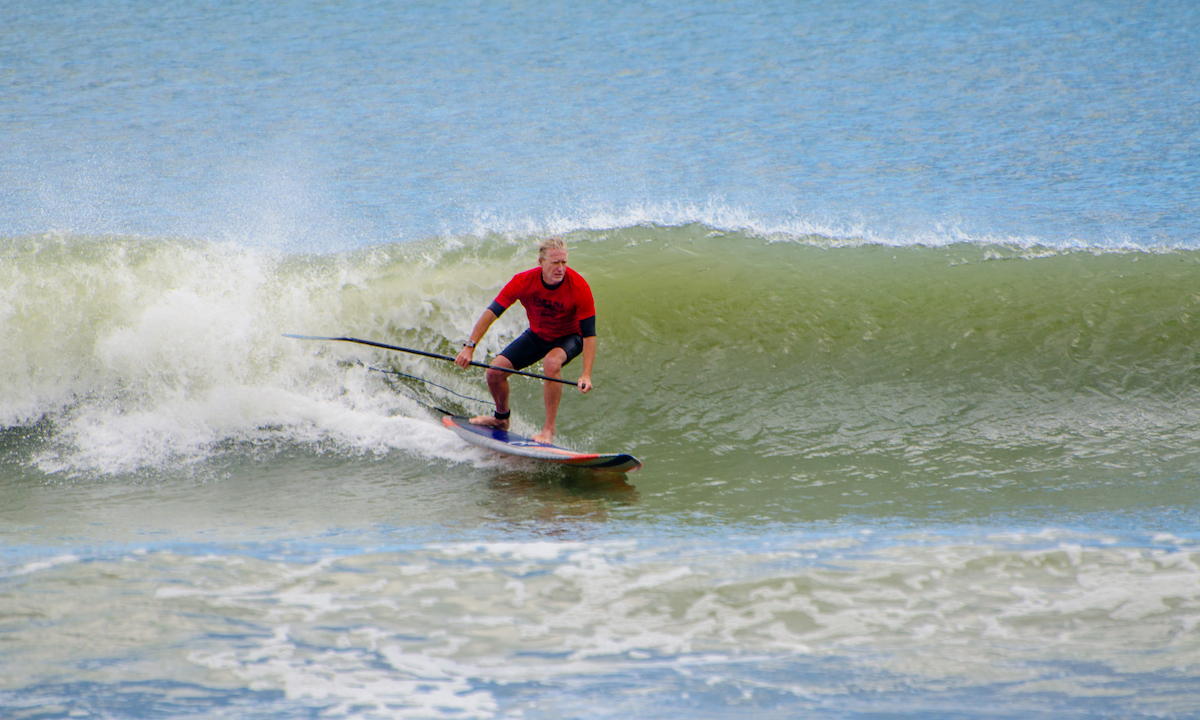 Haywood Newkirk. | Photo: Laura Glantz
All in all it was another epic year at the Carolina ProAm.
For more SUP surf news, click HERE.
© Copyrighted Exclusive SupConnect.com Content
[ad_2]
Source link