[ad_1]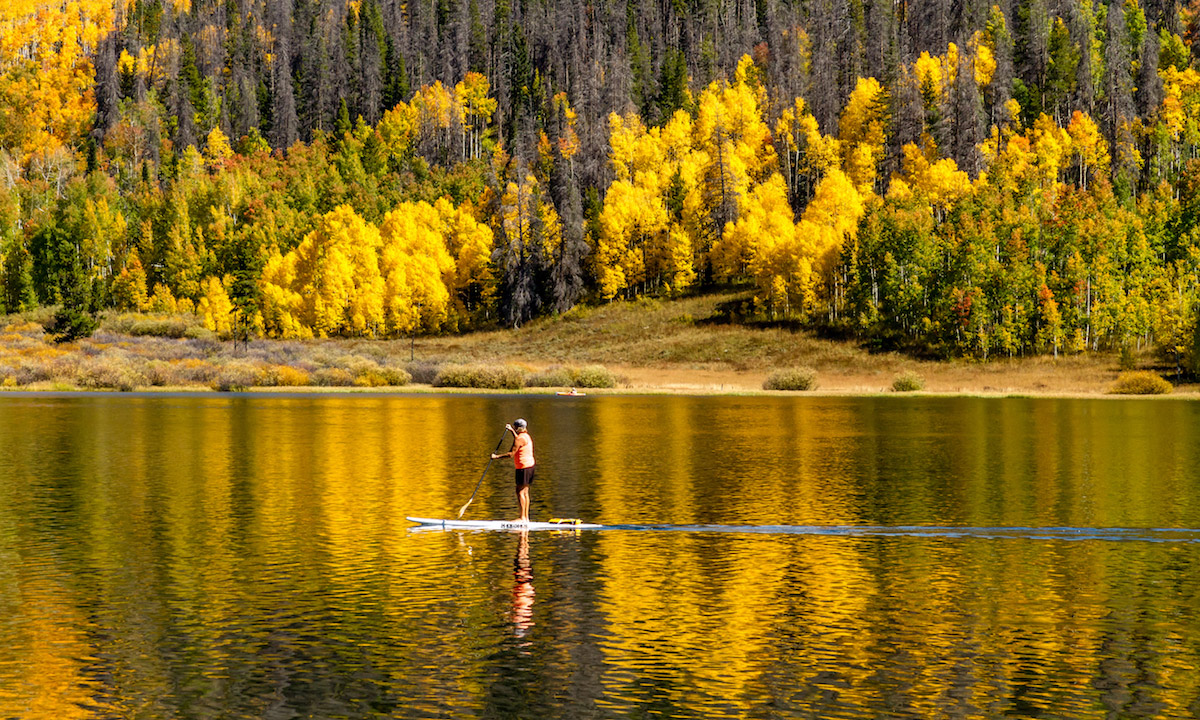 Beautiful fall colors in Aspen, Colorado. | Photo: Shutterstock
SAN DIEGO, California – Planning on getting in a few trips in 2019? Well, lucky for you there are countless locations and destinations that are a stand up paddler's dream. We've compiled a few places where you're bound to have a blast at with beautiful scenery surrounding you. Check it out:
1. Colorado
1500 miles from the California coast lies the state of Colorado. No matter what kind of paddling you are looking for, you will have no trouble finding it here, white water, surfing, or just enjoying some beautiful flat water and the scenery it has to offer. The peak season in Colorado begins late April, sometimes stretching as far as August. The flows can always be checked on-line through various kayak websites such as Eddyflower. A few of the many awesome places to paddle in Colorado are in Glenwood Springs, at Pueblo Play Park, at the Dillon Reservoir or along the Arkansas River.
Learn more about this destination here.
2. China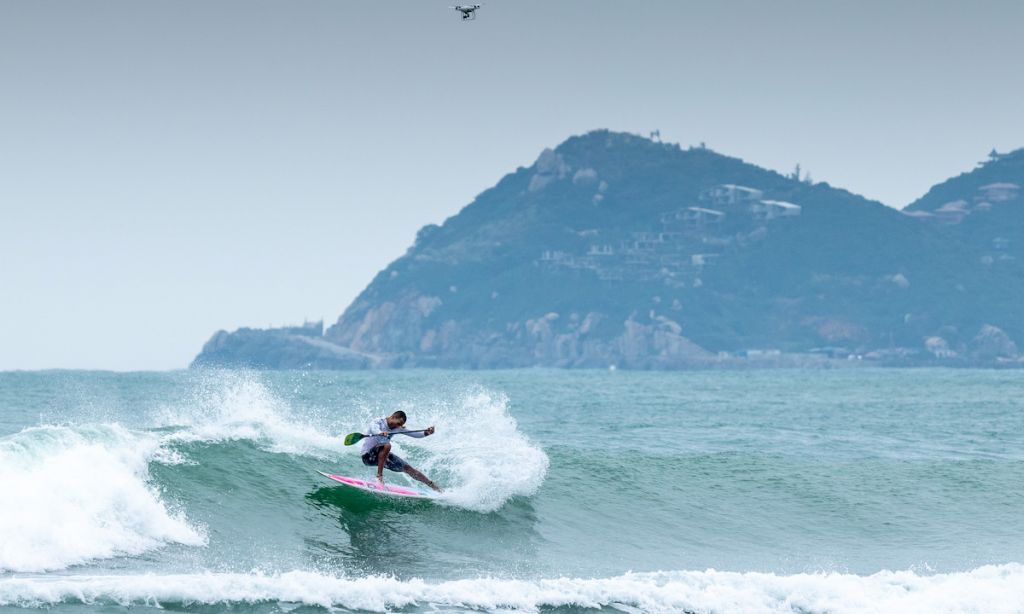 Brazilian surfer Luiz Diniz SUP surfing in Wanning, China. | Photo: ISA / Pablo Jimenez
After watching the 2018 ISA World SUP and Paddleboard Championship in China we had to add this massive country to our list of places to travel in 2019. With around 9,000 miles of coastline and dozens of lakes and rivers there's plenty of waterways and bodies of water to enjoy via paddle board. If you're a SUP surfer, keep China on your radar. While not the usual suspect for surf destinations China definitely has plenty of waves, and quality ones that are likely to be uncrowded. There's plenty of opportunity here yet to be uncovered.
3. Vancouver, Canada
Paddling in Vancouver year-round. | Photos: Shutterstock
Vancouver, British Columbia is widely regarded as one of the prettiest and most comfortable places in North America to spend time outdoors. Granted it's fairly far north, so it's quite cold for much of the year. But from spring through the early fall season, it's mostly lovely outside, and as a result it's something of a haven for travelers seeking outdoor activity. This includes some sport and action and, getting to the point, paddle boarding! A few hot spots for paddling in the area include Jericho Beach and Kitsilano beach.
Learn more about this destination here.
4. Great Lakes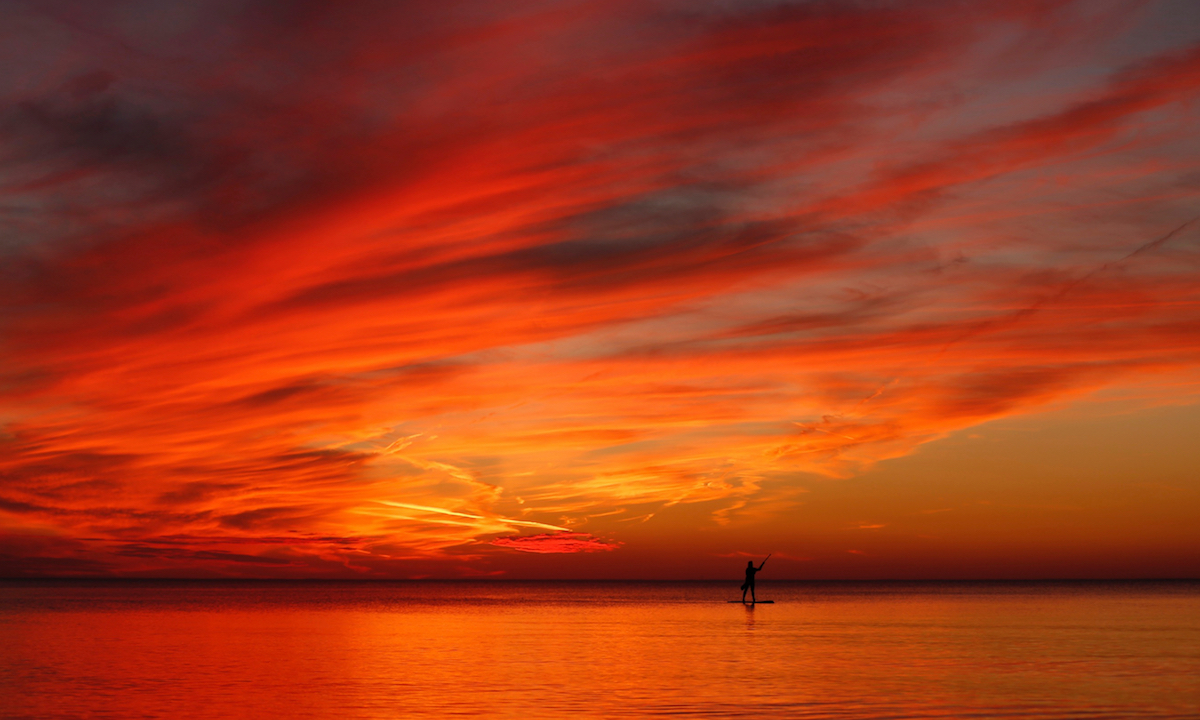 Lake Huron sunset. | Photo: Shutterstock
Left: Lake Michigan / Right: Lake Superior | Photos: Shutterstock
The Great Lakes — Michigan, Ontario, Superior, Huron, and Erie — make up the largest body of fresh water on Earth. Located in the northern United States and the border of Ontario, Canada these great lakes have a square milage that is larger than the state of Texas. Now that's a lot of space for paddleboarding. The Great Lakes are a great destination for paddlers of all skill levels and interests as it provides conditions great for learning all the way to the elite levels of expeditions and SUP surfing. Peak months on the lakes are late Spring through Summer (May – August).
5. Brazil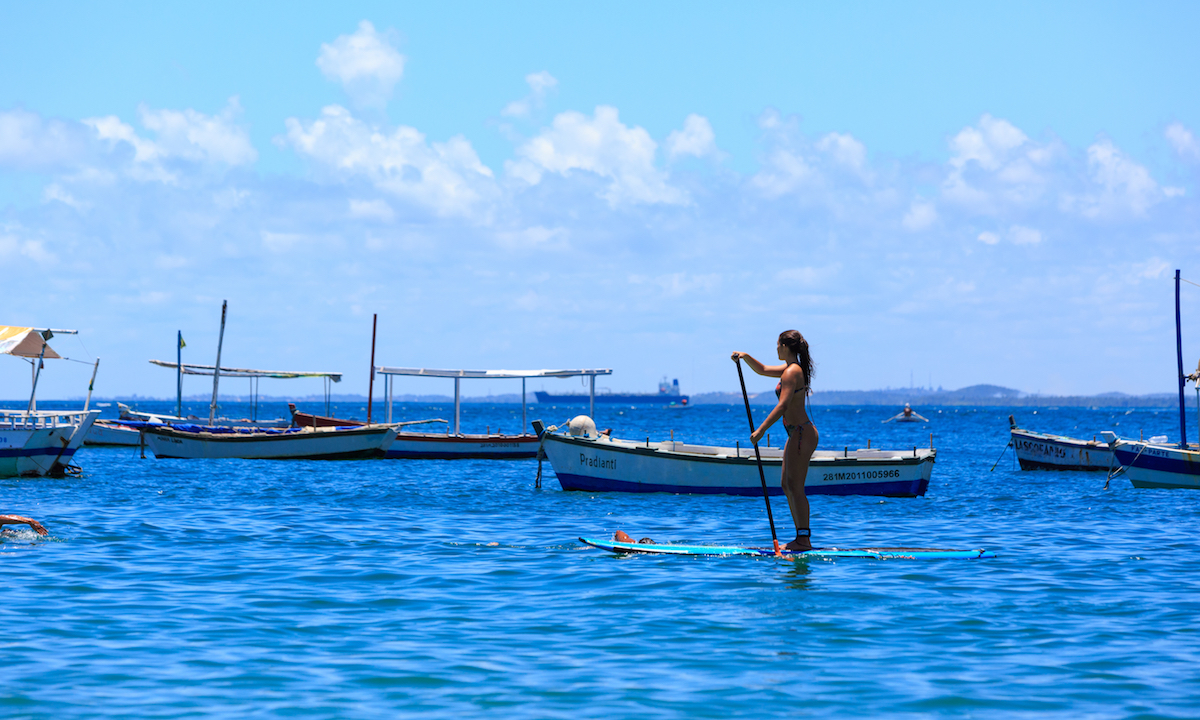 Paddling in Salvador, Bahia, Brazil. | Photo: Shutterstock
Many of the world's best paddle boarders come from Brazil so we know that there are some epic spots in the country to explore. With just over 4,600 miles of coastline and tons of inland waterways the options are endless. The beauty of Brazil is also something to note with its lush landscape and tropical weather being some of the main ingredients to a perfect getaway.
6. Paris
Left: Hundreds of paddlers take to the River Seine for the Nautic SUP Crossing. / Right: Paddling near the iconic Eiffel Tower. | Photos: APP World Tour
Paris is a must-see no matter if you're a paddle boarder or not. But aside from being an iconic destination in its own right, Paris has quite the paddle boarding community. In fact, every December, Paris is host to one of the largest SUP events in the world, the Nautic SUP Paris crossing that takes place on the River Seine. Paddling in this event or on your own with the Eiffel Tower in the background makes this city a bucket list destination no doubt.
7. Portland, OR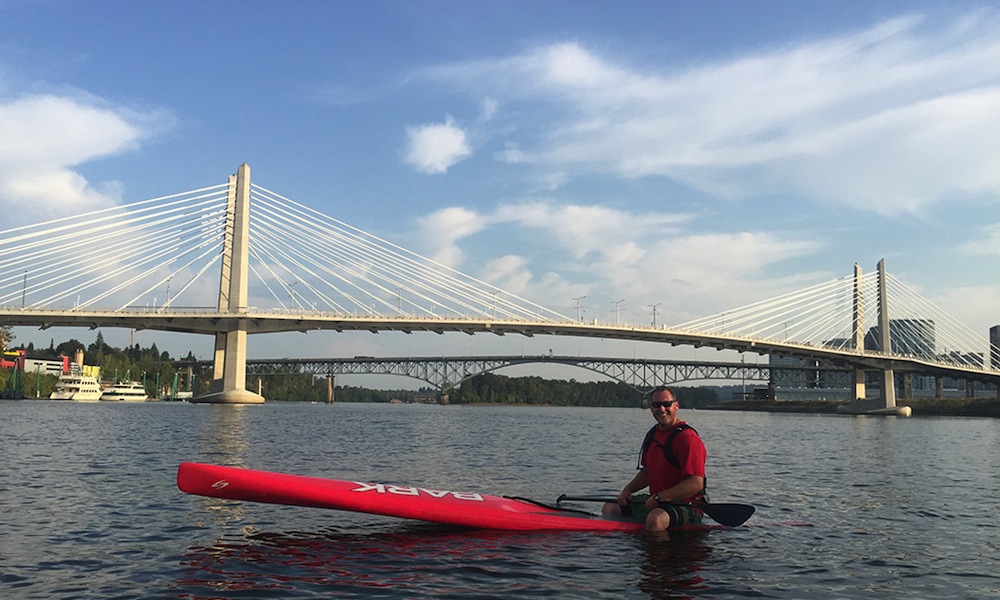 Paddling the Willametter River. | Photo: Brett Downen
Not only is Portland the largest city in Oregon, it is also located near several waterways and lakes. The Willamette River bisects the heart of downtown Portland and is a local favorite due to its convenience to the downtown area, its relatively calm conditions much of the year, and its access to events like the Rose Festival, the Portland Jazz Festival, and many other annual events all of which can be experienced for free from atop a SUP. There are also plenty of SUP destinations just a short drive from downtown Portland that will appeal to all types of SUP riders including river rapid riders, downwinders, racers, and your everyday casual paddlers.
Learn more about this destination here.
8. Spain
Left: Surfing in Gran Canaria, Spain. / Right: SUP Racing in Bilbao, Spain. | Photos Courtesy: APP World Tour / Paddle League
Picturesque, temperate, tasty cuisine and history are just a few of the delights that Spain offers. And when you add in paddle boarding to the mix you have yourself one incredible must-visit destination. Whether you're exploring the beautiful coast, racing at one of the biggest races in Bilbao, or sneaking off to the Canary Islands for an epic surf session, there's no doubt visiting Spain will be a trip to remember.
9. Orange County, CA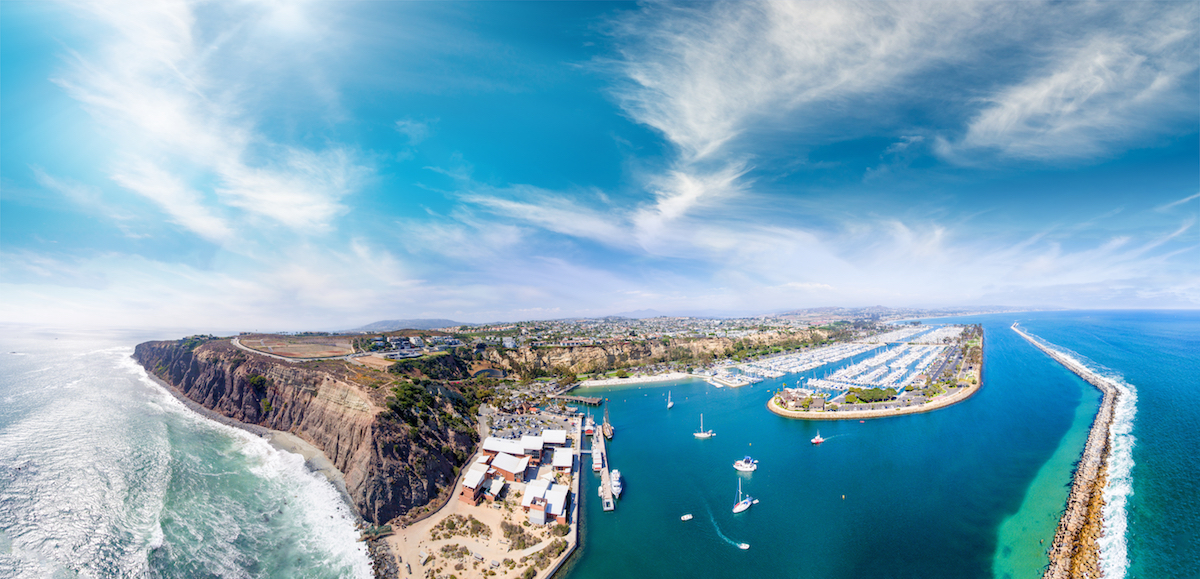 Dana Point from above. | Photo: Shutterstock
Orange County, California is home to coastal communities such as Dana Point, San Clemente and Newport Beach which have essentially become the West Coast's hub of paddle boarding. Miles and miles of white sand beaches with waves that suit all skill levels paired with the calm waterways of Newport Harbor and Doheny beach make Orange County an awesome destination for paddle boarders. This destination is awesome year round but the supreme time to go is Summer through late mid-Autumn. Aside from all the paddle boarding opportunities, there are tons of other activities for the non-paddlers in your life in the area whether it be a Disneyland theme park or local zoo.
10. Japan
Left: Miyakojima, Japan / Right: Biwa Lake, Japan. | Photos Courtesy: Shutterstock / Franz Orsi
Although small in size, Japan is one place that has no shortage of places to stand up paddle board (SUP). As a nation completely surrounded by water there are endless opportunities to grab your SUP and find the perfect place to get on the water.
Learn more about this SUP destination here.
As you're planning your vacations for the year and need some inspiration on where to go where you can also take your paddle board, let these ten locations be on your radar as they will no doubt show you a good time.
© Supconnect.com Copyrighted Exclusive Content
[ad_2]
Source link