[ad_1]
Vancouver, British Columbia is widely regarded as one of the prettiest and most comfortable places in North America to spend time outdoors. Granted it's fairly far north, so it's quite cold for much of the year. But from spring through the early fall season, it's mostly lovely outside, and as a result it's something of a haven for travelers seeking outdoor activity. This includes some sport and action and, getting to the point, paddle boarding! Vancouver happens to be an excellent location for this, both because of numerous peaceful and lovely paddle boarding opportunities, and because it's a great city to be in if you want some fun places to relax after a day out on the water. With no further ado then, let's get to the specifics.
Where To Paddle Board
Jericho Beach sunset. | Photo: Shutterstock
Vancouver has a lot of coastline for a single city, and with much of it being calm, somewhat insulated from the Pacific Ocean, there are several excellent places to paddle board. Jericho Beach is perhaps the highlight, both as a beach and as a place for SUP. It's a wide, accessible beach, with flat water and incredible views, meaning it's accessible, easy, and beautiful. English Bay is a good option for similar reasons, and is located alongside the famous Stanley Park. And Sandy Cove Beach is another terrific option if you'd like a different sort of view of the city, with more flat, warm water that's good for beginners. Frankly, just about any accessible beach or bay around the city makes for a decent option, which is why the city stands out as a paddle board location in the first place. And as another note, there are a few different places near these various beaches where you can rent a board and paddle.
Places To Eat & Drink
Nothing beats finding a good place for a drink and a meal right after a few hours on the water. Not only have you worked up an appetite, but you're typically in a fairly relaxed state. At the same time however, you've also burned enough calories to justify a nice, indulgent meal! It's a win-win situation, and Vancouver can accommodate it perfectly. Not unlike the beaches, there are plenty of great options in a city with a strong food and drink reputation. Vancouver has a regular rotation of awesome food trucks, its own local breweries, and a reputation for great gastropubs most of all. To get you started, Relish the Pub, Wildebeest, and Bogarts Bar are among the highlights to think about if you're planning out your day-to-day experience in Vancouver.
Things To Do At Night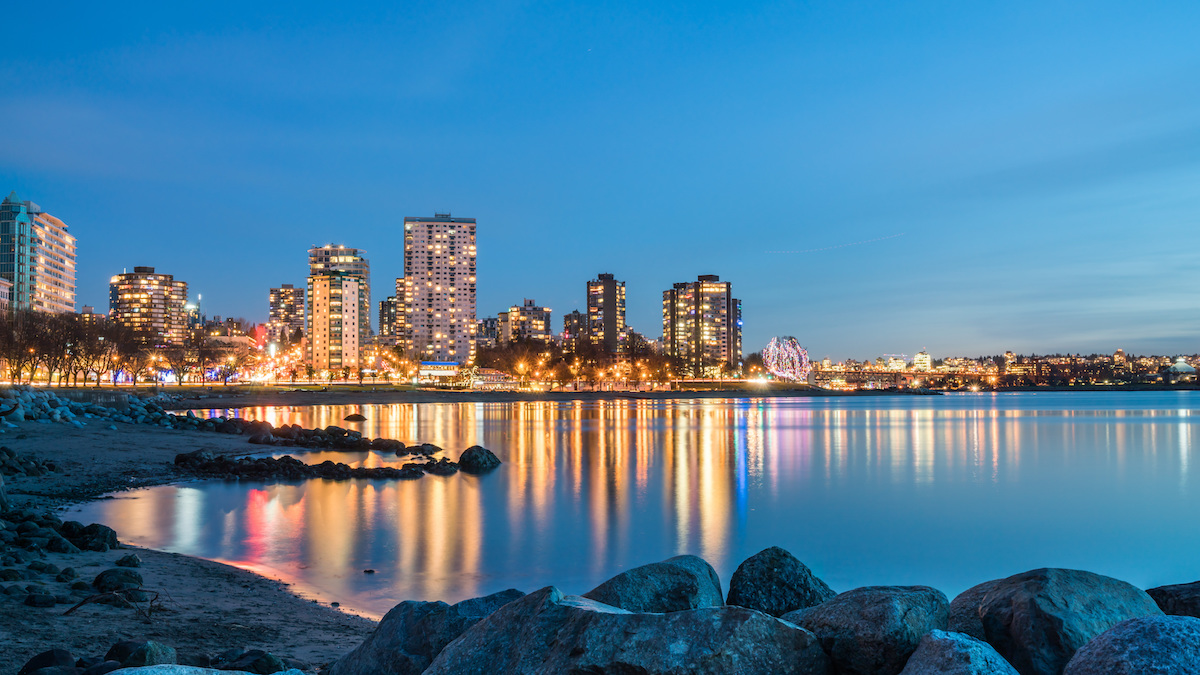 English Bay with the Vancouver city lights in the background. | Photo: Shutterstock
Gastropubs count as nighttime activity, but you can find some more specific things to do also if you want to enjoy the city and surrounding area in the evening after a day paddle boarding. If you want traditional nightlife, head to the Yaletown area for clubs, boutiques, and fancier restaurants. It's a vibrant area and perhaps the part of the city that feels most like a big city at night. If you fancy something a little more vacation-like, head just outside of town to the River Rock Casino, a waterside resort with modern facilities. It's been heralded as one of the necessary stops on any casino tour of Canada, and offers you a gorgeous venue, a charming nighttime harbor, and gaming and drinking. Not a bad place to unwind after some exercise!
Add all of this up and you get a perfect place for a paddle boarding getaway. Rest assured though, it's the calm citywide waters and their accompanying views that are the main attractions.
For more SUP destinations check out the Supconnect Travel section.
[ad_2]
Source link