[ad_1]
DAWESVILLE CUT, Western Australia – After an overcast morning, the cloud lifted and Western Australia's famous wind, the Fremantle Doctor, went to work with south-westerly winds that created challenging then fast conditions between 16 and 18 knots for the seventh annual Stand Up Surf Shop King of the Cut.
The 24-kilometer downwind paddle race made history this year: biggest field in the Professional Female Stand Up Paddle (SUP) division, first time inclusion of Prone Paddleboard class and Australia's first Foil SUP race. Equal prize money was awarded to male and female competitors.
Men
Photos: John O'Sullivan
Winner of the Male Pro Class James Casey, 27, from Sydney's Northern Beaches, set a blistering pace to finish with 1:47:24 and says his focus this year was to win the King of the Cut.
"I'm super stoked – this is one I've wanted to win for a while. It was tough at the start with a light wind and then the second half was faster. Winning is a dream come true," says Casey, a professional athlete, SUP coach and performance apparel designer. "We designed a new board with Sunova and Marcus Tardrew, and I'm really happy with it."
Casey, who dominated today's race, placed third last year and attributes his win to better race preparation. He also won the SUP Open division of The Doctor last Saturday (24 November).
"Definitely stoked with the double win, for sure. The conditions here are the dream run, it's like a conveyer belt. We've been here for ten days and every day you can paddle. Back home, you're lucky to get one good day a week," says Casey.
In second place over four minutes behind Casey was New Caledonia young gun Clement Colmas.
"I'm so happy, I wasn't thinking I'd get a podium especially on a fourteen-foot board," says the 17-year-old. "I like Western Australia for the downwind conditions, it's so good. I have two more days here to enjoy the wind then I have to go home and go back to school."
Rounding out the top three about a minute and a half behind Colmas was Queenslander Beau O'Brian.
Women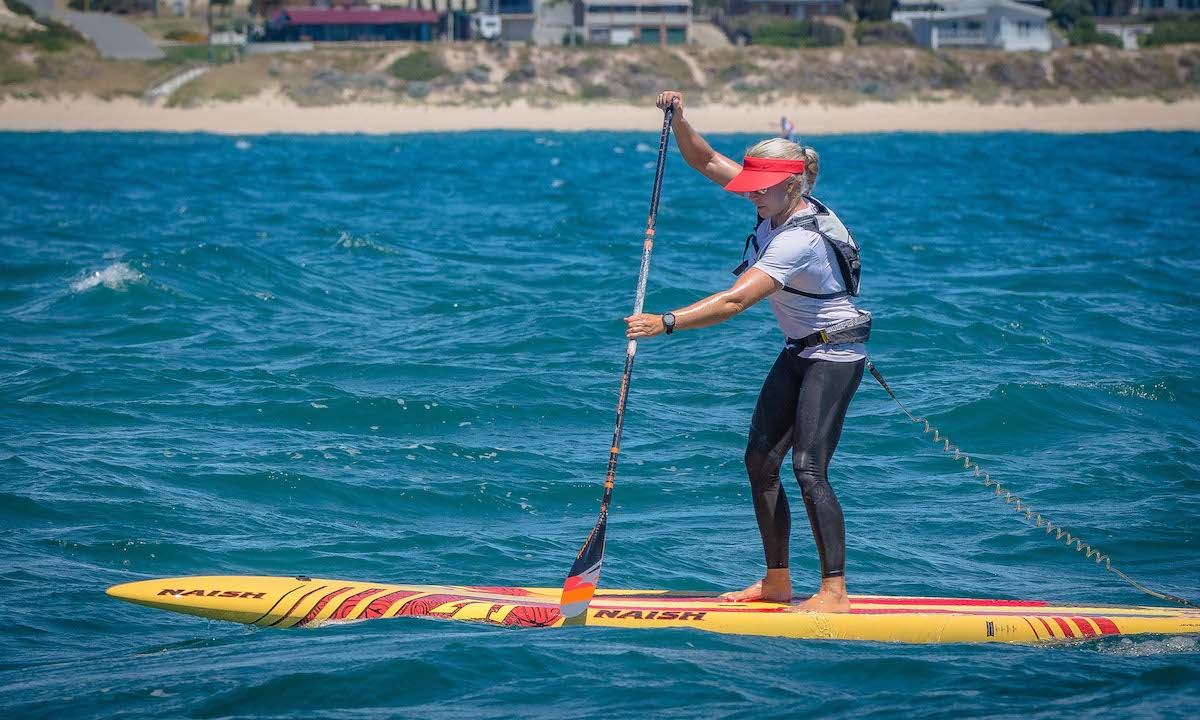 Karla Gilbert, your 2018 Queen of the Cut. | Photo: John O'Sullivan
Winner of the Female Pro Class with a time of 2:14:28, Karla Gilbert OAM is no stranger to the podium. She won the event in 2016 and finished runner up last year.
"I felt really strong the whole way, which surprised me a bit because I haven't done much downwinding this year, there's not that much wind in Queensland," says the 7-time Ironman champion. "I'm absolutely stoked, it's a great way to end 2018."
Trailing Gilbert by almost 7 minutes was second place finishers Kate Baker, a fellow Queenslander, and Perth's Jade Lane finished in third. 
Prone Paddleboards
Winner of the new Open Prone Paddleboard division was Queenslander Joel Erskine with a time of 2:06:44. Prone Paddlers kneel on a board and paddle with their hands much like surf lifesavers on rescue boards. Coach of Erskine and veteran competitor Mick Di Betta finished in second place with Perth's Matt Bowbridge in third.
Di Betta, the 1997 Molokai 2 Oahu (Hawaii) winner said that conditions this week are on par with the best downwind destinations in the world.
"We've had amazing conditions all week – the first half of the course is similar to the Hawaii Kai Run. Today the start was a little slow and the last part was a bit messy, but I still enjoyed it," says Di Betta, a first time competitor at the Stand Up Surf Shop King of the Cut. "If anyone out there is wondering if it's windy in WA, it sure is! Every day has been pumping, like in Hawaii where you know you're going to get downwind conditions," says Di Betta, who went on to thank organizers for the invitation. 
Foil SUP
Photos: John O'Sullivan
Scarobough's Marcus Tardrew won Australia's first Foil SUP race sponsored by DC Foils and was the first competitor to cross the finish line with a time of 1:35:09. Foil SUPs are lifted above the water due to the hydrofoil mast and wings under the board and with speed, pushed along by the wind, glide over the bumpy conditions.
Despite fighting a cold, Tardrew says was determined to compete. "I've competed in every King of the Cut race since it started and I wasn't going to miss today," the 40-year-old said. "I'm really happy with how I went, but it was a bit of a struggle. I actually had to stop a couple of times to rest," Tardrew said.
Outriggers
The first outrigger to finish the 24-kilometer race was Adam Fahey, 44, a previous Stand Up Paddle competitor. "I'm really happy to take the win considering four weeks ago I could hardly walk," says Fahey who underwent spinal surgery in March after sustaining a work-place injury.
Wrap up
A visibily stoked James Casey running up the beach. | Photo: John O'Sullivan
The Stand Up Surf Shop King of the Cut attracted 107 competitors to the beautiful Peel coastline, two-thirds of them traveling from overseas, interstate or regional Western Australia staying between seven and ten days. Finishing fifth in the over 40s unlimited class, Scott McCluskey from South Australia says he's been in Mandurah all week and paddled every day.
"The wind has been perfect all week. This is my fifth King of the Cut and you just know when you come here to compete, the conditions are going to be great. The vibe is great, there are no egos even amongst the champions, everyone's so friendly, you can't beat it," says McCluskey.
From Singapore contesting the shorter 10-kilometer Half Cut were twin sisters Si'Jia Cheng and Si'Min Cheng. "The Half Cut is good for us this year, but next year we want to come for two weeks before the race and train for the full King of the Cut," says 26-year-old Si'Jia.
King of the Cut Chairman Greg Kerr says this year's depth and breadth of competitors is a testament to the event and reputation of Western Australia's consistent conditions.
"Over 60 per cent of competitors have traveled here to compete in the King of the Cut and other races during West Oz Downwind Week, staying on average about nine days, and WA has turned it on. They have been frothing, the downwind conditions here are world class," says Kerr.
The Stand Up Surf Shop King of the Cut is Australia's fastest downwinder and has evolved in line with the popularity and growth of paddle sports.
RESULTS Stand Up Surf Shop King of the Cut
MEN
2018 Male Pro Class (14′ or Unlimited)
James Casey – 1:47:24 (Sydney Northern Beaches)
Clement Colmas – 1:51:41 (New Caledonia)
Beau O'Brian -1:53:11 (Queensland)
Jackson Cosgrove -1:56:06 (Queensland)
Jake Jensen – 1:56:24 (Gold Coast)
Ben Tardrew -1:58:33 (Queensland)
Nathan Cross – 2:02:03 (NSW)
Alexandre Rouys – 2:05:26 (New Caledonia)
Jonathan Hagan – 2:05:53 (Queensland)
Andy Saurer – 2:14:46 (Switzerland)
WOMEN
2018 Female Pro Class (14′ Only)
Karla Gilbert -2:14:28 (Queensland)
Kate Baker – 2:21:19 (Queensland)
Jade Lane – 2:23:11 (Perth)
Cristiana Chessa (Perth)
Susannah Wilson (Perth)
Penelope Strickland (New Zealand) 
2018 OTHER CLASSES
Open Prone PaddleBoard
Joel Erskine – 2:06:44
Mick Di Betta – 2:13:06
Matt Bowbridge – 2:25:35
Open OC1
Adam Fahey -1:54:35
Andrew Worling – 1:59:28
Nathan Piacentini – 2:02:43
Foil SUP
Marcus Tardrew – 1:35:09
Paul Jackson – 2:01:36
Half Cut U/40 Female
Jacenta McKenna – 1:21:00
Si'Min Cheng – 1:25:00
Si'Jia Cheng – 1:26:00
Half Cut O/40 Male
Mike Rae – 1:12:00
Andrew Jefferson – 1:16:00
Steve McCullough – 1:18:00
For more SUP race news, click HERE.
[ad_2]
Source link