[ad_1]
WANNING, China – The SUP Technical races sparked an action-packed fifth day of competition at the 2018 ISA World SUP and Paddleboard Championship at Riyue Bay in Wanning, China. The Men's and Women's Semifinals ran to qualify athletes for the Finals to take place on Wednesday, set to award the first racing medals of the event.
Two qualification slots for the 2019 Pan Am Games in Lima are up for grabs for the top finishing man and woman from the Americas in the SUP Technical Race Finals. Three ISA SUP Gold Medalists, USA's Connor Baxter, Denmark's Casper Steinfath, and France's Tituoan Puyo, took the top qualification spots in the Men's Semifinals.
"The course was really fun," said Baxter. "We got downwinds, upwinds, a surf break, and a beach run. It's really technical. The competition has gone up and up every year. All the nations are getting more serious about SUP and training their teams, so the Finals tomorrow will be packed with talent. A win tomorrow will not only be a Gold for the team, but also a spot in the Pan Americans. It's not just a personal Gold Medal, there is much more at stake."
Steinfath's time of 32:19 was the fastest of the day, giving him a strong push heading into finals Day. USA's Candice Appleby, the 2015 ISA Technical Race Gold Medalist, finished the day with the fastest heat time for the women with 36:51. Australia's Shakira Westdorp, who won an unprecedented third consecutive SUP Surfing Gold Medal on Monday, won the second Women's Semifinal and Japan's Yuka Sato won the third Semifinal.

Photo: ISA / Sean Evans
Men's Technical Race Qualifiers. | Photos: ISA / Sean Evans / Pablo Jimenez
Great Britain's Marie Buchanan put on a gutsy performance after stepping on an urchin during the SUP Surfing rounds. Despite her injury, Buchanan managed to finish fifth in her SUP Technical Race Semifinal to qualify directly to the Final.
"I've been hobbling around after stepping on an urchin," said Buchanan. "The adrenaline definitely got me through. I was determined to qualify and not have to compete twice in the Repechage Round.
"This is my sixth time competing at the ISA Worlds. I've made the top six, but I have never won a medal. I would be totally stoked to place on the podium."
The top five finishers from each of the three Semifinals qualified for the Finals on Wednesday, with the rest of the field competing in a Repechage heat that would qualify an additional five athletes for the Final. A grand total of 20 competitors will be competing in the SUP Technical Race Finals.
Notably, Team Iran and China made their first SUP Racing appearances in the history of the event today in the Women's and Men's SUP Technical Race. None of the Chinese and Iranian athletes qualified for finals day, however their participation marks a watershed moment for the growth and development of SUP in Asia.
ISA President Fernando Aguerre said:
"After crowning SUP Surfing World Champions yesterday, we went straight into the exciting SUP Technical Races here in China. The Technical Races have attracted the top talent from all continents of the globe, looking to put a Gold Medal around their neck. Tomorrow (Wednesday) we will make history, as we will not only crown the first SUP World Champions in China, but also the first Under-18 SUP World Champions. Everything indicates that this will be a must-see day of SUP Racing."
The ISA World SUP and Paddleboard Championship will be streamed live on isasurf.org Nov 23 – Dec 2.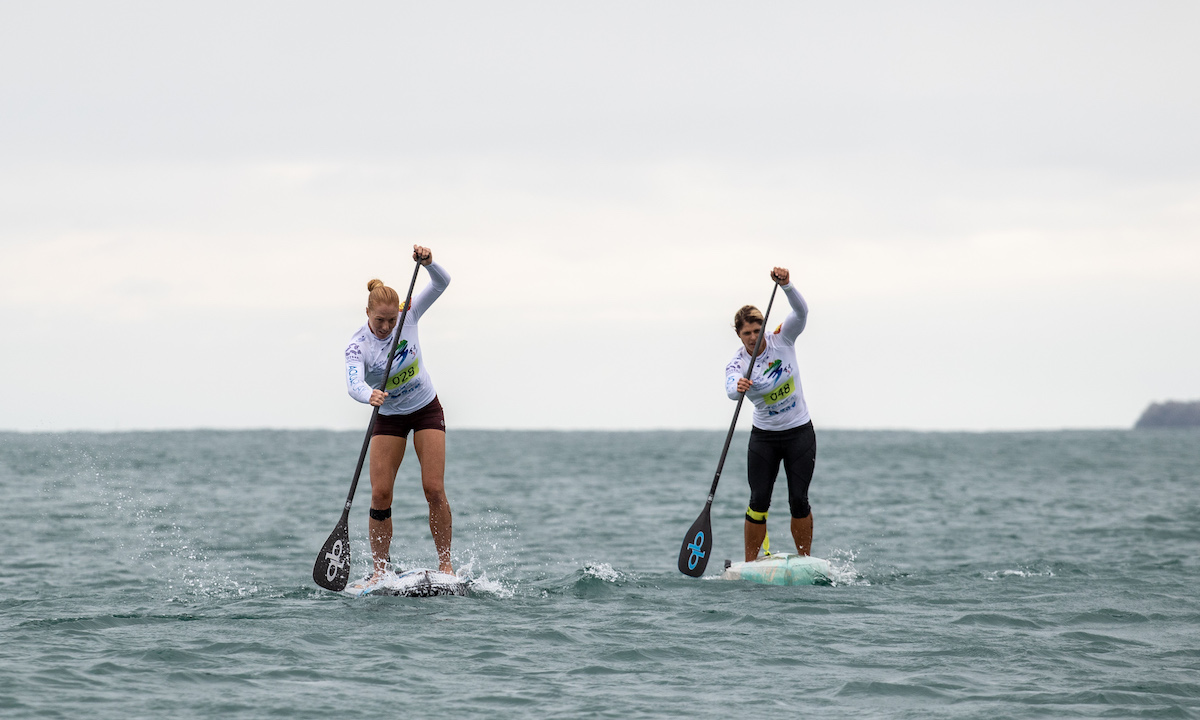 Candice Appleby (left) and Terrene Black (right) head-to-head in their qualifying race. | Photo: Pablo Jimenez
Women's technical race qualifiers. | Photos: ISA / Pablo Jimenez / Sean Evans
Technical Race Men Finalists
Connor Baxter USA
Martin Vitry FRA
Daniel Hasulyo HUN
Sam McCollough AUS
Claudio Nika ITA
Casper Steinfath DEN
Bruno Hasulyo HUN
Leonard Nika ITA
Trevor Tunnington NZL
Harry Maskell AUS
Titouan Puyo FRA
Kenny Kaneko JPN
Christian Andersen DEN
Oliver Houghton NZL
Vinnicius Martins BRA
Kota Kayashima JPN
Rafael Sirvent ESP
Guilherme Cunha BRA
Aaron Rowe GBR
Tyler Bashor USA
Technical Race Women Finalists
Candice Appleby USA
Terrene Black AUS
Amandine Chazot FRA
Takayo Yokoyama JPN
Marie Buchanan GBR
Shakira Westdorp AUS
Laura Quetglas ESP
Fiona Wylde USA
Tarryn King RSA
Tara Hope NZL
Yuka Sato JPN
Olivia Piana FRA
Jessika Matos de Souza BRA
Caroline Küntzel DEN
Sheila Sirvent ESP
Caterina Stenta ITA
Ginnie Odetayo GBR
Nicoline Rasmussen DEN
Laura Dal Pont ITA
Ariel Amaral CAN
Junior Race Men
Sam McCullough AUS
Noic Gariou FRA
Oliver Houghton NZL
Ryan Funk USA
Guilherme Cunha BRA
Christian Andersen DEN
Riccardo Rossi ITA
Kei Komatsuyama JPN
Henco Scholtz RSA
Maui Sach GER
Lucas Boyum SWE
Ben Moreham GBR
Aarón Sánchez ESP
Seymour Jack Kelly HKG
Huang Wanglong CHN
Shih, Meng-Chun TPE
Junior Race Women
Abbie Walkerdene AUS
Melanie Lafenetre FRA
Maddie McAsey NZL
Jade Howson USA
Caroline Küntzel DEN
Laura Dal Pont ITA
Miu Kogai JPN
Karisa Grace RSA
Hannah-Leni Krah GER
Elle Veale GBR
Aida Soberbio ESP
Veronika Savonova RUS
Jim Nga Woon Jade HKG
Mi Jiachen CHN
For the day 5 recap check out the video below.

The remaining event schedule is the following*:
Riyue Bay
November 28 – Technical Races
November 29 – Lay day
Shenzhou Peninsula
November 30 – Sprint Races
December 1 – Distance Races
December 2 – Relay Races, Closing Ceremony
*All times in local time (GMT +8). Schedule subject to change.
For more news on the 2018 ISA World SUP & Paddleboard Championships, click HERE.
[ad_2]
Source link