[ad_1]
SAN DIEGO, California – The new SIC Maui 2019 Collection offers some exciting new shapes and designs, breaking away from traditional SIC aesthetics. From a brand whose claim to fame has been solid colors, straight lines, and heavy on premium race boards, their 2019 range mixes things up with beautiful graphics and colors on all new surf, touring, and all-around models.
Although some of these new graphics are definitely a departure from their traditional aesthetic, the 2018 Supconnect Brand of the Year is proving itself to be much more than just a race board brand. In 2018, SIC rolled out it's RS race board series to much acclaim, along with their premiere downwind Bayonet series and Tao fitness models. Now looking into 2019, SIC is diving deeper into other SUP disciplines – surf, touring, and all-around – and welcoming paddlers of these disciplines with open arms. Take a sneak peek of their new 2019 collection below!
Performance and All-Around Surf Shapes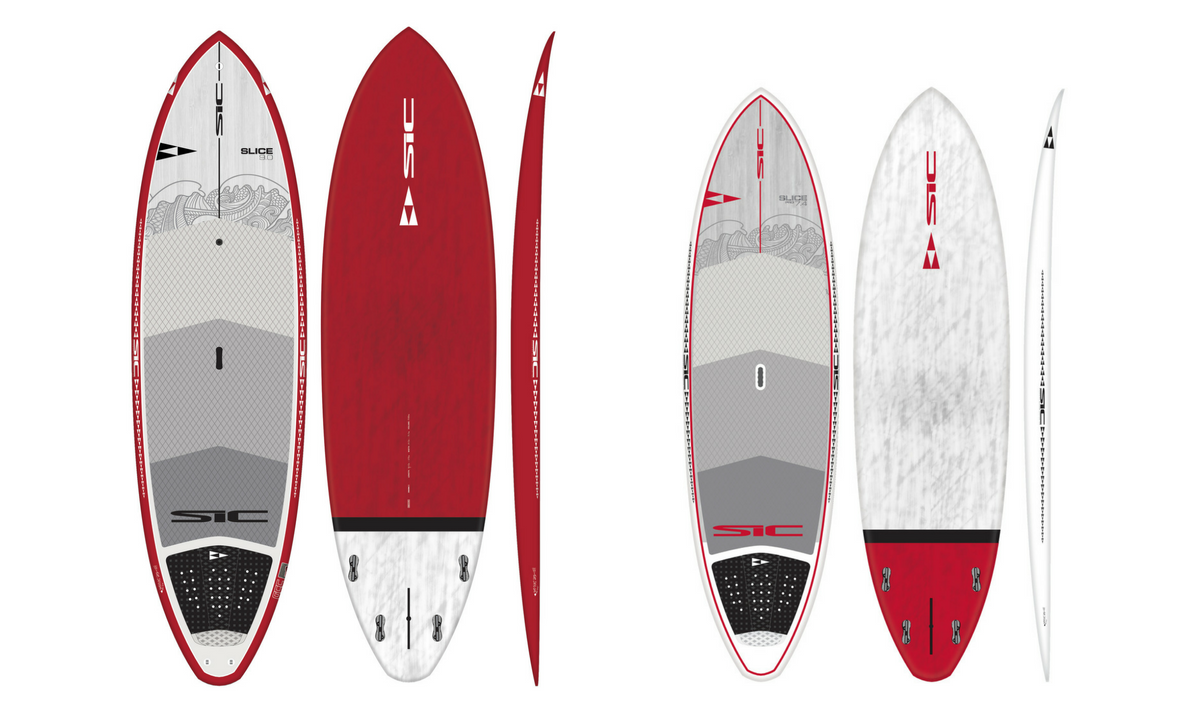 SIC Maui Slice (left) and Slice Pro (right). | Photo courtesy: SIC Maui
SIC is not new to creating high performance SUP surf boards. Over the years they have continued to study their surf shapes and dimensions, collect feedback from their riders, and improve their designs. All this R&D has culminated in their new Slice Series, which they assure you really rips. The Slice Pro and Slice Performance boards – the first a professional board, the second a performance board (offered in more user-friendly sizes than the Slice Pro), offers SUP surfers of all levels a board to help them stand confidently in the lineup.
The Slice series is built in SIC's Glass Carbon Composite + InnegraTM (GCC+) construction, which features a double wrap fiberglass composite layup, oak sandwich top, carbon reinforced standing area, co-mingled Carbon/InnegraTM reinforced rails, diamond groove textured EVA deck pad, and 4-piece kick pad. The rails have been profiled to allow paddlers to edge into the face of the wave and slice slice through the water when powering through turns.
SIC is also adding a soft board to it's surf board line. The Darkhorse, with a clean white top and vibrant striped bottom, is engineered with Vortex construction, a fusion of high quality soft board technology with composite stringers and lightweight core materials. A key differentiating factor and core performance characteristic of the SIC Darkhorse is its Dullies (dual glassed reinforced composite rail stringers) which will make the board stiff while still maintaining its feel and pop.
Rugged Touring Models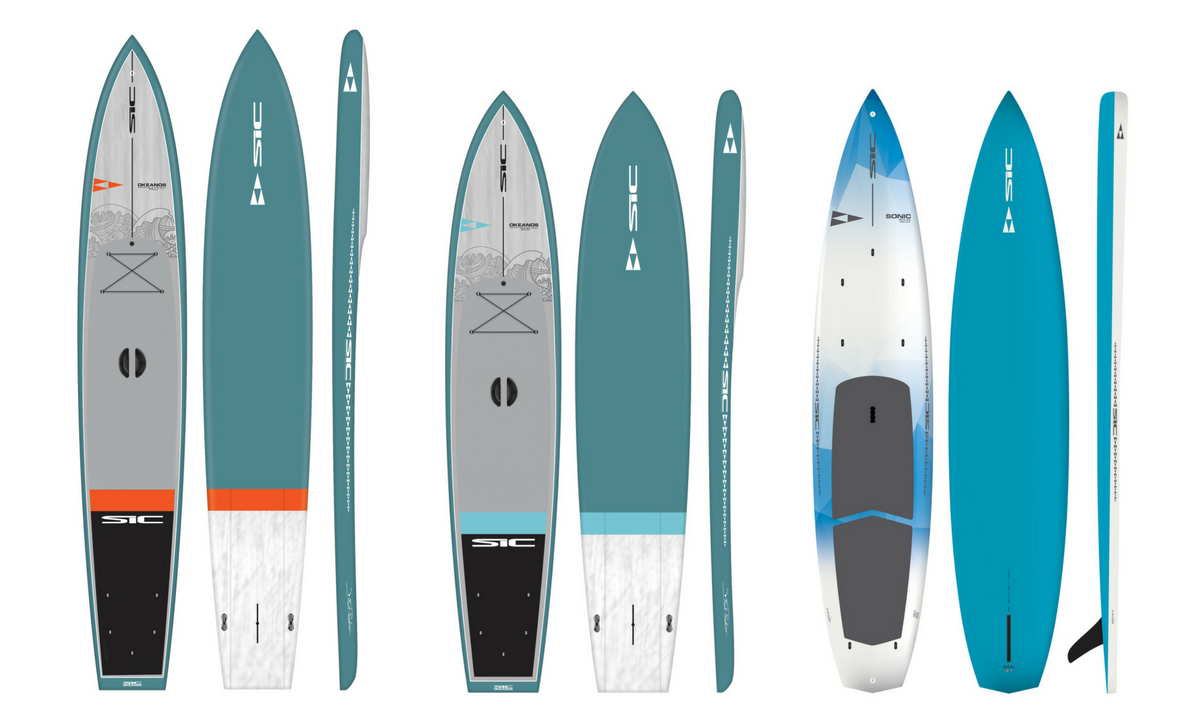 SIC Maui Okeanos 14' (left), Okeanos 12'6 (middle), and Sonic 12'6 (right). | Photo courtesy: SIC Maui
SIC has added two new touring boards to its fleet with the Okeanos Series and Sonic Series. Named after the Ancient Greek god of the sea and further inspired by the NOAA Ship "Okeanos Explorer" located in Pearl Harbor, Hawaii, the Okeanos is SIC's latest and greatest touring board. It shares similar DNA to the award-winning SIC Maui RS, however the Okeanos was designed with touring, adventuring, and fitness in mind, opposed to racing. The Okeanos is also engineered with SIC's GC+ (Glass Composite + InnegraTM) which features a double wrap fiberglass composite layup and oak laminate reinforced top.
The Sonic Series is SIC's most durable fitness and touring board yet. From flatwater paddling to cruising lakes, rivers or the open ocean, the Sonic serves to strike a great balance between glide, stability, versatility, and affordability. Meant for beginner to intermediate paddlers, the Sonic also has enough flotation to support tandem paddling with a child or pet. The Sonic is built with ST (Space Tec) construction which uses a polymer outer skin for impact resistance which is then thermo-formed over fiberglass and a closed cell EPS core for durability.
The Sonic and the Okeanos Series both add a new layer of depth to the SIC collection, and also prominently showcase SIC's shift away from their traditional aesthetic towards some fresh artistic designs for 2019.
Award-Winning RS Goes Inflatable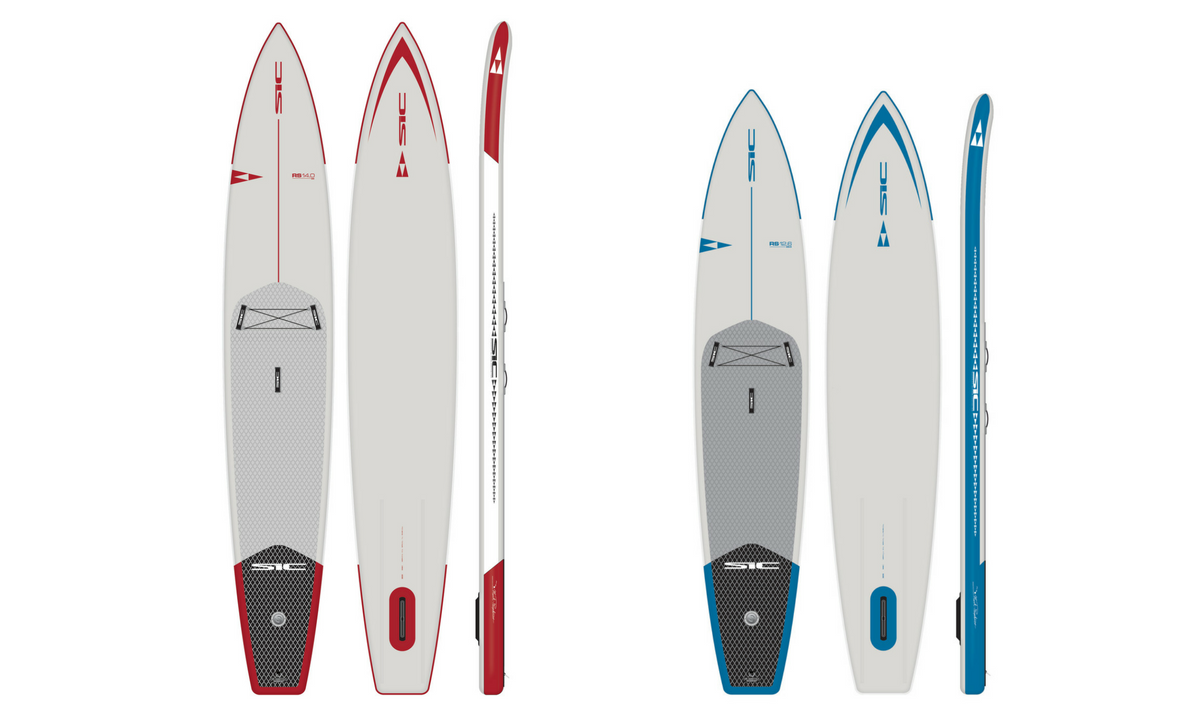 SIC Maui Air-Glide RS 14' (left) and Air-Glide RS 12'6 (right). | Photo courtesy: SIC Maui
As inflatables continue to grow in popularity, we're pleased to see the 2018 Race Board of the Year – the SIC Maui RS – now offered in an inflatable version. The shape, dimensions, and look of the inflatable RS all remain the same as its composite counterpart, but now in a much more portable alternative. SIC continues to use the finest Drop Stitch Construction (DSC) and Fusion Skin Technology (FST) for their inflatable boards which make them light, stiff, and fast.
For more SUP Gear, click HERE.
[ad_2]
Source link