[ad_1]
Picture it now: you and your best friends, stand up paddle boarding on an empty river, listening to the sounds of nature. You've taken a few days to escape the city and explore earth. Yes, you read that correctly. A few days: plural. Taking an overnight SUP adventure may seem daunting, and in a way, crazy. But it is surprisingly easy to pack and prepare. Take a look at our tips on how to best pack for the ultimate overnight SUP trip.
Adventure Prep:
Tip #1: Check the weather
Knowing what the weather might be like will help you know how to prepare. Constantly stay updated, even during the excursion. Weather can quickly change, so be sure to check the latest forecast.
Tip #2: Do research on the area
Understand exactly what you are getting into. Talk to locals, do research online, and study maps. It's good to know what type of water you will be dealing with so you can pack accordingly. Map out your float plan, and share it with someone who will know what time you should be back.
Tip #3: Make a packing list
And check it twice. You don't want to miss imperative items such as a first aid kit or your sleeping bag. Refer to your float plan to assess how long you will be gone, and plan your list accordingly. Create a menu ahead of time, so you know how much food you'll need to bring.
Tip #4: Gather packing luggage (backpacks, bags, etc.)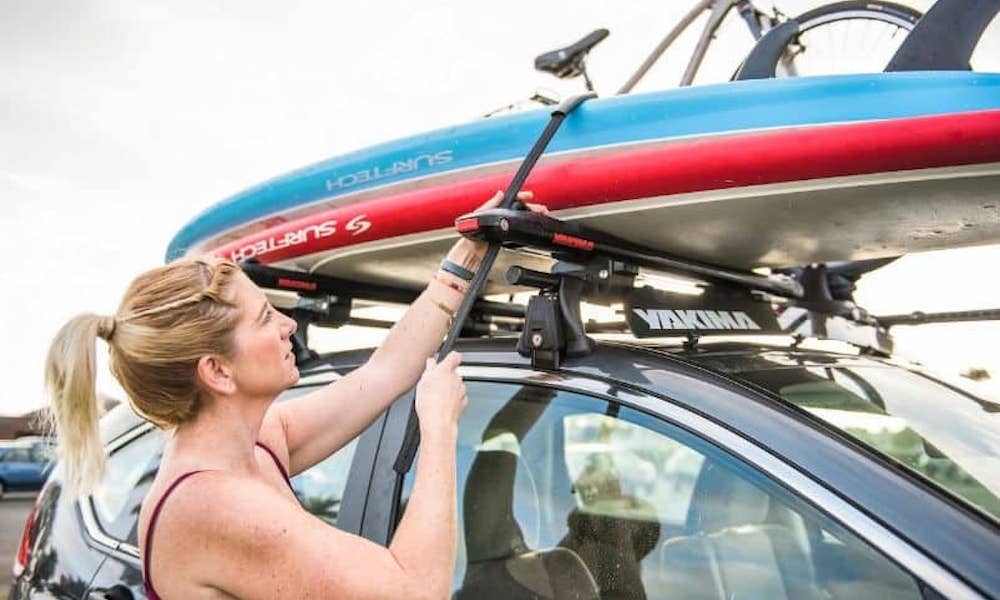 Photo Courtesy: Yakima
Now that you have written a list of all the items you'll need make sure you have the proper materials to fit all of it. Dry bags, gear containers, and deck bags are key luggage for a successful pack. Don't forget to tie straps and micro-carabiners to attach your items to your board. Make sure you have just enough because you don't want to overpack.
Tip #5: Pack and repack
After you have all the gear you want to take with you, take the time to pack and repack. Maybe rolling your sleeping bag a different way can save space. Your snacks might be able to fit into a smaller bag. Rearranging your dry bag differently could make it easier to grab things on the go when needed. Try different options until you are certain you've found the best system.
Time to Pack:
Tip #6: Overnight gear
A good night's sleep can make a world of difference on any trip you take, and this one is no exception. In case you come across some bleak weather, a lightweight tent is a good idea. You can split the poles and sheets to spread the weight if multiple people are sleeping in one tent. Down sleeping bags stay cold if they get wet, so make sure it's synthetic to keep you warm at night.
Checklist:
Tent
Tarp
Synthetic sleeping bag
Sleeping mat
Pillow
Tip #7: Food and Water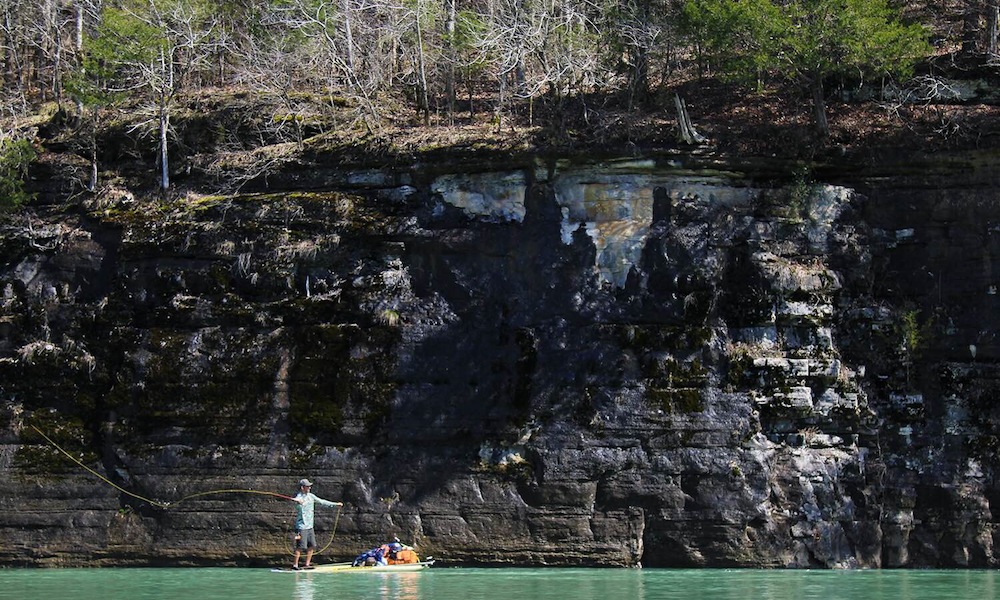 Photo: Jackson Berger
You will be spending a lot of time being active and moving, so making sure you have some healthy nutrition is important. How much and what you bring comes down to personal preference and how much weight you are willing to carry. If you know you won't be able to have a fire, bring a small gas stove and a pot to cook in. Just as important, make sure to bring enough water. Recommended intake is at least 3 liters per day, so make sure you are staying hydrated and have a filter system if fresh water will be available on your trip.
Checklist:
Food
Gas stove
Pot and utensils
Lighter
Snacks
Water filter
Tip #8: Clothes
Bring layers! You can adjust based on the climate of where you are going, but even in warm climates make sure you have enough if the weather changes on you or the nights are colder than expected. Base layers include long johns and a long sleeve top, preferably merino wool. A fleece and practical bottoms will be your middle layer Finally, a waterproof jacket and bottoms layer on top. Don't forget accessories such as socks and underwear, hats, boots and sandals.
Checklist:
Base layer: merino wool long johns, long sleeve shirt
Middle layer: fleece jacket and pants
Top layer: waterproof jacket and pants
Merino socks (be sure to bring an extra pair)
Shoes/sandals
Hat
Tip #9: Hygiene
Keeping yourself clean will ensure you have an enjoyable trip. Like food, it's up to you on how basic or extensive you want to make it. Basic items include toothbrush/toothpaste, toilet roll, a towel and soap. You can add additional items such as lotion, hand sanitizer or floss (doubles as string if needed). Just be sure that the products are biodegradable and use them 200 feet from any water source.
Checklist:
Travel toothbrush, toothpaste
Toilet roll
Baby wipes/soap
Antibacterial towel
Lotion
Hand sanitizer
Floss
Tip #10: Safety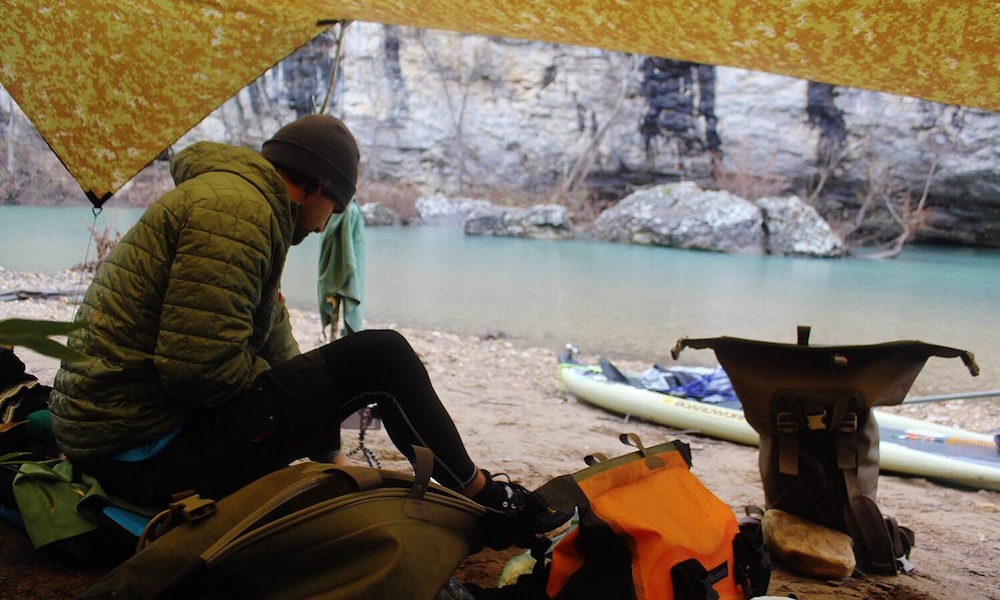 Photo: Jackson Berger
Having some basic safety items can save the day in unexpected situations. Don't skimp out! It's better to be safe than sorry. Personal safety items include a basic first aid kit, lip balm, sunscreen, and your phone. In case you get lost, it is important to bring a whistle, signaling device, a compass, and headlamp. If your SUP (or another item) gets damaged, be sure to have duct tape, a multi-tool and a PVC repair kit.
Checklist:
First aid kit
Signal mirror/mini flare
Multi-tool
Compass and map
GPS
Weather radio
Headlamp and batteries
Whistle for each person
Duct tape
PVC repair
Lip balm
Sunscreen
Itinerary – one for you, one for someone at home
Phone in a waterproof bag
To explore SUP destinations, click HERE.
Related Articles
[ad_2]
Source link