[ad_1]
EGG HARBOR TOWNSHIP, New Jersey – Paddleboarders are digging deep and raising funds in advance of the 11th annual Paddle For A Cause. One competitor is using his talents off the water to fuel his fundraising campaign. Jon Baker of Egg Harbor Township has nearly reached the $5,000 goal that he set. The local artist and trustee of the Dean Randazzo Cancer Foundation has offered a chance to win a painting if you donate to his page on crowdrise.com/pfac. A $25 donation gets you one chance to win and a $100 donation will earn you five chances to win a 24-by-30-inch painting of "The Hand Surfer for the DRCF."
"The idea that living life does not have to be a battle, but a journey," said Baker. "The support and love you give and receive is what really matters."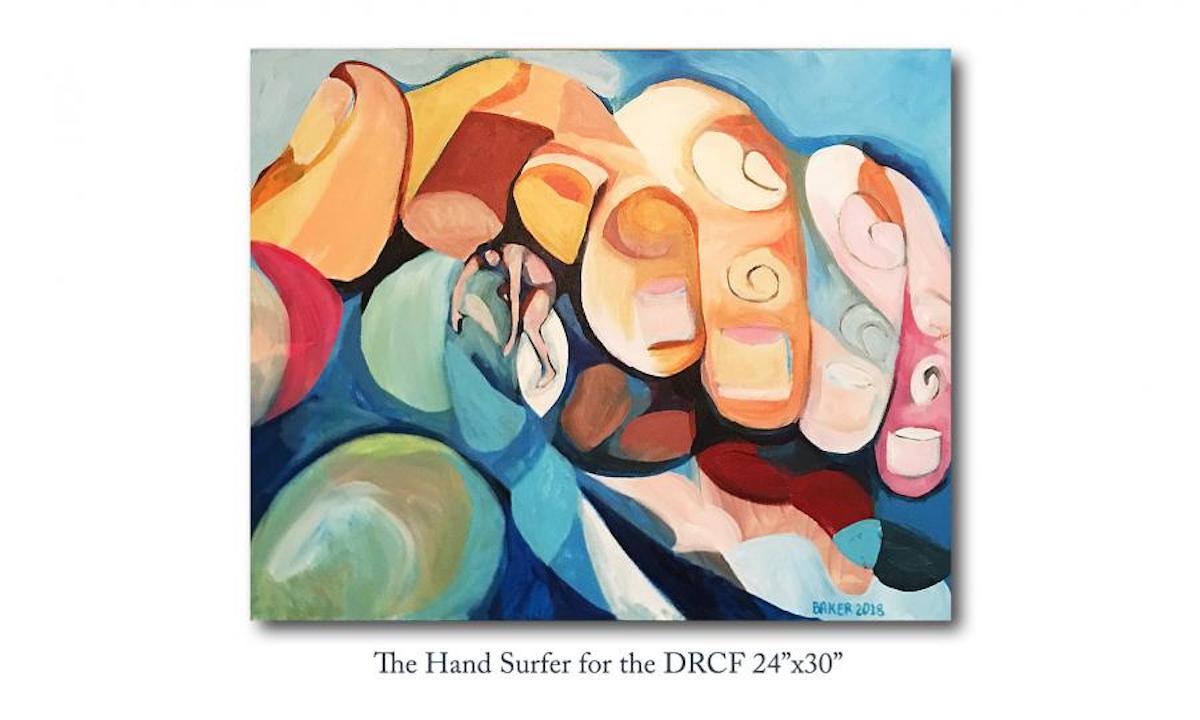 "The Hand Surfer" – original painting by Jon Baker. | Photo courtesy: Dean Randazzo Cancer Foundation
The top fundraiser will win a 14-foot long, 26-inch wide Pau Hana carbon Viper race paddleboard. More than $20,000 has been donated to date to the 11th annual Dean Randazzo Cancer Foundation Paddle For A Cause – taking place Saturday, June 9 at Golden Nugget Atlantic City. Last year, more than $110,000 was raised at the event. This year the event is being held in memory and honor of Karen Grant, a trustee of the foundation who dedicated years to helping others while she was afflicted with cancer and was regularly a top fundraiser at the event.
All paddlers and virtual paddlers are required to fundraise $200 to participate with proceeds benefiting the Dean Randazzo Cancer Foundation, a nonprofit organization that provides grants to financially assist people with cancer. The 22.5-mile paddleboard race around Absecon Island begins and ends at Frank S. Farley State Marina at Golden Nugget Atlantic City. The course was designed by Mike May to challenge racers as a reminder that they are helping people struggling with cancer. There are also 4-mile and 8-mile noncompetitive back bay paddles that go to The Wonder Bar in Atlantic City. Those unable to paddle can volunteer to raise funds by creating an online profile and sharing on social media. Virtual Paddlers who raise the minimum $200 entry fee will receive a swag bag, entry into the after party and race gear that is provided to all paddlers.
Cash prizes of $800 for first place, $350 for second place and $150 for third place will be awarded for the 22.5-mile race around Absecon Island in the following categories: men's open prone, men's 14-foot and longer stand up paddleboard, women's open prone and women's 14-foot and longer stand up paddleboard. After the action on the water, an after party and awards ceremony will be held 4 p.m. at The Deck at Golden Nugget. The party is included with registration and $25 to all others. See TheDRCF.org for information.
About The Dean Randazzo Cancer Foundation
The Dean Randazzo Cancer Foundation promotes cancer awareness and assists individuals battling cancer both emotionally and financially. To date, the foundation has raised more than $700,000 and donates 90 percent of its funds to individuals and organizations including the Ruth Newman Shapiro Cancer Fund, Shore Medical Center Cancer Center, Gilda's Club of South Jersey and The Leukemia and Lymphoma Society of South Jersey Cape Regional Cancer Center and AtlantiCare Cancer Center. The foundation was created in 2001 when Dean Randazzo, a professional surfer from Atlantic City, was diagnosed with Hodgkin's Lymphoma, a cancer of the lymph nodes. Since successfully battling the disease four times, Dean continues his competitive professional surfing career, proudly representing the Garden State all over the world. The Dean Randazzo Cancer Foundation is a New Jersey Non Profit and 501(c)(3) charitable organization and donations are tax deductible. Donations by check should be made payable to DRCF and mailed to P.O. Box 149, Somers Point, NJ 08244.
[ad_2]
Source link