[ad_1]
SAN DIEGO, California – We all can appreciate a good photo when we see one and in the Supconnect Photographer Series, we do just that. We connect with exceptional photographers in and out of the stand up paddle boarding world and showcase some of their many fantastic photos. This week, we are stoked to highlight Ed Dorsett of Wicked Fotos Surf Photography.
Ed Dorsett specializes in surf photography and he's becoming a well-known photographer down in Mexico where he currently resides. Dorsett has worked with the ISA (International Surfing Association) and was on-hand for the 2015 ISA World SUP Championships and he also works and travels with the MEX SUP Team. We caught up with Mr. Dorsett to talk about photography and more. Take a look below:
Pictured: (left) Pipe Lorenzo. (right) unidentified.
So Ed, where are you from and what propelled your move to Sayulita?
I was born in Southern California, but raised in Oregon. I started visiting Mexico in the early 90's, came to Sayuita in 2007 and fell in love with the place. Burned out from running my business for 15 years, in 2008 I decided to take on a partner so that I could begin looking for a new career path, which eventually lead me back to Mexico. Since then I have sold the business and made photography my career.
Tell us about how you came up with "Wicked Fotos Surf Photography"
The surf industry doesn't pay well, so, I needed a way to start making an income. The business model has been around for years… ever see the guys on the ski mountain taking photos? They take your photo, you check it out at the end of the day and purchase if you like… that's what I do with surfers 🙂
Karen Jacobson.
Pictured: (left) El Doc on a closeout. (right) Ann racing down the line.
Photography has been a life long passion for me
What were the deciding factors that made you want to do photography full time?
Photography has been a life long passion for me, after running a business and raising a daughter I decided it was finally time to focus on what I was passionate about.
Did photography come easy for you or was it something you had to work at?
It has always came easy to me. I started photographing events at the age of 11, and later studied photography in school.
What type of gear do you use?
I have always been a fan of Canon products. I currently shoot surf with the 7d Mark II, 100-400mm lens. For on shore (events) I use the full frame 6d, with a variety of lenses.
Pictured: (left) Pipe Lorenzo. (right) Bicho Jimenez.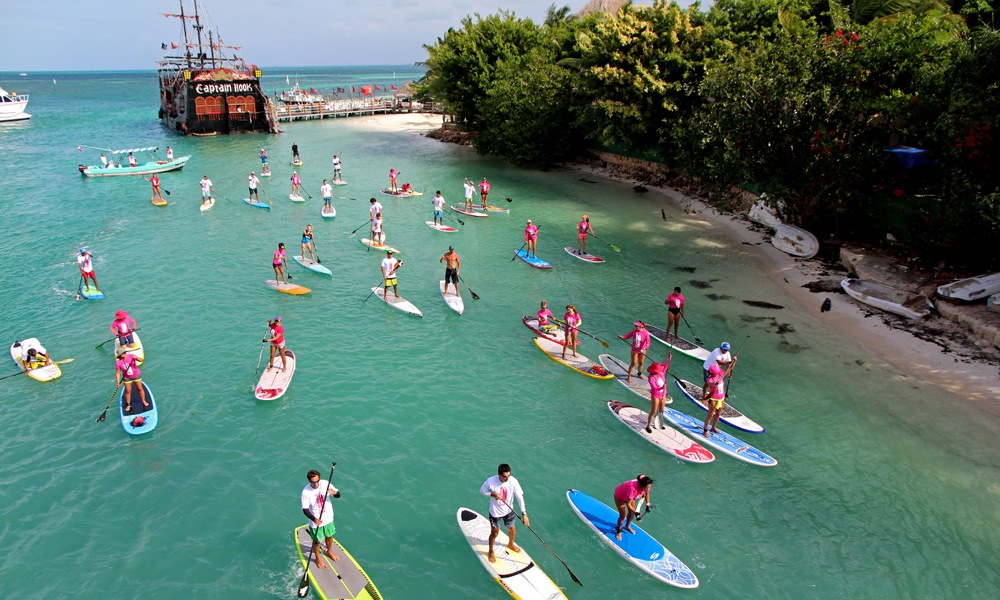 Stand Up for the Cure, Cancun, Mexico. 
What it is you want to say with your photographs, and how do you actually get your photographs to do that?
Surf photography is all about timing. I try to capture that moment that shows the power and agility of the athlete. As well as trying to pull in the scenic background and beauty of the location.
Surf photography is all about timing.
When did you take your first stand up paddle photos and what was the occasion?
My first official experience with SUP was at the Costa Pacifica competition held in Sayulita in 2013.
Where do you think would be the ideal location to do photo shoots for stand up paddlers?
Sayulita! 🙂 Beautiful Ocean waters, tropical back drops. Sayulita is the mecca for SUP in Mexico 🙂
Where has your favorite location been for shooting SUP?
#1 Sayulita! 🙂 #2 the Cenotes near Tulum, Mexico
Click here to view more Hot SUP Photos.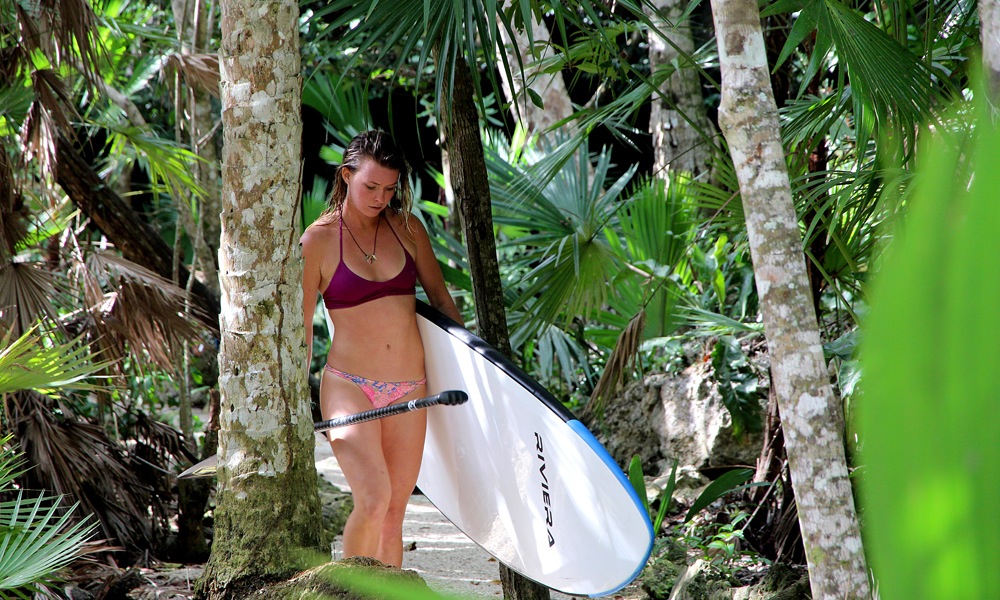 Shelby Taylor.
What was the most dangerous or most risky photo you have ever taken?
Working on the beach around sand and water is always a risk… My most risky photos have been out on a wave runner during a surf competition. Coming ashore during rough surf caused a tricky dismount, I wasn't sure if the wave runner was going to flip over and got a few cuts and scrapes getting back to the beach.. All while holding the camera aloft, of course!
You primarily focus on Surf Photography. What drew you to focus on this and is it harder taking those types of photos since you're dealing with a fast-moving object?
I love being on the beach and Sayulita is full of SUP rentals / athletes, it was easy to be drawn in by it. I photograph all types of surfing, all of which is a bit tricky. I have found that lighting is the most difficult thing to deal with in surf photography.
In doing SUP Surf Photography, are you primarily taking photos from land or do you get it the water and get in the mix with all of the action?
I primarily shoot from land but on occasion will shoot off shore in a boat or wave runner.
Pictured: (left) Fernando Stalla & Bicho Jimenez battling for first. (right) Elite race start.
It's awesome to see your involvement with the Mex SUP Tour. How'd that come about?
The organizer lives in Sayulita, we actually connected in Manzanillo at the Mexico SUP Nationals. He had seen my work from previous events and suggested I come with them to Cancun… how can you say no to that 🙂
Which of all your photos are you most proud?
Tough question… I guess the photo I took of Team Mexico for the ISA SUP World Championship in Sayulita. I was very honored to be able to work with team Mexico to cover this event.
Which of all your photos is your favorite one?
I have a few I guess, but one in particular of Fernando Stalla catching some air off the lip has done very well. Another would have to be the stack up around the buoy during the Punta Sayulita Classic.
Two of Dorsett's favorite photos.
What's your favorite part about shooting SUP?
Seeing so many new things, I love to travel and hoped that surf photography would lead me to new places, which it has 🙂
Who have you worked with, and is there anyone in the SUP world that you want to collaborate with in the future?
I have worked primarily with local athletes in Sayulita… Fernando Stalla, Bicho Lorenzo, Felipe Hernandez, Pipe Lorenzo… at this time I am focused on the Mexican athletes. I do however want to move to an International level, possibly working with a world tour.
Other than your own, whose photos do you most admire?
John Jackson from Huntington Beach is a great surf photographer, love his work.
If someone is interested in following in your footsteps, how do you suggest that they go about getting into water sports photography? Please give us an idea as to what it takes to be successful.
Dedication… hitting the beach every day. Have a good business plan, quality equipment that you understand how to use and some good editing skills. I spent months researching and preparing for my move to Mexico, finding the right niche in the right place was the key to my success.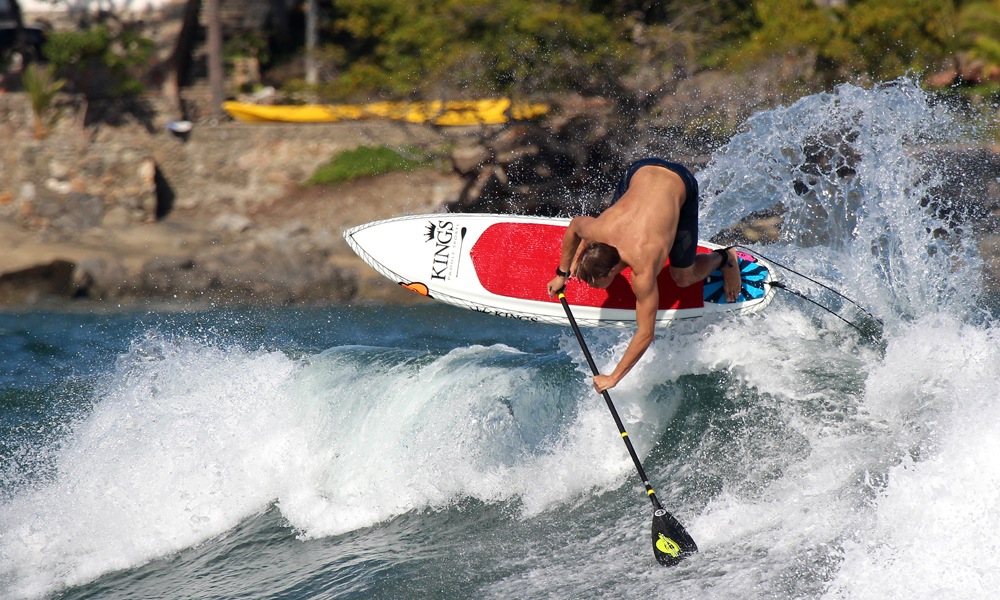 Daniel ripping at Sayulita.
What can we expect to see from you in the near future?
Really looking forward to working with the MEX SUP tour again this year.
Anything else you want to add?
I am constantly trying to find ways to improve my skills and techniques.
Awesome Ed! Thanks so much for taking the time to chat with us and keep up the awesome work! For those interested in working with Ed or hiring him for photos, check out his website and contact info here.
[ad_2]
Source link