[ad_1]
SAN DIEGO, California – The 23rd annual Hanohano Huki Ocean Challenge kicked off early Saturday morning, as San Diego locals and out of towners alike swarmed into Bonita Cove. The event is one of the Longest Running Paddlesport Races in California offering access to all paddle crafts including OC-1 & 2, Surfski, Traditional Paddleboard, Standup Paddleboard and Kayak. All were in high spirits as people arrived, filling the beach with tents, boards, and good vibes.
Along with the many Southern California SUP enthusiasts and athletes that came out, a few bigger names were in attendance as well, including Candice Appleby, Shae Foudy, Jade Howson, and April Zilg on the women's side and Danny Ching, Mo Freitas, and Noa Hopper for the men.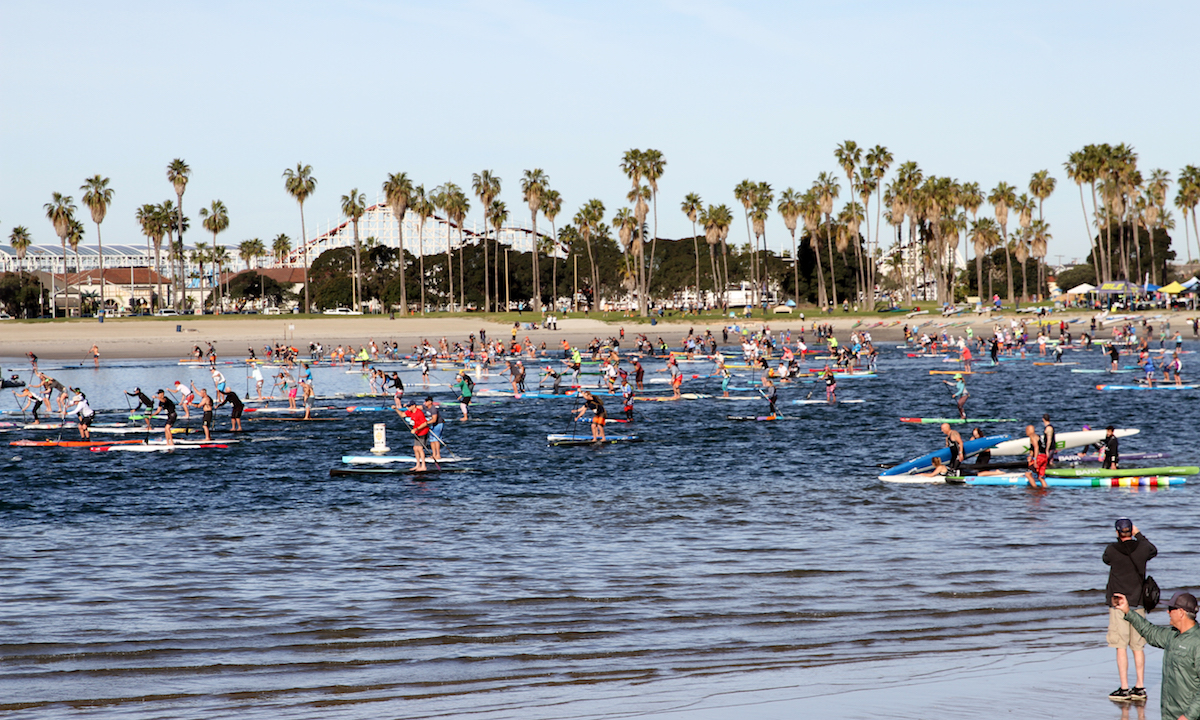 SUP racers take off at the start of the Hanohano. | Photo courtesy: Supconnect
The early hours were cool and overcast. But in typical San Diego fashion, as race time rolled around, the clouds burned off, leaving nothing but 481 racers and 4.5 miles of clear sunny skies.
In the initial stretch, Boardworks' Mo Feitas led the pack, closely trailed by world class athlete Danny Ching. For the women, Shae Foudy of Infinity SUP took an early lead, with SIC Maui's fifteen-year-old Jade Howson behind her, followed closely by a second group of racers.
Mo Freitas leading the men (left) and Shae Foudy leading the women (right) at the beginning of the race. | Photo courtesy: Supconnect
The top SUP racers completed the course in just over 50 minutes. In the Men's category, Danny Ching ended up passing Freitas during the race to take first place, with Freitas finishing second and 404's Noa Hopper taking third. On the Women's side, Howson closed the gap between her and Foudy, but Foudy was still able to maintain her lead up until the finish line, crossing first with Howson less than a board length behind her. April Zilg followed right behind Howson, taking third place. Infinity's Candice Appleby also competed in the event, but opted to race tandem with Jack Wygal. The duo placed 25th overall.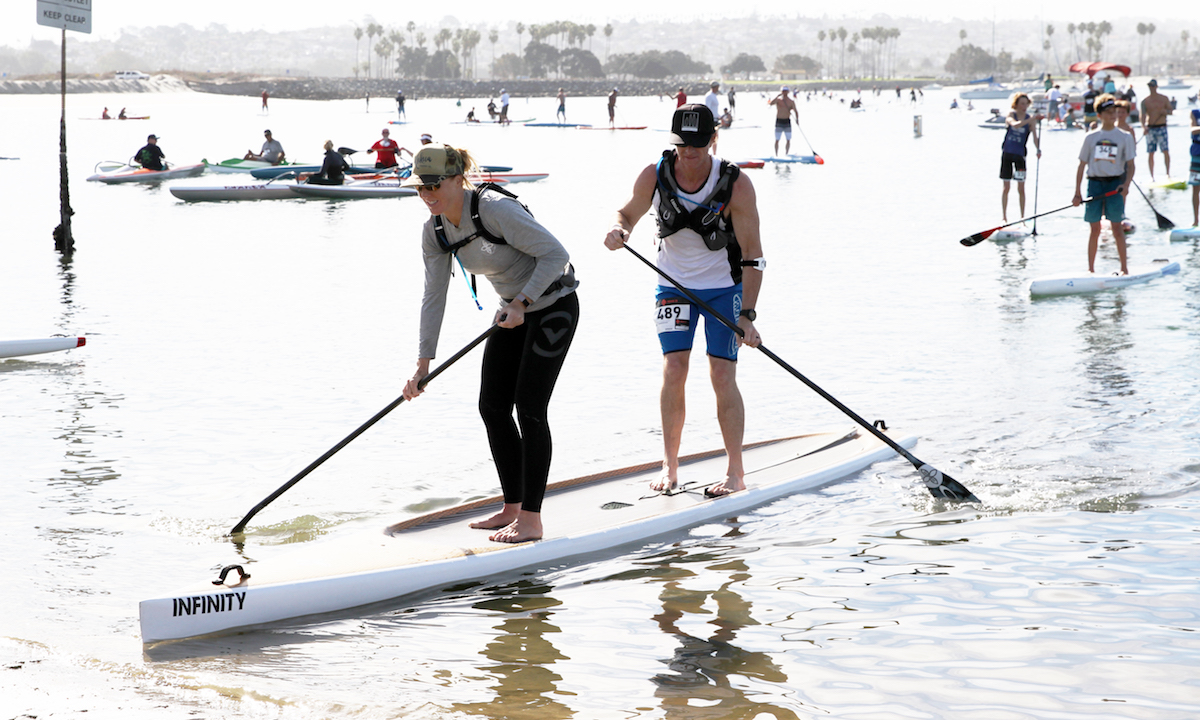 Candice Appleby and Jack Wygal after finishing their tandem SUP race at Hanohano 2018 | Photo courtesy: Supconnect
Alongside the elite athletes, Hanohano saw several strong grom performances from up and coming athletes of The Paddle Academy.
The event was full of familiar faces and great energy, and we are stoked to have attended again this year. With over 700 registered racers of all different ages, skill levels, and watercrafts, Hanohano was an awesome way to kick off the 2018 race season.
Full Event Results
| | | | | | | | | |
| --- | --- | --- | --- | --- | --- | --- | --- | --- |
| Event Name | Name(s) | Boat# | Craft | Age Group | Gender | Time | Rank | Div Rank |
| Short Course | Aaron Osten | 118 | Prone Stock | Open 19-39 | male |   |   |   |
| Short Course | Abby Baker | 152 | SUP 12'6″ | U14 | female | 01:03:45.91 | 163 | 1 |
| Kids SUP Race U12 and U14 | Abby Baker | 152 | SUP (All) | U14 | female | 00:09:19.00 | 6 | 1 |
| Short Course | Abby Hatch | 465 | Prone Stock | U14 | female |   |   |   |
| Short Course | Addie Jardim, Kendall Stake | 314 | OC-2 | U14 | female | 01:08:19.28 | 217 | 2 |
| Long Course | Adrian Lupola | 562 | OC-1 | Masters 40-49 | male | 01:23:48.69 | 124 | 18 |
| Short Course | Alan Chalom | 237 | SUP 14′ | Sr. Masters 50+ | male | 00:52:26.40 | 34 | 2 |
| Short Course | Alejandra Brito | 358 | SUP 12'6″ | Open 19-39 | female | 01:08:10.14 | 214 | 5 |
| Short Course | Alex Bravo | 422 | SUP 14′ | Golden Masters 60+ | male | 01:26:40.76 | 372 | 20 |
| Short Course | Alex Ruiz | 362 | SUP 12'6″ | U16 | male | 01:05:41.50 | 187 | 1 |
| Short Course | Alex Stone | 185 | Surfski Single | Masters 40-49 | male | 01:03:07.46 | 151 | 4 |
| Short Course | Alexis Lujan | 632 | SUP 12'6″ | Masters 40-49 | female | 01:35:25.43 | 407 | 11 |
| Short Course | Alisa Parry | 127 | SUP 12'6″ | Masters 40-49 | female | 01:34:59.90 | 406 | 10 |
| Long Course | Allie Paddy | 445 | OC-1 | Sr. Masters 50+ | female |   |   |   |
| Long Course | Amy Blackley Williford | 45 | OC-1 | Masters 40-49 | female | 01:21:34.37 | 115 | 1 |
| Short Course | Andre Michel | 486 | Surfski Single | Sr. Masters 50+ | male | 00:48:20.83 | 5 | 1 |
| Long Course | Andre Michel | 486 | Surfski Single | Sr. Masters 50+ | male |   |   |   |
| Short Course | Andre Niemeyer | 464 | SUP 14′ | Open 19-39 | male | 01:15:41.37 | 290 | 18 |
| Short Course | Andrea Nebel | 315 | SUP Under 12'6″ | Masters 40-49 | female | 01:45:35.28 | 425 | 4 |
| Kids Boat Race | Andres Hernandez | 639 | OC-1 | U14 | male |   |   |   |
| Long Course | Andrew Campbell | 104 | Surfski Single | Open 19-39 | male | 01:09:59.34 | 39 | 9 |
| Kids SUP Race U12 and U14 | Andrew Clark | 361 | SUP (All) | U12 | male |   |   |   |
| Short Course | Andrew Hammen | 364 | SUP 12'6″ | Masters 40-49 | male | 01:40:05.86 | 415 | 11 |
| Short Course | Angela Veneroni | 99 | OC-1 | Golden Masters 60+ | female | 01:22:56.69 | 348 | 5 |
| Long Course | Anthony Holland | 298 | OC-1 | Sr. Masters 50+ | male | 01:21:25.27 | 113 | 12 |
| Short Course | April Walker | 576 | SUP 14′ | Open 19-39 | female | 01:55:50.07 | 437 | 5 |
| Short Course | April Zilg | 500 | SUP 12'6″ | Open 19-39 | female | 00:57:55.43 | 87 | 2 |
| Long Course | April Zilg | 500 | OC-1 | Open 19-39 | female | 01:17:06.32 | 86 | 5 |
| Short Course | Art Beutler | 295 | Surfski Single | Golden Masters 60+ | male | 01:00:52.84 | 124 | 4 |
| Long Course | Art Beutler | 295 | OC-1 | Golden Masters 60+ | male | 01:31:37.68 | 148 | 6 |
| Short Course | Arvin Quiros | 294 | SUP 14′ | Masters 40-49 | male | 01:21:15.28 | 340 | 22 |
| Short Course | Ashok Shankar | 582 | SUP 14′ | Masters 40-49 | male | 01:27:37.39 | 378 | 23 |
| Short Course | Austin Abbruscato | 535 | SUP 12'6″ | Open 19-39 | female | 01:55:52.26 | 438 | 15 |
| Short Course | Austin Cox | 622 | SUP 12'6″ | Open 19-39 | male | 01:09:29.78 | 235 | 2 |
| Short Course | Austin Kieffer | 304 | Surfski Single | Open 19-39 | male | 00:36:13.94 | 1 | 1 |
| Long Course | Austin Kieffer | 304 | Surfski Single | Open 19-39 | male | 00:55:59.12 | 1 | 1 |
| Short Course | Bart Schade | 192 | Prone Stock | Sr. Masters 50+ | male | 01:02:26.27 | 143 | 2 |
| Short Course | Becca Trosch | 544 | Prone Stock | Open 19-39 | female | 01:18:46.85 | 324 | 3 |
| Short Course | Belah Ellis | 381 | SUP 12'6″ | U14 | female | 01:03:57.03 | 168 | 2 |
| Short Course | Bert Wells | 577 | Prone 14′ | Sr. Masters 50+ | male |   |   |   |
| Short Course | Bill Arsenault | 468 | SUP 14′ | Golden Masters 60+ | male | 01:18:28.72 | 320 | 16 |
| Long Course | Bill Hoker | 169 | Surfski Single | Golden Masters 60+ | male | 01:17:15.45 | 88 | 4 |
| Short Course | Bill Mcgrath | 487 | SUP 12'6″ | Sr. Masters 50+ | male | 01:07:04.05 | 201 | 2 |
| Long Course | Blake Rohrbach | 563 | OC-1 | U19 | male | 01:07:32.85 | 23 | 2 |
| Short Course | Bob Allen | 85 | SUP 14′ | 70+ | male | 01:13:27.98 | 271 | 2 |
| Long Course | Bob Stevenson | 518 | OC-1 | 70+ | male | 01:16:35.76 | 83 | 1 |
| Long Course | Brad Gill, Leeann Bare | 603 | OC-2 | Sr. Masters 50+ | female | 01:13:38.20 | 60 | 1 |
| Long Course | Brad Gill, Leeann Bare | 603 | OC-2 | Sr. Masters 50+ | mixed | 01:13:38.20 | 60 | 1 |
| Short Course | Brenda Yanoschik | 21 | SUP 12'6″ | Sr. Masters 50+ | female |   |   |   |
| Long Course | Brendan Lam | 27 | OC-1 | Open 19-39 | male | 01:26:32.54 | 133 | 24 |
| Long Course | Brennan Hill | 309 | OC-1 | Masters 40-49 | male | 01:10:16.06 | 41 | 4 |
| Short Course | Brent Walker | 618 | SUP Under 12'6″ | Golden Masters 60+ | male | 01:35:43.92 | 408 | 2 |
| Short Course | Bret Warner | 12 | Prone 14′ | Open 19-39 | male | 01:15:24.96 | 288 | 1 |
| Short Course | Brett Van Diest | 211 | SUP 14′ | Open 19-39 | male | 01:05:42.83 | 188 | 15 |
| Short Course | Brian Bender | 325 | OC-1 | Open 19-39 | male | 00:52:16.18 | 33 | 2 |
| Long Course | Brian Bender | 325 | OC-1 | Open 19-39 | male | 01:15:02.85 | 72 | 15 |
| Short Course | Bridget Hobrecht | 246 | SUP 12'6″ | Masters 40-49 | female | 01:28:07.12 | 380 | 8 |
| Short Course | Brigit Ramirez | 130 | OC-1 | Sr. Masters 50+ | female | 01:14:12.97 | 277 | 5 |
| Long Course | Bronson Napoleon-kekaualua | 607 | OC-1 | Open 19-39 | male | 01:15:29.13 | 75 | 16 |
| Long Course | Bruce Fincher | 46 | Surfski Single | Golden Masters 60+ | male | 01:08:37.01 | 27 | 1 |
| Short Course | Bruce Slater | 32 | OC-1 | Golden Masters 60+ | male | 01:02:06.65 | 137 | 8 |
| Short Course | Bryan Amdor | 36 | OC-1 | Sr. Masters 50+ | male | 01:06:47.26 | 196 | 11 |
| Long Course | Bryan Pesartic, Doug Patterson | 305 | OC-2 | Masters 40-49 | male | 01:14:52.62 | 69 | 1 |
| Short Course | Bryant Della | 94 | SUP 14′ | Sr. Masters 50+ | male | 01:19:40.39 | 332 | 22 |
| Short Course | Burke Hammond | 396 | SUP 12'6″ | U14 | male | 00:53:17.71 | 42 | 1 |
| Kids SUP Race U12 and U14 | Burke Hammond | 396 | SUP (All) | U14 | male | 00:08:42.00 | 3 | 3 |
| Short Course | Cameron Fraser | 391 | Surfski Single | Sr. Masters 50+ | male | 00:49:03.64 | 11 | 2 |
| Long Course | Cameron Fraser | 391 | Surfski Single | Sr. Masters 50+ | male | 01:16:57.37 | 85 | 6 |
| Short Course | Cameron Penn | 597 | OC-1 | U16 | female | 01:01:02.03 | 126 | 1 |
| Short Course | Carl Arreola | 457 | SUP 14′ | Masters 40-49 | male | 01:15:46.27 | 292 | 18 |
| Kids Boat Race | Carla Perez | 574 | Lightning | U8 | female | 00:00:01.00 | 1 | 1 |
| Kids SUP Race U8 and U10 | Carla Perez | 574 | SUP (All) | U8 | female | 00:04:44.00 | 5 | 1 |
| Short Course | Carla Perez, Carlos Perez | 513 | SUP Unl. (2 Person) | Open 19-39 | mixed | 00:53:31.04 | 43 | 2 |
| Short Course | Carleton Sage | 301 | Prone Stock | Sr. Masters 50+ | male | 01:11:06.45 | 251 | 7 |
| Long Course | Carlos Perez | 513 | Surfski Single | Open 19-39 | male |   |   |   |
| Short Course | Carly Dacosta, Danielle Borm | 320 | Surfski Double | Open 19-39 | female | 00:48:50.28 | 9 | 1 |
| Short Course | Carter Graves | 509 | SUP 12'6″ | Open 19-39 | female | 01:03:39.54 | 160 | 3 |
| Short Course | Carter Raya | 497 | OC-1 | U14 | male | 01:16:21.13 | 297 | 2 |
| Short Course | Cary Tatro | 525 | SUP 14′ | Masters 40-49 | male | 01:29:22.53 | 386 | 25 |
| Short Course | Casey Annis | 220 | Prone Unlimited | Sr. Masters 50+ | male | 01:05:30.54 | 183 | 2 |
| Long Course | Cat Bell | 340 | OC-1 | Open 19-39 | female | 01:23:12.92 | 121 | 8 |
| Short Course | Cathy Bohlman | 330 | Surfski Single | Sr. Masters 50+ | female | 01:27:10.78 | 375 | 3 |
| Short Course | Cathy Chandler | 81 | OC-1 | Golden Masters 60+ | female | 01:07:57.39 | 210 | 3 |
| Long Course | Cecilia Ng, Margaret Coulombe | 105 | OC-2 | Masters 40-49 | female | 01:19:33.06 | 100 | 3 |
| Short Course | Ceseli Fred | 312 | Surfski Single | Sr. Masters 50+ | female | 00:54:21.98 | 50 | 1 |
| Short Course | Chad Colorina | 573 | SUP 12'6″ | Open 19-39 | male | 01:16:22.99 | 298 | 3 |
| Short Course | Channing Cash | 202 | K1 | Open 19-39 | mixed | 01:33:12.06 | 403 | 1 |
| Short Course | Charles Webb | 600 | SUP 14′ | Sr. Masters 50+ | male | 01:23:50.69 | 356 | 25 |
| Short Course | Charlie Martel | 313 | SUP 14′ | Sr. Masters 50+ | male |   |   |   |
| Long Course | Charlie Yu, Wennie Yu | 60 | OC-2 | Masters 40-49 | mixed | 01:09:55.09 | 38 | 2 |
| Long Course | Charlsea Ewing | 439 | OC-1 | Open 19-39 | female | 01:21:39.22 | 116 | 7 |
| Long Course | Cheance Adair, Shannon Smith Moritz | 462 | OC-2 | Masters 40-49 | female | 01:12:10.87 | 50 | 2 |
| Short Course | Cheer Critchlow | 264 | SUP Under 12'6″ | Golden Masters 60+ | male |   |   |   |
| Short Course | Cheryl Culton | 78 | SUP 12'6″ | Sr. Masters 50+ | female | 01:31:07.53 | 390 | 8 |
| Short Course | Chip Escoffier | 616 | SUP 14′ | Golden Masters 60+ | male | 01:27:29.60 | 377 | 23 |
| Short Course | Chris Aguilar | 425 | Prone Stock | Masters 40-49 | male | 01:33:01.91 | 401 | 7 |
| Long Course | Chris Barlow, Sammie Barlow | 243 | Surfski Double | Open 19-39 | mixed | 01:00:09.19 | 2 | 1 |
| Short Course | Chris Costales | 23 | Prone Stock | Open 19-39 | male | 01:19:40.07 | 331 | 6 |
| Short Course | Chris Derecat | 24 | SUP 14′ | Golden Masters 60+ | male | 01:23:36.70 | 353 | 17 |
| Short Course | Chris Hammond | 394 | SUP 14′ | Masters 40-49 | male | 01:03:26.66 | 155 | 7 |
| Short Course | Chris Murphy | 171 | SUP 14′ | Open 19-39 | male | 00:58:22.49 | 91 | 8 |
| Short Course | Chris Ramirez | 612 | SUP Under 12'6″ | Masters 40-49 | male | 01:28:55.21 | 384 | 2 |
| Short Course | Chris Smith | 90 | SUP 14′ | Golden Masters 60+ | male | 01:08:44.89 | 221 | 8 |
| Long Course | Chris Wong | 463 | OC-1 | Sr. Masters 50+ | male | 01:36:45.22 | 154 | 17 |
| Short Course | Chris Yant | 37 | OC-1 | Sr. Masters 50+ | male | 00:54:44.84 | 55 | 2 |
| Long Course | Chris Yant | 37 | OC-1 | Sr. Masters 50+ | male |   |   |   |
| Short Course | Chrissy Johnson | 458 | SUP 12'6″ | Masters 40-49 | female | 01:39:14.06 | 412 | 12 |
| Short Course | Christian Page | 268 | Prone Unlimited | U16 | male | 01:20:05.48 | 335 | 1 |
| Short Course | Christina Pruess | 342 | SUP 12'6″ | Open 19-39 | female | 01:17:23.34 | 304 | 8 |
| Short Course | Christophe Chevallier | 353 | SUP 12'6″ | Sr. Masters 50+ | male | 01:19:12.04 | 327 | 8 |
| Long Course | Christopher Mccalla | 285 | OC-1 | Open 19-39 | male | 01:31:00.35 | 146 | 26 |
| Short Course | Chuck Perkins | 351 | OC-1 | Golden Masters 60+ | male | 00:56:06.36 | 73 | 2 |
| Short Course | Chuck Williams | 124 | OC-1 | Golden Masters 60+ | male | 01:01:26.91 | 130 | 7 |
| Long Course | Clarke Graves | 348 | OC-1 | Masters 40-49 | male | 01:12:21.38 | 53 | 8 |
| Long Course | Claudio Damico | 201 | OC-1 | Masters 40-49 | male | 01:13:22.72 | 58 | 9 |
| Long Course | Clayton Ballew | 642 | OC-1 | Masters 40-49 | male | 01:08:52.62 | 28 | 1 |
| Short Course | Coco Hagos | 141 | SUP 14′ | Sr. Masters 50+ | male |   |   |   |
| Kids prone | Cody Van Dyck | 646 | Prone (All) | U14 | male | 00:00:01.00 | 1 | 1 |
| Short Course | Cole Mostert | 197 | SUP 12'6″ | U14 | male | 01:18:36.07 | 322 | 9 |
| Kids SUP Race U12 and U14 | Cole Mostert | 197 | SUP (All) | U12 | male | 00:10:33.00 | 13 | 2 |
| Short Course | Conrad Rojas | 539 | SUP 12'6″ | U14 | male | 00:59:09.94 | 107 | 4 |
| Kids SUP Race U12 and U14 | Conrad Rojas | 539 | SUP (All) | U14 | male | 00:08:40.00 | 2 | 2 |
| Long Course | Cora Wolfe | 2 | OC-1 | Open 19-39 | female | 01:16:26.68 | 81 | 3 |
| Short Course | Corey Carlin | 219 | SUP 12'6″ | Masters 40-49 | male |   |   |   |
| Short Course | Courtney Stow, Geome Ramirez | 357 | Surfski Double | U19 | female | 00:51:35.30 | 27 | 1 |
| Short Course | Craig Callender | 248 | Prone Stock | Masters 40-49 | male | 01:11:59.91 | 259 | 4 |
| Short Course | Craig Meader | 508 | SUP 14′ | Sr. Masters 50+ | male | 01:13:18.11 | 269 | 20 |
| Short Course | Cyndy Young, Terri Franklin | 218 | OC-2 | Golden Masters 60+ | female | 00:54:27.73 | 53 | 1 |
| Short Course | Dale Marnati | 10 | SUP 14′ | Golden Masters 60+ | male | 00:58:39.68 | 97 | 1 |
| Short Course | Dan Johnson | 456 | SUP 12'6″ | Masters 40-49 | female | 01:16:37.12 | 301 | 2 |
| Short Course | Dan Miller | 150 | SUP 14′ | Open 19-39 | male | 00:56:05.36 | 72 | 6 |
| Short Course | Dan Shoemaker | 628 | SUP Unlimited | Sr. Masters 50+ | male |   |   |   |
| Long Course | Daniel Sutton | 13 | Surfski Single | Sr. Masters 50+ | male | 01:27:47.67 | 136 | 8 |
| Short Course | Danny Ching | 216 | SUP 14′ | Open 19-39 | male | 00:50:23.38 | 14 | 1 |
| Long Course | Danny Ching | 216 | OC-1 | Open 19-39 | male | 01:01:37.37 | 4 | 1 |
| Short Course | Danny Hough | 159 | Surfski Single | Masters 40-49 | male | 00:49:13.84 | 12 | 1 |
| Short Course | Danny Marron | 50 | SUP 12'6″ | Masters 40-49 | male | 00:56:54.20 | 79 | 1 |
| Long Course | Danny Marron | 50 | OC-1 | Masters 40-49 | male | 01:27:08.50 | 135 | 21 |
| Short Course | Danny Marucut | 82 | SUP 14′ | Sr. Masters 50+ | male | 01:11:05.49 | 250 | 17 |
| Long Course | Danny Marucut | 82 | OC-1 | Sr. Masters 50+ | male | 01:39:19.64 | 156 | 18 |
| Short Course | Darren Trinkle | 393 | SUP 14′ | Open 19-39 | male | 01:20:27.28 | 338 | 20 |
| Short Course | Dave Bradley | 39 | SUP 14′ | Sr. Masters 50+ | male | 01:32:15.02 | 396 | 26 |
| Long Course | Dave Brozowski | 596 | Surfski Single | Open 19-39 | male | 01:07:30.20 | 22 | 7 |
| Long Course | Dave Spitzer | 131 | OC-1 | Open 19-39 | male | 01:08:27.22 | 26 | 5 |
| Long Course | David Cunniff | 421 | OC-1 | Sr. Masters 50+ | male | 01:17:21.73 | 91 | 7 |
| Long Course | David Gubser | 564 | Surfski Single | Open 19-39 | male | 01:00:59.44 | 3 | 2 |
| Short Course | David Hansch | 215 | SUP 14′ | Golden Masters 60+ | male | 01:16:09.61 | 293 | 12 |
| Long Course | David Kobrinetz | 138 | V1 | Sr. Masters 50+ | male | 01:49:20.18 | 158 | 2 |
| Long Course | David Nollsch | 86 | OC-1 | Sr. Masters 50+ | male | 01:30:13.47 | 143 | 14 |
| Short Course | David Tinsley | 226 | SUP 14′ | Golden Masters 60+ | male | 01:30:11.66 | 388 | 24 |
| Long Course | Dawn Scribner, Mandy Mitchell | 107 | OC-2 | Sr. Masters 50+ | female | 01:19:19.05 | 99 | 2 |
| Short Course | Debbie Chao | 186 | SUP Under 12'6″ | Sr. Masters 50+ | female | 01:56:36.75 | 440 | 4 |
| Short Course | Debbie Hyde | 75 | OC-1 | Golden Masters 60+ | female | 01:04:59.62 | 177 | 2 |
| Short Course | Debra Arnold | 8 | SUP Under 12'6″ | Golden Masters 60+ | female | 01:45:38.41 | 426 | 1 |
| Short Course | Delaney Valentine | 280 | SUP 12'6″ | Open 19-39 | female | 01:42:05.17 | 419 | 14 |
| Short Course | Dennis Campbell | 97 | OC-1 | 70+ | male | 00:51:58.85 | 28 | 1 |
| Long Course | Dennis Campbell | 97 | OC-1 | 70+ | male | 01:18:29.66 | 95 | 2 |
| Short Course | Deon Lourens | 15 | Prone Stock | Sr. Masters 50+ | male | 01:05:12.96 | 180 | 3 |
| Long Course | Deon Lourens | 15 | Surfski Single | Sr. Masters 50+ | male | 01:09:18.90 | 33 | 4 |
| Kids SUP Race U8 and U10 | Derek Hammond | 398 | SUP (All) | U10 | male | 00:06:26.00 | 9 | 4 |
| Short Course | Derek Turner | 61 | SUP 14′ | Sr. Masters 50+ | male | 01:04:19.95 | 173 | 9 |
| Short Course | Diane Bradley | 38 | SUP 12'6″ | Sr. Masters 50+ | female | 01:22:26.99 | 346 | 5 |
| Short Course | Dj O'brien | 365 | Prone Stock | Sr. Masters 50+ | female | 01:10:30.96 | 245 | 2 |
| Short Course | Dodie Gildea | 440 | OC-1 | Sr. Masters 50+ | female | 01:23:40.03 | 354 | 6 |
| Short Course | Don Goss | 49 | SUP 14′ | Golden Masters 60+ | male | 01:16:32.96 | 300 | 13 |
| Short Course | Donna Wisneske, Martha Seaman | 251 | OC-2 | Sr. Masters 50+ | female | 00:52:48.65 | 40 | 1 |
| Short Course | Doug Vojtko | 126 | SUP 12'6″ | Masters 40-49 | male | 01:24:26.15 | 360 | 10 |
| Short Course | Dwayne Bora | 613 | SUP Under 12'6″ | Sr. Masters 50+ | male | 01:05:19.67 | 181 | 1 |
| Long Course | Dy Valdez | 545 | OC-1 | Sr. Masters 50+ | female | 01:20:04.27 | 102 | 2 |
| Kids SUP Race U12 and U14 | Dylan Krugh | 327 | SUP (All) | U14 | male | 00:09:59.00 | 12 | 8 |
| Long Course | Earl Almario | 217 | V1 | Masters 40-49 | male | 01:09:32.90 | 36 | 1 |
| Short Course | Ed Knight | 350 | SUP 14′ | Sr. Masters 50+ | male | 01:09:59.79 | 242 | 15 |
| Short Course | Efrain Becerra | 279 | OC-1 | Open 19-39 | male | 01:05:31.61 | 184 | 8 |
| Short Course | Ej Johnson | 620 | SUP 14′ | Sr. Masters 50+ | male | 01:00:07.25 | 115 | 6 |
| Short Course | Elaine Peat-foster | 372 | SUP 14′ | Golden Masters 60+ | female | 01:43:03.15 | 422 | 3 |
| Short Course | Elijah Schoenig | 452 | SUP 14′ | U19 | male | 00:54:52.33 | 56 | 1 |
| Short Course | Elisa Silvestro | 181 | SUP Under 12'6″ | Masters 40-49 | female | 01:42:10.03 | 420 | 2 |
| Long Course | Elizabeth Ostgaard | 583 | OC-1 | U19 | female | 01:20:45.09 | 108 | 1 |
| Kids Boat Race | Emma Davis | 460 | Surfski Single | U14 | female | 00:00:01.00 | 1 | 2 |
| Kids SUP Race U12 and U14 | Emma Davis | 460 | SUP (All) | U14 | female | 00:13:00.00 | 17 | 6 |
| Short Course | Emma Davis, Heather Fenske | 449 | Surfski Double | Open 19-39 | female | 00:54:23.91 | 51 | 2 |
| Short Course | Emma Sainsbury-carter | 234 | Surfski Single | U19 | female | 00:55:25.31 | 66 | 2 |
| Short Course | Ephraim Mallari | 11 | SUP Under 12'6″ | Masters 40-49 | male | 01:32:01.40 | 394 | 3 |
| Short Course | Eri Miyasaka | 244 | OC-1 | Open 19-39 | female | 01:01:51.71 | 134 | 1 |
| Long Course | Eric Holmberg | 568 | OC-1 | Open 19-39 | male | 01:16:18.11 | 80 | 17 |
| Short Course | Erik Sydow | 80 | OC-1 | Golden Masters 60+ | male | 00:57:05.38 | 82 | 3 |
| Short Course | Erik Von Koehe | 548 | Prone Stock | Masters 40-49 | male | 01:04:41.08 | 175 | 1 |
| Short Course | Erika Benitez | 517 | SUP 12'6″ | U19 | female | 01:01:16.52 | 127 | 1 |
| Short Course | Ernie Villanueva | 515 | SUP 14′ | Masters 40+ | male | 01:14:15.14 | 278 | 3 |
| Short Course | Ethan Preuett | 387 | OC-1 | U14 | male | 00:59:45.70 | 111 | 1 |
| Kids SUP Race U12 and U14 | Ethan Preuett | 387 | SUP (All) | U14 | male | 00:09:46.00 | 10 | 7 |
| Short Course | Ethel Arreola | 149 | SUP 14′ | Masters 40-49 | female | 01:32:09.23 | 395 | 5 |
| Long Course | Evan Truesdale | 277 | Surfski Single | U19 | male | 01:02:45.14 | 6 | 1 |
| Long Course | Frank Cavanagh | 493 | Surfski Single | Golden Masters 60+ | male | 01:12:17.32 | 52 | 2 |
| Short Course | Frank Umipig | 175 | SUP Under 12'6″ | Golden Masters 60+ | male | 01:18:46.89 | 325 | 1 |
| Short Course | Frankie Sevilleja | 239 | SUP 14′ | Masters 40-49 | male | 01:11:26.18 | 254 | 13 |
| Kids SUP Race U12 and U14 | Gabriel Toscano | 420 | SUP (All) | U12 | male | 00:10:47.00 | 14 | 3 |
| Short Course | Gail Roake | 195 | SUP Under 12'6″ | Masters 40-49 | female | 01:42:15.15 | 421 | 3 |
| Long Course | Garrett Crayton | 619 | OC-1 | U19 | male | 01:16:33.33 | 82 | 4 |
| Short Course | Gary Cannon | 502 | OC-1 | Golden Masters 60+ | male | 01:08:48.45 | 223 | 10 |
| Short Course | Gary Leong | 35 | SUP 14′ | Golden Masters 60+ | male | 01:17:33.48 | 308 | 14 |
| Short Course | Gary Mortimer, Schyler Perez | 290 | OC-2 | Open 19-39 | mixed | 00:58:26.49 | 93 | 2 |
| Short Course | Gavin Mencinsky | 335 | SUP 12'6″ | U14 | male | 00:59:04.39 | 106 | 3 |
| Kids SUP Race U12 and U14 | Gavin Mencinsky | 335 | SUP (All) | U14 | male | 00:08:37.00 | 1 | 1 |
| Short Course | Geoffrey Page | 267 | Prone Unlimited | Golden Masters 60+ | male | 01:20:08.39 | 336 | 4 |
| Long Course | George Plsek | 623 | OC-1 | Masters 40-49 | male | 01:11:51.12 | 48 | 5 |
| Long Course | Gerald Montes | 528 | OC-1 | Sr. Masters 50+ | male | 01:14:58.96 | 71 | 3 |
| Short Course | Giannisa Vecco | 155 | SUP 12'6″ | Open 19-39 | female | 01:03:40.00 | 161 | 4 |
| Short Course | Gilbert Miranda | 617 | SUP Under 12'6″ | Open 19-39 | male | 01:17:49.06 | 312 | 1 |
| Short Course | Gordo Parham | 496 | OC-1 | 70+ | male | 01:12:47.56 | 264 | 2 |
| Long Course | Grace Hardy | 566 | OC-1 | Open 19-39 | female | 01:24:06.61 | 125 | 9 |
| Kids Boat Race | Gracie Cowles | 499 | OC-1 | U10 | female | 00:00:01.00 | 1 | 1 |
| Short Course | Grant Smith | 538 | SUP 12'6″ | Masters 40-49 | male | 01:03:32.39 | 158 | 2 |
| Short Course | Greg Ford | 58 | Prone Stock | Masters 40-49 | male |   |   |   |
| Short Course | Greg Gardner | 199 | SUP 14′ | Sr. Masters 50+ | male | 01:08:54.19 | 225 | 12 |
| Short Course | Greg Hinds | 540 | Prone Unlimited | Open 19-39 | male | 01:12:53.50 | 265 | 3 |
| Short Course | Greg Welch | 170 | SUP 12'6″ | Sr. Masters 50+ | male | 01:03:49.30 | 165 | 1 |
| Long Course | Greg Welch | 170 | V1 | Sr. Masters 50+ | male | 01:27:49.66 | 137 | 1 |
| Short Course | Gregory Crouse | 160 | V1 | Masters 40-49 | male |   |   |   |
| Long Course | Gregory Crouse | 160 | V1 | Masters 40-49 | male | 01:14:46.34 | 67 | 2 |
| Short Course | Gregory Lee | 225 | SUP Unlimited | Golden Masters 60+ | male | 01:50:02.82 | 429 | 3 |
| Short Course | Gretchen Benedetto | 274 | SUP 12'6″ | Golden Masters 60+ | female | 01:11:21.63 | 253 | 1 |
| Short Course | Haakon Hoyer-Nielsen | 276 | SUP 14′ | U19 | male | 00:54:55.19 | 58 | 2 |
| Kids SUP Race U12 and U14 | Haiden Motika | 121 | SUP (All) | U12 | male |   |   |   |
| Short Course | Hannah Roge | 191 | SUP 12'6″ | Open 19-39 | female | 01:22:09.86 | 344 | 10 |
| Short Course | Harold Goodman | 507 | SUP 14′ | Masters 40-49 | male | 01:16:47.92 | 302 | 19 |
| Short Course | Harry Newman | 273 | SUP 12'6″ | Golden Masters 60+ | male | 01:50:12.98 | 430 | 4 |
| Short Course | Havy Lanier | 470 | SUP 12'6″ | Open 19-39 | female | 01:35:47.94 | 409 | 12 |
| Long Course | Hayden Hemmens | 631 | Surfski Single | Open 19-39 | male | 01:03:25.10 | 9 | 5 |
| Short Course | Heather Crayton, Sophia Wong | 198 | OC-2 | U14 | female | 01:03:14.36 | 152 | 1 |
| Short Course | Heather Fuhr | 430 | Prone Stock | Sr. Masters 50+ | female | 01:10:24.00 | 244 | 1 |
| Kids Boat Race | Heidi Hernandez | 640 | OC-1 | U10 | female | 00:00:01.00 | 1 | 2 |
| Short Course | Heidi Stone | 68 | SUP 12'6″ | Golden Masters 60+ | female | 01:15:44.60 | 291 | 2 |
| Short Course | Henry Bullock, James Gaulke | 594 | OC-2 | Open 19-39 | male | 00:52:06.34 | 31 | 1 |
| Long Course | Hoang Pham | 31 | OC-1 | Masters 40-49 | male | 01:19:47.73 | 101 | 13 |
| Long Course | Ikaika Pidot | 598 | OC-1 | Open 19-39 | male | 01:10:50.82 | 44 | 8 |
| Kids Boat Race | Ikaika Voci | 247 | OC-1 | U10 | male |   |   |   |
| Kids SUP Race U8 and U10 | Ikaika Voci | 247 | SUP (All) | U10 | male | 00:04:35.00 | 4 | 2 |
| Short Course | Iopu Lanakila – Taeleifi | 595 | OC-1 | Sr. Masters 50+ | male | 00:55:07.74 | 64 | 4 |
| Short Course | Irina Vulakh | 156 | OC-1 | Masters 40-49 | female | 01:01:31.23 | 131 | 2 |
| Short Course | Irish Munce | 526 | OC-1 | Open 19-39 | male | 00:54:11.81 | 47 | 4 |
| Short Course | Jack Shoemaker | 633 | SUP 12'6″ | U19 | male | 01:05:56.47 | 189 | 1 |
| Short Course | Jack Wygal, Candice Appleby | 489 | SUP Unl. (2 Person) | Open 19-39 | mixed | 00:51:26.11 | 25 | 1 |
| Kids Boat Race | Jackson Davis | 474 | Surfski Single | U12 | male | 00:00:01.00 | 1 | 1 |
| Short Course | Jacob Eash | 176 | Surfski Single | U16 | male | 00:48:25.63 | 6 | 1 |
| Long Course | Jacob Eash | 176 | Surfski Single | U19 | male | 01:15:20.49 | 74 | 2 |
| Short Course | Jacqui Tavis | 437 | Surfski Single | Masters 40-49 | female | 01:18:33.07 | 321 | 1 |
| Short Course | Jade Howson | 338 | SUP 12'6″ | U16 | female | 00:57:44.78 | 86 | 1 |
| Short Course | Jaidynn Watson | 193 | SUP 12'6″ | U14 | female | 01:28:37.22 | 382 | 5 |
| Kids SUP Race U8 and U10 | Jaidynn Watson | 193 | SUP (All) | U10 | female | 00:04:13.00 | 2 | 2 |
| Short Course | Jake Woodard | 260 | Surfski Single | U14 | male | 01:03:44.38 | 162 | 3 |
| Long Course | James Gonzales | 302 | OC-1 | Masters 40-49 | male | 01:18:32.50 | 96 | 12 |
| Short Course | James La'a, Kris Mcaulay | 133 | OC-2 | Masters 40-49 | mixed | 00:54:38.36 | 54 | 1 |
| Short Course | James Novella | 552 | OC-1 | Sr. Masters 50+ | male | 00:55:50.63 | 68 | 5 |
| Short Course | James Spring | 284 | Surfski Single | Masters 40-49 | male | 01:01:17.86 | 128 | 3 |
| Short Course | James Yanoschik | 22 | SUP 12'6″ | Golden Masters 60+ | male | 01:23:53.69 | 357 | 1 |
| Short Course | Jared Bonnot | 530 | SUP 12'6″ | Masters 40-49 | male | 01:14:07.00 | 276 | 7 |
| Short Course | Jared Power | 9 | SUP 14′ | Sr. Masters 50+ | male |   |   |   |
| Short Course | Jasmine Perez | 356 | Surfski Single | U14 | female | 00:58:16.58 | 90 | 2 |
| Short Course | Jasmine Stiles | 174 | Prone Stock | Sr. Masters 50+ | female | 01:10:54.56 | 249 | 3 |
| Short Course | Jason Gonzales | 148 | SUP 12'6″ | Masters 40-49 | male | 01:21:08.51 | 339 | 9 |
| Short Course | Jason Meffe | 154 | SUP 14′ | Masters 40-49 | male | 01:08:16.33 | 216 | 9 |
| Short Course | Jason Miller | 521 | SUP 12'6″ | Masters 40-49 | male | 01:13:39.61 | 273 | 6 |
| Short Course | Jason Watson | 194 | SUP 14′ | Open 19-39 | male | 00:59:01.89 | 104 | 11 |
| Short Course | Jay Scheckman | 429 | Prone 14′ | Masters 40-49 | male | 01:01:49.77 | 132 | 1 |
| Kids Boat Race | Jazon Nunez | 636 | Lightning | U10 | male | 00:00:01.00 | 1 | 1 |
| Kids SUP Race U8 and U10 | Jazon Nunez | 636 | SUP (All) | U10 | male | 00:06:13.00 | 7 | 3 |
| Short Course | Jc Pothier | 401 | K1 | Open 19-39 | male | 00:48:59.19 | 10 | 1 |
| Short Course | Jeanne Trimm | 59 | SUP 12'6″ | Golden Masters 60+ | female |   |   |   |
| Short Course | Jeff Bennett | 48 | SUP 14′ | Golden Masters 60+ | male | 01:24:15.05 | 359 | 18 |
| Short Course | Jeff Kiesel | 164 | OC-1 | Golden Masters 60+ | male | 00:58:49.54 | 99 | 5 |
| Short Course | Jeff Lendrum | 510 | Prone Stock | Sr. Masters 50+ | male | 01:22:22.41 | 345 | 9 |
| Short Course | Jeff Rios | 376 | SUP 12'6″ | Sr. Masters 50+ | male | 01:18:08.82 | 315 | 7 |
| Short Course | Jeff Sargeant | 373 | SUP 14′ | Golden Masters 60+ | male | 01:07:31.66 | 205 | 6 |
| Long Course | Jeff Symons | 531 | OC-1 | Masters 40-49 | male | 01:20:50.09 | 109 | 15 |
| Long Course | Jeff Verryp | 135 | Surfski Single | Sr. Masters 50+ | male | 01:09:06.34 | 29 | 3 |
| Short Course | Jen Van Diest | 212 | SUP 12'6″ | Open 19-39 | female | 01:14:29.62 | 281 | 7 |
| Long Course | Jenn Needham | 89 | OC-1 | Open 19-39 | female | 01:25:10.46 | 130 | 10 |
| Short Course | Jennifer Dail | 433 | SUP 14′ | Masters 40-49 | female | 01:39:41.02 | 413 | 6 |
| Short Course | Jennifer Humboldt | 321 | SUP 12'6″ | Masters 40-49 | female | 01:17:03.15 | 303 | 3 |
| Short Course | Jeremiah Moles | 189 | SUP Under 12'6″ | Masters 40-49 | male |   |   |   |
| Short Course | Jeremiah Murphy | 255 | SUP 14′ | Masters 40-49 | male | 00:52:02.35 | 29 | 1 |
| Short Course | Jericho Poppler | 611 | SUP 14′ | Golden Masters 60+ | female | 01:30:27.42 | 389 | 2 |
| Short Course | Jerry Skoda | 307 | SUP 14′ | Masters 40-49 | male | 01:53:35.65 | 435 | 26 |
| Short Course | Jess Rocheleau | 512 | SUP 12'6″ | Open 19-39 | female | 01:18:14.46 | 316 | 9 |
| Short Course | Jessica Davis | 377 | SUP 12'6″ | Open 19-39 | female | 01:11:58.66 | 258 | 6 |
| Short Course | Jessica Manos | 481 | SUP 12'6″ | Masters 40-49 | female |   |   |   |
| Short Course | Jet Tan | 266 | OC-1 | U19 | male | 00:53:48.07 | 44 | 1 |
| Long Course | Jet Tan | 266 | OC-1 | U19 | male | 01:21:18.97 | 111 | 5 |
| Kids Boat Race | Jianhui Ye | 581 | OC-1 | U10 | male | 00:00:01.00 | 1 | 1 |
| Kids SUP Race U8 and U10 | Jianhui Ye | 581 | SUP (All) | U10 | male | 00:06:30.00 | 10 | 5 |
| Long Course | Jill Johnson | 423 | OC-1 | Masters 40-49 | female | 01:30:05.53 | 142 | 2 |
| Short Course | Jill Roesner | 179 | SUP 12'6″ | Masters 40+ | female | 01:28:51.16 | 383 | 1 |
| Short Course | Jillian Wong | 572 | OC-1 | U19 | female | 01:15:18.97 | 286 | 2 |
| Short Course | Jim Anderson | 341 | SUP 14′ | Open 19-39 | male | 01:18:20.35 | 319 | 19 |
| Short Course | Jim Baumann | 252 | SUP 14′ | Golden Masters 60+ | male | 01:02:22.03 | 141 | 3 |
| Long Course | Jim Baumann | 252 | OC-1 | Golden Masters 60+ | male | 01:15:32.52 | 76 | 1 |
| Short Course | Jim Brumm | 147 | SUP 12'6″ | Sr. Masters 50+ | male |   |   |   |
| Long Course | Jim Gannon, Rhonda Gannon | 249 | OC-2 | Golden Masters 60+ | mixed | 01:10:35.11 | 42 | 1 |
| Short Course | Jim Groark | 565 | OC-1 | Golden Masters 60+ | male | 00:52:02.91 | 30 | 1 |
| Long Course | Jim Oleson | 454 | OC-1 | Sr. Masters 50+ | male | 01:15:42.88 | 78 | 5 |
| Short Course | Jim Taylor | 542 | OC-1 | Sr. Masters 50+ | male | 01:02:48.40 | 148 | 9 |
| Long Course | Jim Wilkens | 354 | Surfski Single | Golden Masters 60+ | male | 01:15:39.90 | 77 | 3 |
| Short Course | Jim Wilkens, Kathy Wilder | 354 | Surfski Double | Golden Masters 60+ | mixed | 00:56:17.55 | 75 | 1 |
| Short Course | Jodie Greger | 96 | SUP 12'6″ | Sr. Masters 50+ | female | 01:25:20.39 | 364 | 7 |
| Short Course | Joe Scaturro | 579 | Prone Stock | Open 19-39 | male | 01:16:29.23 | 299 | 4 |
| Short Course | Joel – Jhacoli Yang | 559 | SUP 14′ | Masters 40-49 | male | 01:15:03.58 | 284 | 17 |
| Long Course | John Acosta | 222 | OC-1 | Masters 40-49 | male | 01:12:01.92 | 49 | 6 |
| Short Course | John Bland | 112 | SUP 14′ | 70+ | male | 01:02:36.17 | 144 | 1 |
| Short Course | John Gabriel | 383 | SUP 14′ | Open 19-39 | male | 00:58:28.57 | 94 | 9 |
| Short Course | John Gossett | 374 | SUP 14′ | Golden Masters 60+ | male | 01:08:33.10 | 220 | 7 |
| Short Course | John Green | 397 | Surfski Single | 70+ | male | 00:48:27.88 | 7 | 1 |
| Short Course | John Hadley | 455 | SUP 14′ | Sr. Masters 50+ | male | 00:56:21.75 | 76 | 5 |
| Short Course | John Martin | 529 | Prone Stock | Sr. Masters 50+ | male | 01:07:58.04 | 211 | 4 |
| Short Course | John Nordin | 413 | SUP 12'6″ | Masters 40-49 | male | 01:13:14.48 | 267 | 5 |
| Short Course | John O'hagan | 140 | SUP 14′ | Sr. Masters 50+ | male | 01:12:55.64 | 266 | 19 |
| Short Course | John Schuck | 253 | SUP 12'6″ | Golden Masters 60+ | male | 01:30:09.08 | 387 | 2 |
| Short Course | John Troppmann | 16 | SUP 14′ | Golden Masters 60+ | male | 01:01:58.69 | 135 | 2 |
| Short Course | John Tyler | 157 | SUP 14′ | Golden Masters 60+ | male | 01:06:45.74 | 195 | 4 |
| Short Course | Johnny Kessel | 282 | Prone Unlimited | Sr. Masters 50+ | male | 01:16:19.53 | 296 | 4 |
| Short Course | Jon Anderson | 292 | SUP 14′ | Sr. Masters 50+ | male | 01:05:24.39 | 182 | 10 |
| Long Course | Jon Anderson | 292 | Surfski Single | Sr. Masters 50+ | male | 01:17:18.16 | 89 | 7 |
| Short Course | Jon Concepcion | 395 | SUP 14′ | Masters 40-49 | male | 01:19:32.17 | 329 | 21 |
| Long Course | Jon Mitzel | 63 | OC-1 | Open 19-39 | male | 01:14:09.66 | 65 | 13 |
| Short Course | Jonas Graham | 299 | SUP 12'6″ | U14 | male | 00:59:37.73 | 110 | 5 |
| Kids SUP Race U12 and U14 | Jonas Graham | 299 | SUP (All) | U14 | male | 00:08:51.00 | 4 | 4 |
| Short Course | Jordan Mckee | 162 | SUP Unlimited | Open 19-39 | male | 00:52:33.71 | 37 | 1 |
| Long Course | Jordan Mckee | 162 | OC-1 | Open 19-39 | male | 01:25:36.63 | 132 | 23 |
| Short Course | Jose Gonzalez | 331 | SUP 14′ | Masters 40-49 | male | 01:14:52.09 | 283 | 16 |
| Short Course | Joseph Diasparra | 241 | Prone Stock | Open 19-39 | male | 01:10:32.81 | 246 | 2 |
| Short Course | Josette Lata | 88 | SUP 14′ | Masters 40-49 | female |   |   |   |
| Long Course | Josh Crayton | 592 | OC-1 | Masters 40-49 | male | 01:09:18.73 | 30 | 2 |
| Short Course | Josh Havelka | 402 | Surfski Single | Masters 40-49 | male | 01:04:06.19 | 170 | 5 |
| Short Course | Josue Martinez | 536 | SUP 12'6″ | Open 19-39 | male | 01:54:49.72 | 436 | 4 |
| Short Course | Jt Clough | 436 | Prone Stock | Sr. Masters 50+ | female | 01:17:40.46 | 310 | 4 |
| Short Course | Judith Walaszczyk | 177 | SUP 12'6″ | Golden Masters 60+ | female | 01:26:17.10 | 371 | 6 |
| Short Course | Juerg Geser | 77 | SUP 14′ | Masters 40-49 | male |   |   |   |
| Long Course | Juju Jones | 17 | OC-1 | Sr. Masters 50+ | female |   |   |   |
| Short Course | Julia Aranda | 311 | SUP 12'6″ | Sr. Masters 50+ | female |   |   |   |
| Short Course | Julian Olmos | 43 | Surfski Single | Golden Masters 60+ | male | 00:59:14.56 | 108 | 3 |
| Short Course | Julie Garrido | 261 | SUP 14′ | Masters 40-49 | female | 01:25:10.60 | 362 | 3 |
| Long Course | Junette Mccarthy | 589 | OC-1 | Sr. Masters 50+ | female | 01:16:13.02 | 79 | 1 |
| Short Course | Junior Cachero | 29 | SUP Under 12'6″ | Sr. Masters 50+ | male | 01:51:50.23 | 432 | 3 |
| Long Course | Junyi Chung | 87 | OC-1 | Open 19-39 | male | 01:21:31.16 | 114 | 20 |
| Short Course | Justin Van Dyck | 352 | SUP 14′ | Masters 40-49 | male | 01:00:49.38 | 120 | 5 |
| Short Course | Kai Dano | 165 | SUP 14′ | Sr. Masters 50+ | male | 01:12:09.53 | 261 | 18 |
| Long Course | Kaimi Yoza, Leilani Borm | 332 | Surfski Double | Open 19-39 | female | 01:06:27.58 | 17 | 1 |
| Short Course | Kaitlin Harvey | 319 | SUP 12'6″ | U14 | female | 01:21:23.81 | 341 | 3 |
| Kids SUP Race U12 and U14 | Kaitlin Harvey | 319 | SUP (All) | U14 | female | 00:11:10.00 | 15 | 4 |
| Long Course | Kala Diaz | 606 | V1 | Open 19-39 | male | 01:09:51.89 | 37 | 1 |
| Kids SUP Race U12 and U14 | Kalia Chalom | 369 | SUP (All) | U14 | female | 00:09:57.00 | 11 | 3 |
| Short Course | Kamio Defries | 553 | OC-1 | U16 | female | 01:06:03.03 | 190 | 2 |
| Long Course | Karen Click | 467 | OC-1 | Sr. Masters 50+ | female | 01:23:08.55 | 120 | 4 |
| Short Course | Karen Hoyt | 524 | SUP 14′ | Sr. Masters 50+ | female | 01:32:54.40 | 399 | 2 |
| Short Course | Karen Jewel | 416 | OC-1 | Sr. Masters 50+ | female | 01:06:45.31 | 194 | 3 |
| Short Course | Karen Legotte | 326 | Kayak | Sr. Masters 50+ | female | 01:31:18.14 | 392 | 2 |
| Short Course | Karina Mueller | 516 | SUP 12'6″ | Open 19-39 | female | 01:40:08.99 | 416 | 13 |
| Short Course | Karl Ring | 114 | SUP 14′ | Sr. Masters 50+ | male | 00:55:00.05 | 61 | 3 |
| Short Course | Katelyn Nimsky | 337 | Surfski Single | U16 | female | 01:00:52.94 | 125 | 2 |
| Long Course | Kathy Archibald | 415 | OC-1 | Masters 40-49 | female | 01:33:21.98 | 150 | 3 |
| Short Course | Kathy Coryea | 117 | SUP 14′ | Sr. Masters 50+ | female |   |   |   |
| Short Course | Kathy De Wet-oleson | 453 | OC-1 | Sr. Masters 50+ | female | 00:56:54.77 | 80 | 1 |
| Short Course | Kathy Hartzler | 71 | SUP Under 12'6″ | Sr. Masters 50+ | female | 01:51:03.31 | 431 | 3 |
| Short Course | Kathy Lynch | 310 | SUP 12'6″ | Sr. Masters 50+ | female | 01:11:16.05 | 252 | 3 |
| Short Course | Katie Irwin | 102 | OC-1 | Open 19-39 | female |   |   |   |
| Short Course | Kaya Mctigue | 584 | Surfski Single | U19 | female | 00:50:43.94 | 20 | 1 |
| Kids Boat Race | Kayden Brisco | 450 | Lightning | U8 | male | 00:00:01.00 | 1 | 2 |
| Kids SUP Race U8 and U10 | Kayden Brisco | 450 | SUP (All) | U8 | male |   |   |   |
| Short Course | Keaton Rose | 343 | SUP 14′ | U16 | male | 00:54:54.19 | 57 | 2 |
| Short Course | Keith Keillor | 604 | Surfski Single | Golden Masters 60+ | male | 00:58:56.62 | 102 | 2 |
| Short Course | Keith Miller | 418 | SUP 14′ | 70+ | male | 01:29:15.43 | 385 | 3 |
| Long Course | Kekoa Yockman | 608 | OC-1 | Open 19-39 | male | 01:17:32.72 | 92 | 18 |
| Short Course | Kelli Foudy, Daniel Russell | 469 | OC-2 | Open 19-39 | mixed | 00:54:08.69 | 46 | 1 |
| Short Course | Kellly Fleming | 316 | OC-1 | Sr. Masters 50+ | female | 00:56:58.91 | 81 | 2 |
| Short Course | Kelly Murphy | 180 | SUP 12'6″ | Masters 40-49 | female | 01:17:55.40 | 313 | 5 |
| Long Course | Kelly Truitt | 93 | OC-1 | Open 19-39 | female | 01:25:16.69 | 131 | 11 |
| Short Course | Kelly Unruh, Maddie Unruh, Sasha Unruh, Bob Long | 435 | SUP Unl. (4 Person) | U14 | mixed | 01:32:23.29 | 397 | 1 |
| Short Course | Kelsy Hartley | 546 | SUP 14′ | Open 19-39 | female | 01:13:31.37 | 272 | 1 |
| Short Course | Ken Baldwin | 69 | SUP 12'6″ | Sr. Masters 50+ | male | 01:32:58.81 | 400 | 9 |
| Short Course | Ken Straw | 91 | SUP 14′ | Golden Masters 60+ | male | 01:26:00.39 | 369 | 19 |
| Short Course | Kenneth Fry | 355 | Surfski Single | Golden Masters 60+ | male | 00:56:00.00 | 70 | 1 |
| Short Course | Kenny Kwong | 386 | SUP 12'6″ | Sr. Masters 50+ | male | 01:13:16.12 | 268 | 5 |
| Long Course | Keoni Defries | 551 | OC-1 | Open 19-39 | male | 01:09:18.73 | 30 | 6 |
| Short Course | Kerry Mcmanemy | 427 | SUP 14′ | Masters 40-49 | female | 01:31:42.49 | 393 | 4 |
| Kids Boat Race | Keynes Wu | 366 | Lightning | U12 | male |   |   |   |
| Short Course | Kimberly Chevallier | 238 | Surfski Single | Sr. Masters 50+ | female | 01:01:25.45 | 129 | 2 |
| Short Course | Kimberly Pennington | 588 | OC-1 | Masters 40-49 | female | 01:02:09.56 | 138 | 3 |
| Short Course | Kitsy Nipper | 109 | Surfski Single | U14 | female | 00:54:16.97 | 49 | 1 |
| Kids Boat Race | Kitsy Nipper | 109 | Surfski Single | U14 | female | 00:00:01.00 | 1 | 1 |
| Kids SUP Race U12 and U14 | Kitsy Nipper | 109 | SUP (All) | U14 | female | 00:09:26.00 | 8 | 2 |
| Short Course | Kitty Gabriel, Mary Lea Bradley | 414 | OC-2 | Golden Masters 60+ | female | 01:07:02.97 | 200 | 2 |
| Short Course | Kristin Thomas | 132 | SUP 12'6″ | Sr. Masters 50+ | female | 01:04:16.64 | 172 | 1 |
| Short Course | Kristy Gutierrez | 106 | SUP Under 12'6″ | Open 19-39 | female | 01:23:59.95 | 358 | 1 |
| Short Course | Kristy Morris | 404 | SUP 12'6″ | Masters 40-49 | female | 01:02:39.61 | 145 | 1 |
| Short Course | Krisztina Zur | 601 | Surfski Single | Open 19-39 | female | 00:48:38.88 | 8 | 1 |
| Short Course | Kurt Benson | 289 | SUP 14′ | Sr. Masters 50+ | male | 01:03:55.04 | 167 | 8 |
| Long Course | Kurt Benson | 289 | OC-1 | Sr. Masters 50+ | male | 01:28:06.06 | 138 | 13 |
| Short Course | Kurt Feeter | 144 | SUP 12'6″ | Golden Masters 60+ | male |   |   |   |
| Short Course | Kurt Fry | 161 | Prone Unlimited | Sr. Masters 50+ | male | 01:09:11.86 | 229 | 3 |
| Short Course | Kurt Hohman | 527 | Surfski Single | Masters 40-49 | male | 01:06:50.61 | 197 | 6 |
| Short Course | Kyle Kaine | 76 | Prone Unlimited | Open 19-39 | male |   |   |   |
| Short Course | Kyle Smith | 482 | Prone Stock | Open 19-39 | male | 01:03:02.93 | 150 | 1 |
| Short Course | Lance Amano | 375 | Prone Stock | Sr. Masters 50+ | male | 01:27:52.07 | 379 | 10 |
| Long Course | Lance Cummings | 511 | OC-1 | Sr. Masters 50+ | male | 01:15:05.02 | 73 | 4 |
| Short Course | Larry Allison | 575 | SUP 12'6″ | Golden Masters 60+ | male | 01:34:55.09 | 405 | 3 |
| Short Course | Larry Leckness | 178 | SUP Under 12'6″ | Sr. Masters 50+ | male | 01:52:50.96 | 434 | 4 |
| Long Course | Leah Ching | 483 | OC-1 | Open 19-39 | female | 01:14:12.36 | 66 | 2 |
| Long Course | Leanne Stanley | 324 | OC-1 | Open 19-39 | female | 01:12:41.68 | 55 | 1 |
| Kids Boat Race | Leilani Williams | 451 | Lightning | U10 | female | 00:00:01.00 | 1 | 2 |
| Kids SUP Race U8 and U10 | Leilani Williams | 451 | SUP (All) | U10 | female | 00:06:14.00 | 8 | 4 |
| Short Course | Lelemarie Goldtrap | 446 | OC-1 | Open 19-39 | female | 01:09:42.26 | 238 | 5 |
| Short Course | Les Hopper | 626 | OC-1 | Sr. Masters 50+ | male | 00:58:31.47 | 95 | 7 |
| Short Course | Leslie Cercek | 7 | OC-1 | Golden Masters 60+ | female | 01:02:12.24 | 139 | 1 |
| Short Course | Lilly Nava | 66 | SUP 12'6″ | Masters 40-49 | female |   |   |   |
| Short Course | Lisa Hanscom | 349 | Prone Stock | Open 19-39 | female | 01:19:43.54 | 333 | 4 |
| Short Course | Lisa Hazelton | 111 | SUP 12'6″ | Golden Masters 60+ | female | 01:19:16.26 | 328 | 4 |
| Long Course | Lisa Viola, Jerry Franklin | 333 | OC-2 | Golden Masters 60+ | mixed | 01:18:21.90 | 94 | 2 |
| Short Course | Liz Hunter | 125 | Prone Stock | Open 19-39 | female | 01:08:09.12 | 213 | 1 |
| Short Course | Logan Noguchi | 505 | Prone Stock | U14 | male | 01:09:57.86 | 241 | 1 |
| Short Course | Loraine Gruber | 204 | Prone Stock | Sr. Masters 50+ | female | 01:23:34.43 | 352 | 6 |
| Kids Boat Race | Loriann Pothier | 399 | Lightning | U10 | female | 00:00:01.00 | 1 | 1 |
| Short Course | Louis Dang | 473 | V1 | Masters 40-49 | male | 00:54:01.32 | 45 | 1 |
| Long Course | Luca Randi | 40 | OC-1 | Masters 40-49 | male | 01:26:59.31 | 134 | 20 |
| Kids Boat Race | Lyam Pothier | 400 | Lightning | U8 | male | 00:00:01.00 | 1 | 1 |
| Short Course | Lynda Krugh | 190 | SUP Under 12'6″ | Masters 40-49 | female |   |   |   |
| Short Course | M Torsten Rasborn | 28 | SUP 12'6″ | Sr. Masters 50+ | male | 01:08:12.16 | 215 | 3 |
| Short Course | Madison Long | 411 | Surfski Single | Open 19-39 | female | 00:52:31.49 | 36 | 2 |
| Long Course | Madison Long, Rich Long | 410 | Surfski Double | Open 19-39 | mixed | 01:03:56.99 | 11 | 2 |
| Short Course | Maggie Adams | 184 | SUP 12'6″ | Sr. Masters 50+ | female | 01:09:32.58 | 236 | 2 |
| Long Course | Maggie Hogan | 569 | Surfski Single | Open 19-39 | female | 01:04:27.20 | 13 | 1 |
| Short Course | Mags Pedrick | 578 | OC-1 | Open 19-39 | female | 01:09:14.38 | 230 | 4 |
| Short Course | Malaya Ring | 115 | SUP 12'6″ | U14 | female |   |   |   |
| Kids SUP Race U12 and U14 | Malaya Ring | 115 | SUP (All) | U12 | female |   |   |   |
| Long Course | Marc Lavertu | 72 | OC-1 | Golden Masters 60+ | male | 01:21:51.07 | 117 | 3 |
| Short Course | Marc Miller | 629 | SUP 14′ | Masters 40-49 | male | 01:08:29.97 | 219 | 11 |
| Long Course | Marcia Michel | 485 | Surfski Single | Sr. Masters 50+ | female | 01:06:37.88 | 18 | 1 |
| Short Course | Marcus Hatch | 466 | Prone Stock | Masters 40-49 | male |   |   |   |
| Short Course | Margaret Neiman | 123 | SUP 12'6″ | Golden Masters 60+ | female | 01:25:22.83 | 365 | 5 |
| Short Course | Marisa Kuiken | 64 | Prone Stock | Open 19-39 | female | 01:08:50.75 | 224 | 2 |
| Long Course | Mark Avina | 599 | OC-1 | Masters 40-49 | male | 01:10:02.07 | 40 | 3 |
| Short Course | Mark Geraghty | 385 | SUP Unlimited | Golden Masters 60+ | male | 01:13:53.85 | 274 | 1 |
| Short Course | Mark Guthaus | 51 | SUP 14′ | Golden Masters 60+ | male | 01:27:05.24 | 374 | 21 |
| Short Course | Mark Johnson | 101 | Prone Stock | Golden Masters 60+ | male | 01:40:48.70 | 418 | 2 |
| Short Course | Mark Pighini | 158 | SUP 14′ | Sr. Masters 50+ | male | 01:09:18.21 | 232 | 13 |
| Short Course | Mark Schulein | 484 | Prone Stock | Masters 40-49 | male | 01:07:36.42 | 206 | 2 |
| Long Course | Mark Schulein | 484 | Surfski Single | Masters 40-49 | male | 01:07:57.90 | 24 | 1 |
| Short Course | Mark Vader | 92 | SUP 14′ | Sr. Masters 50+ | male | 01:21:41.75 | 343 | 24 |
| Short Course | Mark Woodard | 259 | Surfski Single | U14 | male | 01:03:16.47 | 153 | 2 |
| Long Course | Marvin Urena | 412 | OC-1 | Sr. Masters 50+ | male | 01:34:21.23 | 152 | 15 |
| Short Course | Marzena Wadzynska | 593 | OC-1 | Masters 40-49 | female | 01:02:19.22 | 140 | 4 |
| Long Course | Marzena Wadzynska | 593 | OC-1 | Masters 40-49 | female | 01:44:08.35 | 157 | 4 |
| Long Course | Matt Chebatoris | 329 | OC-1 | Masters 40-49 | male | 01:23:41.47 | 123 | 17 |
| Short Course | Matt Critchlow | 265 | SUP Under 12'6″ | Open 19-39 | male |   |   |   |
| Short Course | Matt Fletcher | 213 | SUP 14′ | Masters 40-49 | male | 01:06:22.75 | 192 | 8 |
| Short Course | Matt Krey – Outrigger Santa Cruz | 587 | OC-1 | Open 19-39 | male | 00:50:46.59 | 22 | 1 |
| Long Course | Matt Krey – Outrigger Santa Cruz | 587 | OC-1 | Open 19-39 | male | 01:14:00.49 | 63 | 12 |
| Long Course | Matt Silbert | 67 | OC-1 | Open 19-39 | male | 01:19:16.64 | 98 | 19 |
| Short Course | Max Plsek | 624 | Prone Stock | U16 | male |   |   |   |
| Kids SUP Race U8 and U10 | Max Voci | 257 | SUP (All) | U10 | male | 00:04:25.00 | 3 | 1 |
| Kids SUP Race U8 and U10 | Maylee Jaggi | 534 | SUP (All) | U10 | female | 00:04:56.00 | 6 | 3 |
| Short Course | Megan Weeks | 405 | SUP 12'6″ | Masters 40-49 | female | 01:34:12.07 | 404 | 9 |
| Long Course | Meghann Schmidt | 480 | OC-1 | Open 19-39 | female | 01:20:41.76 | 107 | 6 |
| Short Course | Mel Weeks | 188 | SUP 14′ | Masters 40-49 | male | 01:10:11.49 | 243 | 12 |
| Short Course | Mel Wygal | 491 | SUP 14′ | Masters 40-49 | female | 01:09:07.85 | 227 | 1 |
| Short Course | Melani Da Pron | 296 | SUP Under 12'6″ | Sr. Masters 50+ | female | 01:33:03.87 | 402 | 1 |
| Kids SUP Race U8 and U10 | Melia Miller | 368 | SUP (All) | U10 | female | 00:06:30.00 | 10 | 5 |
| Short Course | Melissa Romero, Brigitte Duran | 503 | OC-2 | Sr. Masters 50+ | female | 00:59:53.31 | 112 | 2 |
| Long Course | Micah Winslow | 432 | OC-1 | Open 19-39 | male | 01:09:28.48 | 35 | 7 |
| Short Course | Michael Ashford | 627 | OC-1 | Golden Masters 60+ | male | 00:57:09.01 | 83 | 4 |
| Short Course | Michael Chiang | 478 | OC-1 | Open 19-39 | male | 01:00:41.53 | 118 | 7 |
| Short Course | Michael Kelley | 143 | SUP 14′ | Sr. Masters 50+ | male | 00:52:13.44 | 32 | 1 |
| Short Course | Michael Lester | 408 | SUP 14′ | Golden Masters 60+ | male |   |   |   |
| Long Course | Michael Miller | 208 | Surfski Single | Open 19-39 | male | 01:12:31.70 | 54 | 10 |
| Short Course | Michael Richards | 236 | SUP 12'6″ | Masters 40-49 | male | 01:05:38.88 | 186 | 4 |
| Long Course | Michael Richards | 236 | OC-1 | Masters 40-49 | male | 01:20:37.30 | 106 | 14 |
| Short Course | Micheal Stevens | 103 | Prone Stock | Sr. Masters 50+ | male | 01:10:34.48 | 247 | 6 |
| Long Course | Michele Eray | 570 | Surfski Single | Open 19-39 | female | 01:06:01.59 | 15 | 2 |
| Short Course | Michele Odell | 403 | SUP 12'6″ | Masters 40-49 | female | 01:39:50.15 | 414 | 13 |
| Long Course | Michelle Jenkin | 424 | OC-1 | Open 19-39 | female | 01:31:48.36 | 149 | 12 |
| Kids SUP Race U12 and U14 | Miela Preuett | 637 | SUP (All) | U12 | female |   |   |   |
| Kids Boat Race | Mike Alvarez | 644 | OC-1 | U14 | male |   |   |   |
| Short Course | Mike Fairchild | 379 | SUP 14′ | Masters 40-49 | male | 01:08:24.17 | 218 | 10 |
| Short Course | Mike Gaughan, Bj Williston | 146 | OC-2 | Sr. Masters 50+ | mixed | 00:54:14.41 | 48 | 1 |
| Short Course | Mike Mckennett | 533 | SUP 14′ | Masters 40-49 | male | 01:11:54.86 | 256 | 14 |
| Long Course | Miles Orr | 605 | OC-1 | U19 | male | 01:14:03.98 | 64 | 3 |
| Short Course | Milo Hama | 54 | SUP 14′ | Golden Masters 60+ | male | 01:27:20.44 | 376 | 22 |
| Short Course | Mira Corrao | 328 | K1 | U19 | female | 00:49:52.68 | 13 | 1 |
| Short Course | Mo Freitas | 233 | SUP 14′ | Open 19-39 | male | 00:50:32.84 | 17 | 2 |
| Long Course | Morgan Jacobsen, Zoe Hein | 262 | Surfski Double | U19 | female | 01:20:09.04 | 103 | 1 |
| Long Course | Nancy Huh | 477 | OC-1 | Open 19-39 | female | 01:16:43.09 | 84 | 4 |
| Short Course | Nancy Seelert, Julie Landis | 322 | OC-2 | Sr. Masters 50+ | female | 01:02:41.75 | 146 | 3 |
| Short Course | Nate Errez | 203 | Surfski Single | Open 19-39 | male | 00:36:44.37 | 3 | 2 |
| Long Course | Nate Errez | 203 | Surfski Single | Open 19-39 | male | 01:02:24.09 | 5 | 3 |
| Short Course | Nathan Gossett | 543 | SUP 14′ | Open 19-39 | male | 01:08:08.34 | 212 | 16 |
| Long Course | Nathan Shore, Jill Schooler | 547 | OC-2 | Open 19-39 | mixed | 01:06:51.25 | 20 | 1 |
| Short Course | Nicholas Hamilton | 73 | Prone Unlimited | Open 19-39 | male | 00:58:08.63 | 89 | 1 |
| Short Course | Nicolas D'angelo | 571 | OC-1 | U16 | male | 01:04:08.57 | 171 | 1 |
| Kids prone | Nicolas D'angelo | 571 | Prone (All) | U16 | male | 00:00:01.00 | 1 | 1 |
| Short Course | Nicole Drach | 113 | OC-1 | Masters 40-49 | female |   |   |   |
| Short Course | Noa Hopper | 459 | SUP 14′ | Open 19-39 | male | 00:50:46.47 | 21 | 3 |
| Long Course | Noam Elroi | 419 | OC-1 | U19 | male | 01:06:41.19 | 19 | 1 |
| Short Course | Norma Ramirez | 163 | SUP 12'6″ | Masters 40-49 | female | 01:26:04.92 | 370 | 7 |
| Long Course | Olaf Pippel | 167 | OC-1 | Open 19-39 | male | 01:11:03.33 | 47 | 10 |
| Short Course | Oliver Calcetas | 475 | SUP 14′ | Masters 40-49 | male |   |   |   |
| Short Course | Olivia Riddagh | 447 | OC-1 | Open 19-39 | female | 01:05:12.53 | 179 | 3 |
| Short Course | Omar Simsek | 3 | OC-1 | Sr. Masters 50+ | male | 00:59:03.53 | 105 | 8 |
| Long Course | Omar Simsek | 3 | OC-1 | Sr. Masters 50+ | male | 01:36:10.76 | 153 | 16 |
| Short Course | Oscar Valdivieso | 116 | Surfski Single | Golden Masters 60+ | male | 01:23:12.64 | 351 | 5 |
| Short Course | Parker Amano | 240 | Surfski Single | U16 | male | 00:54:59.56 | 60 | 2 |
| Short Course | Pat Candelaria | 44 | SUP 14′ | Golden Masters 60+ | male | 01:18:17.62 | 318 | 15 |
| Short Course | Patrick Della | 441 | SUP 14′ | Masters 40-49 | male |   |   |   |
| Long Course | Patrick Hemmens | 56 | Surfski Single | Sr. Masters 50+ | male | 01:03:03.90 | 7 | 1 |
| Short Course | Patrick Higginson | 431 | SUP 14′ | Sr. Masters 50+ | male | 01:20:22.85 | 337 | 23 |
| Long Course | Patrick Ohea | 556 | OC-1 | Masters 40-49 | male | 01:22:49.03 | 119 | 16 |
| Short Course | Paul Breckenridge, Alanna Hoyer | 278 | OC-2 | Masters 40-49 | mixed | 00:57:58.58 | 88 | 2 |
| Short Course | Paul Heresa | 479 | OC-1 | Open 19-39 | male | 00:56:43.69 | 78 | 5 |
| Short Course | Paul Pianowski | 228 | SUP 14′ | Open 19-39 | male | 00:56:14.80 | 74 | 7 |
| Long Course | Paul Webster | 630 | OC-1 | Sr. Masters 50+ | male | 01:17:48.07 | 93 | 8 |
| Short Course | Peanut Rademacher, Ingo Rademacher | 621 | SUP Unl. (2 Person) | Open 19-39 | male | 01:04:02.88 | 169 | 1 |
| Short Course | Pedro Gapero | 254 | V1 | Golden Masters 60+ | male | 01:03:27.45 | 156 | 1 |
| Short Course | Peggy Munoz | 609 | SUP 14′ | Golden Masters 60+ | female | 01:23:44.58 | 355 | 1 |
| Short Course | Pete Bagoye | 250 | OC-1 | Sr. Masters 50+ | male | 00:55:52.83 | 69 | 6 |
| Short Course | Pete Pascual | 136 | SUP 12'6″ | Sr. Masters 50+ | male |   |   |   |
| Short Course | Peter Durdaller | 55 | SUP 14′ | Golden Masters 60+ | male | 01:15:25.57 | 289 | 11 |
| Short Course | Peter Simpson | 297 | SUP 12'6″ | 70+ | male | 01:24:52.75 | 361 | 2 |
| Short Course | Phil Coffman | 272 | SUP 14′ | Masters 40-49 | male | 00:59:27.04 | 109 | 3 |
| Short Course | Phil Storrer | 100 | SUP 14′ | 70+ | male |   |   |   |
| Long Course | Philip Diehl | 488 | OC-1 | Open 19-39 | male | 01:10:58.33 | 46 | 9 |
| Short Course | Preston Rider | 139 | SUP 14′ | Open 19-39 | male | 00:58:35.41 | 96 | 10 |
| Short Course | Priscila D'amico | 317 | OC-1 | Masters 40-49 | female | 00:58:59.73 | 103 | 1 |
| Long Course | Priscilla Mckenney | 293 | OC-1 | Sr. Masters 50+ | female | 01:31:08.55 | 147 | 7 |
| Kids Boat Race | Qiyang Ye | 643 | Lightning | U14 | male | 00:00:01.00 | 1 | 1 |
| Short Course | Raden Baldogo | 231 | SUP 14′ | Masters 40+ | male | 01:11:35.68 | 255 | 2 |
| Short Course | Ralph Lufkin | 615 | Prone Unlimited | 70+ | male | 01:26:00.28 | 368 | 1 |
| Short Course | Rami Zur | 625 | OC-1 | Masters 40-49 | male | 01:00:32.80 | 116 | 4 |
| Short Course | Renee Milton | 426 | Kayak | Sr. Masters 50+ | female | 01:09:27.30 | 234 | 1 |
| Short Course | Renick Woods | 14 | Prone 14′ | Masters 40-49 | male | 01:11:55.61 | 257 | 2 |
| Short Course | Rhys Phillips | 585 | Surfski Single | Open 19-39 | male | 01:03:22.70 | 154 | 5 |
| Long Course | Rhys Phillips | 585 | Surfski Single | Open 19-39 | male | 01:17:12.67 | 87 | 11 |
| Short Course | Rich D'souza | 346 | SUP 14′ | Sr. Masters 50+ | male | 01:09:44.78 | 240 | 14 |
| Short Course | Rich Maxey | 271 | SUP Under 12'6″ | 70+ | male | 01:32:28.60 | 398 | 1 |
| Short Course | Rich Williams | 638 | SUP Under 12'6″ | Masters 40-49 | male | 01:07:27.27 | 204 | 1 |
| Short Course | Richard Kenworthy | 206 | SUP 12'6″ | 70+ | male | 01:16:11.35 | 294 | 1 |
| Long Course | Richard Lai Fatt | 41 | OC-1 | Golden Masters 60+ | male | 01:28:09.51 | 139 | 5 |
| Short Course | Richard Roge | 172 | SUP 14′ | Golden Masters 60+ | male | 01:08:47.55 | 222 | 9 |
| Short Course | Rick Ranjo, David Mallari | 550 | SUP Unl. (2 Person) | Open 19-39 | male | 01:09:20.40 | 233 | 2 |
| Short Course | Rick Strobel | 182 | Prone Stock | Sr. Masters 50+ | male | 01:09:43.41 | 239 | 5 |
| Short Course | Riley Jaggi | 532 | SUP 12'6″ | U14 | male | 01:06:35.15 | 193 | 7 |
| Kids SUP Race U12 and U14 | Riley Jaggi | 532 | SUP (All) | U14 | male | 00:09:09.00 | 5 | 5 |
| Short Course | Rob Rojas | 541 | SUP Unlimited | Masters 40-49 | male | 00:52:30.70 | 35 | 1 |
| Short Course | Robert Howson | 339 | OC-1 | Sr. Masters 50+ | male | 00:52:39.75 | 39 | 1 |
| Short Course | Robert Schade | 83 | Prone Unlimited | Sr. Masters 50+ | male |   |   |   |
| Short Course | Robert Stafford | 270 | SUP 14′ | Golden Masters 60+ | male | 01:07:16.71 | 203 | 5 |
| Short Course | Roch Frey | 537 | Prone Unlimited | Sr. Masters 50+ | male | 00:57:37.19 | 84 | 1 |
| Short Course | Rodney Ellis | 476 | SUP 14′ | Masters 40-49 | male | 00:54:27.06 | 52 | 2 |
| Long Course | Rodney Ellis, Kristy Morris | 476 | OC-2 | Masters 40-49 | mixed | 01:09:19.48 | 34 | 1 |
| Short Course | Rodney Harvey | 318 | Prone Stock | Sr. Masters 50+ | male | 01:13:59.04 | 275 | 8 |
| Short Course | Ron Adelhelm | 5 | SUP 14′ | Sr. Masters 50+ | male | 01:16:18.58 | 295 | 21 |
| Long Course | Ron Galey | 70 | Surfski Single | Golden Masters 60+ | male | 01:36:52.09 | 155 | 5 |
| Short Course | Ron Nelsen | 221 | Prone Unlimited | Golden Masters 60+ | male | 01:04:38.81 | 174 | 2 |
| Short Course | Ron Nepomuceno | 137 | SUP Under 12'6″ | Sr. Masters 50+ | male | 01:25:45.33 | 367 | 2 |
| Short Course | Ron Witter | 98 | Prone Unlimited | Golden Masters 60+ | male | 01:17:23.38 | 305 | 3 |
| Long Course | Rosemary Vasquez | 520 | OC-1 | Sr. Masters 50+ | female | 01:30:39.25 | 144 | 6 |
| Short Course | Rosendo Deynata | 95 | SUP 14′ | Masters 40-49 | male | 01:14:45.30 | 282 | 15 |
| Short Course | Roy Barba | 196 | SUP Under 12'6″ | Open 19-39 | male | 01:43:15.68 | 423 | 2 |
| Long Course | Rubi Zuniga, Evon Barros | 108 | OC-2 | Open 19-39 | female | 01:29:29.09 | 141 | 1 |
| Short Course | Rune Hoyer Nielsen | 275 | Prone Stock | Masters 40-49 | male | 01:18:16.78 | 317 | 5 |
| Long Course | Russ Nielsen | 471 | OC-1 | Golden Masters 60+ | male | 01:21:23.70 | 112 | 2 |
| Short Course | Ryan Ekedal | 47 | SUP 14′ | Masters 40+ | male | 01:00:45.53 | 119 | 1 |
| Long Course | Ryan Ekedal | 47 | OC-1 | Masters 40-49 | male |   |   |   |
| Short Course | Ryan Leighton | 256 | SUP 12'6″ | Open 19-39 | male | 01:07:13.09 | 202 | 1 |
| Long Course | Ryan Miller | 153 | Surfski Single | Open 19-39 | male | 01:08:17.94 | 25 | 8 |
| Short Course | Ryan Voci | 472 | OC-1 | Masters 40-49 | male | 00:56:27.07 | 77 | 3 |
| Short Course | Ryland Hart | 504 | SUP 14′ | Open 19-39 | male | 00:50:53.43 | 24 | 4 |
| Long Course | Ryland Hart | 504 | OC-1 | Open 19-39 | male | 01:03:59.52 | 12 | 3 |
| Short Course | Samantha Eastburn | 434 | SUP 14′ | Open 19-39 | female | 01:23:00.46 | 349 | 3 |
| Short Course | Sandy Davidson, Richard Davidson | 110 | OC-2 | Golden Masters 60+ | mixed | 00:50:39.29 | 18 | 1 |
| Short Course | Sandy Dean, Melissa Romero | 645 | OC-2 | Sr. Masters 50+ | female |   |   |   |
| Short Course | Sandy Rohrbach | 567 | SUP 14′ | Masters 40-49 | female | 01:22:55.03 | 347 | 2 |
| Short Course | Sara Smith | 128 | SUP 12'6″ | Open 19-39 | female | 01:31:15.16 | 391 | 11 |
| Short Course | Sarah Messina | 560 | SUP 12'6″ | Open 19-39 | female |   |   |   |
| Long Course | Saul Dobson | 406 | OC-1 | Masters 40-49 | male | 01:12:14.68 | 51 | 7 |
| Long Course | Schyler Perez | 290 | OC-1 | U19 | female | 01:24:09.46 | 126 | 2 |
| Short Course | Scott Cuda | 407 | SUP 14′ | Masters 40-49 | male | 01:19:00.82 | 326 | 20 |
| Short Course | Scott Dahlquist | 371 | SUP 12'6″ | Sr. Masters 50+ | male | 01:14:21.13 | 280 | 6 |
| Short Course | Scott Jeffers | 561 | Prone Stock | Open 19-39 | male | 01:12:05.42 | 260 | 3 |
| Short Course | Scott Monge | 122 | SUP 14′ | Masters 40-49 | male | 01:28:09.35 | 381 | 24 |
| Long Course | Scott Monge | 122 | OC-1 | Masters 40-49 | male | 01:34:18.25 | 151 | 22 |
| Long Course | Scott Murdock | 549 | OC-1 | Sr. Masters 50+ | male | 01:10:57.42 | 45 | 1 |
| Short Course | Scott Rusher | 53 | Prone Unlimited | Sr. Masters 50+ | male |   |   |   |
| Short Course | Scott Shoemaker | 303 | SUP Unlimited | Sr. Masters 50+ | male | 00:51:32.08 | 26 | 1 |
| Long Course | Scott Shoemaker | 303 | OC-1 | Sr. Masters 50+ | male | 01:17:21.00 | 90 | 6 |
| Short Course | Sean Arnold | 281 | SUP 14′ | Sr. Masters 50+ | male | 01:10:36.53 | 248 | 16 |
| Long Course | Sean Barlow | 392 | Surfski Single | Open 19-39 | male | 01:06:09.69 | 16 | 6 |
| Short Course | Sean Johnson | 229 | SUP Under 12'6″ | Open 19-39 | female | 01:46:12.14 | 427 | 2 |
| Short Course | Sean Lupton-smith | 635 | Surfski Single | Masters 40-49 | male | 00:50:41.42 | 19 | 2 |
| Short Course | Sean Pangelinan | 344 | SUP 14′ | Open 19-39 | male | 00:55:14.37 | 65 | 5 |
| Short Course | Sean Sullivan | 142 | SUP 14′ | Sr. Masters 50+ | male | 01:02:42.61 | 147 | 7 |
| Short Course | Seren Kindt | 580 | OC-1 | U19 | female | 01:01:49.99 | 133 | 1 |
| Short Course | Seth Springer | 438 | SUP 14′ | Masters 40-49 | male | 00:59:55.69 | 114 | 4 |
| Short Course | Shae Foudy | 363 | SUP 12'6″ | Open 19-39 | female | 00:57:40.83 | 85 | 1 |
| Short Course | Shannon Dolphin | 610 | OC-1 | Open 19-39 | female | 01:03:37.77 | 159 | 2 |
| Short Course | Shawn Tierney | 448 | SUP 14′ | Masters 40-49 | male | 01:00:52.02 | 123 | 6 |
| Long Course | Shawn Ward | 25 | OC-1 | Open 19-39 | male | 01:23:29.96 | 122 | 22 |
| Short Course | Shawna Rawlinson | 443 | SUP Under 12'6″ | Masters 40-49 | female | 01:56:20.06 | 439 | 6 |
| Short Course | Sheena Frizzell | 166 | SUP 14′ | Open 19-39 | female | 01:40:22.89 | 417 | 4 |
| Short Course | Shelby Canino | 207 | SUP Under 12'6″ | Masters 40-49 | female | 01:38:17.13 | 411 | 1 |
| Short Course | Sherry Bravo | 367 | SUP 12'6″ | Sr. Masters 50+ | female | 01:25:13.26 | 363 | 6 |
| Short Course | Shonna Litton Brown | 442 | SUP 14′ | Open 19-39 | female | 01:17:27.80 | 307 | 2 |
| Short Course | Skipper Howard | 283 | OC-1 | Masters 40-49 | male | 00:54:55.42 | 59 | 2 |
| Kids Boat Race | Sophia Wong | 198 | OC-1 | U14 | female | 00:00:01.00 | 1 | 2 |
| Short Course | Soryn Preston | 384 | SUP 12'6″ | U14 | female | 01:23:03.77 | 350 | 4 |
| Kids SUP Race U8 and U10 | Soryn Preston | 384 | SUP (All) | U10 | female | 00:04:00.00 | 1 | 1 |
| Long Course | Stein Jorgensen | 245 | Surfski Single | Sr. Masters 50+ | male | 01:04:37.17 | 14 | 2 |
| Short Course | Stephen Rodi | 461 | SUP 14′ | Sr. Masters 50+ | male | 00:55:25.79 | 67 | 4 |
| Long Course | Stephen Sinkus | 168 | OC-1 | Masters 40-49 | male |   |   |   |
| Short Course | Steve Bauer | 306 | Surfski Single | Sr. Masters 50+ | male | 00:58:46.89 | 98 | 3 |
| Short Course | Steve Jewel | 417 | OC-1 | Sr. Masters 50+ | male | 01:02:58.62 | 149 | 10 |
| Long Course | Steve Perez | 230 | OC-1 | Golden Masters 60+ | male | 01:24:29.61 | 128 | 4 |
| Short Course | Steve Rossier | 347 | Prone 14′ | Sr. Masters 50+ | male | 01:12:39.81 | 263 | 2 |
| Long Course | Steve Sullivan | 557 | OC-1 | Sr. Masters 50+ | male | 01:20:29.33 | 105 | 11 |
| Short Course | Stormy Nosse | 209 | SUP 12'6″ | Golden Masters 60+ | female | 01:17:24.87 | 306 | 3 |
| Long Course | Susan Wynn, Robin Maclean | 641 | OC-2 | Masters 40-49 | female | 01:10:43.94 | 43 | 1 |
| Long Course | Susanne Boone | 26 | OC-1 | Sr. Masters 50+ | female | 01:24:56.85 | 129 | 5 |
| Short Course | Suzy Cachero | 30 | SUP Under 12'6″ | Masters 40-49 | female | 01:52:02.12 | 433 | 5 |
| Short Course | Sylvie Tinsley | 522 | SUP 12'6″ | Masters 40-49 | female | 01:25:40.08 | 366 | 6 |
| Short Course | Taryn Derr | 380 | SUP Under 12'6″ | U19 | female | 01:46:30.96 | 428 | 1 |
| Short Course | Tayler Dang | 223 | Surfski Single | U14 | female | 01:06:57.53 | 199 | 3 |
| Kids Boat Race | Tayler Dang | 223 | OC-1 | U14 | female | 00:00:01.00 | 1 | 1 |
| Kids SUP Race U12 and U14 | Tayler Dang | 223 | SUP (All) | U14 | female | 00:11:30.00 | 16 | 5 |
| Short Course | Taylor Mcclanahan | 263 | Surfski Single | Open 19-39 | male | 01:00:39.65 | 117 | 4 |
| Short Course | Ted Nguyen | 242 | Prone Unlimited | Sr. Masters 50+ | male | 01:27:04.77 | 373 | 5 |
| Long Course | Terence Li | 210 | OC-1 | Open 19-39 | male | 01:21:57.03 | 118 | 21 |
| Long Course | Teresa Wilson | 183 | Surfski Single | Sr. Masters 50+ | female | 01:13:19.15 | 57 | 2 |
| Short Course | Teressmarie Tucker | 490 | SUP Under 12'6″ | Sr. Masters 50+ | female | 01:44:09.50 | 424 | 2 |
| Short Course | Teri Carlin | 145 | SUP 12'6″ | Masters 40-49 | female | 01:17:37.79 | 309 | 4 |
| Short Course | Terry Frogley | 173 | Prone Unlimited | Masters 40-49 | male | 01:07:52.11 | 209 | 1 |
| Short Course | Thadias King, Abbey Tetherly | 514 | OC-2 | Golden Masters 60+ | mixed |   |   |   |
| Short Course | Theresa Jamieson | 57 | OC-1 | Sr. Masters 50+ | female | 01:06:53.78 | 198 | 4 |
| Short Course | Thom Crockett | 286 | Surfski Single | Open 19-39 | male | 00:37:41.38 | 4 | 3 |
| Long Course | Thom Crockett | 286 | Surfski Single | Open 19-39 | male |   |   |   |
| Short Course | Thomas Chungyeon Kang | 388 | SUP 14′ | Open 19-39 | male | 01:00:50.81 | 122 | 13 |
| Long Course | Thomas Mckenzie | 492 | OC-1 | Open 19-39 | male | 01:13:31.08 | 59 | 11 |
| Long Course | Thomas Mohr | 65 | Surfski Single | Sr. Masters 50+ | male | 01:12:42.48 | 56 | 5 |
| Short Course | Thomas Nilsen | 134 | SUP 14′ | U16 | male | 00:56:01.04 | 71 | 3 |
| Short Course | Thomas Stephenson | 501 | SUP 14′ | Golden Masters 60+ | male | 01:13:20.97 | 270 | 10 |
| Long Course | Thomas Wallo | 359 | OC-1 | Sr. Masters 50+ | male | 01:20:17.06 | 104 | 10 |
| Short Course | Thurston Mcmurray | 444 | Prone Unlimited | Open 19-39 | male | 01:09:41.93 | 237 | 2 |
| Short Course | Tim Silverthorn | 62 | OC-1 | Masters 40-49 | male | 00:52:37.18 | 38 | 1 |
| Kids Boat Race | Tiziano Pramparo | 389 | Surfski Single | U16 | male |   |   |   |
| Short Course | Tj Munks | 19 | SUP 12'6″ | U14 | male | 01:15:06.34 | 285 | 8 |
| Kids SUP Race U12 and U14 | Tj Munks | 19 | SUP (All) | U14 | male | 00:09:40.00 | 9 | 6 |
| Short Course | Tj Woodard | 258 | Surfski Single | U14 | male | 01:02:02.48 | 136 | 1 |
| Short Course | Toby Clark | 360 | SUP 14′ | Open 19-39 | male | 01:12:38.19 | 262 | 17 |
| Short Course | Tom Duryea | 494 | Prone Stock | Sr. Masters 50+ | male | 01:02:23.90 | 142 | 1 |
| Short Course | Tom Gildea | 18 | OC-1 | Golden Masters 60+ | male | 01:03:31.87 | 157 | 9 |
| Short Course | Tomas Hinds | 590 | Prone Stock | Masters 40-49 | male | 01:07:49.97 | 208 | 3 |
| Short Course | Tommy Belway | 634 | SUP 12'6″ | U16 | male | 01:15:21.92 | 287 | 2 |
| Short Course | Tommy Coon | 370 | Prone 14′ | Sr. Masters 50+ | male | 01:03:50.97 | 166 | 1 |
| Short Course | Toni Bushong | 4 | OC-1 | Golden Masters 60+ | female | 01:09:11.02 | 228 | 4 |
| Short Course | Tony Forcier | 20 | SUP 14′ | Sr. Masters 50+ | male | 01:06:09.58 | 191 | 11 |
| Short Course | Tony Hart | 506 | OC-1 | Sr. Masters 50+ | male | 00:55:05.07 | 63 | 3 |
| Long Course | Tony Kendall | 409 | OC-1 | Masters 40-49 | male | 01:13:39.75 | 61 | 10 |
| Long Course | Tony Louros | 428 | OC-1 | Sr. Masters 50+ | male | 01:18:42.13 | 97 | 9 |
| Long Course | Tony Serafin | 232 | OC-1 | Sr. Masters 50+ | male | 01:13:54.79 | 62 | 2 |
| Short Course | Tony Zandovskis | 495 | SUP 12'6″ | Masters 40-49 | male | 01:05:04.68 | 178 | 3 |
| Short Course | Tracy Kristensen | 74 | SUP 14′ | Sr. Masters 50+ | female | 01:17:43.97 | 311 | 1 |
| Kids SUP Race U8 and U10 | Trevor Mencinsky | 336 | SUP (All) | U10 | male |   |   |   |
| Short Course | Ty Aweau | 235 | SUP 12'6″ | Masters 40-49 | male | 01:18:41.29 | 323 | 8 |
| Long Course | Ty Aweau | 235 | OC-1 | Masters 40-49 | male | 01:24:22.40 | 127 | 19 |
| Short Course | Tyler Bashor | 269 | SUP 14′ | U16 | male | 00:50:48.76 | 23 | 1 |
| Short Course | Tyler Schmuckle | 214 | SUP 14′ | Open 19-39 | male | 01:05:33.14 | 185 | 14 |
| Long Course | Tyson Poppler | 558 | Surfski Single | Open 19-39 | male | 01:03:08.41 | 8 | 4 |
| Short Course | Tyson Poppler, Rich Long | 410 | Surfski Double | Open 19-39 | male | 00:36:28.76 | 2 | 1 |
| Long Course | Vaughn Colasanti, Thadias King | 390 | OC-2 | Golden Masters 60+ | male | 01:09:18.80 | 32 | 1 |
| Short Course | Veronica Wold | 129 | SUP 12'6″ | Sr. Masters 50+ | female | 01:21:34.83 | 342 | 4 |
| Short Course | Victer Chan | 187 | SUP Under 12'6″ | Golden Masters 60+ | male | 01:37:06.12 | 410 | 3 |
| Short Course | Victor Archer, Jill Archer | 120 | OC-2 | Sr. Masters 50+ | mixed | 01:09:17.24 | 231 | 2 |
| Long Course | Viet Hoang | 291 | OC-1 | Masters 40-49 | male | 01:14:55.96 | 70 | 11 |
| Short Course | Vincent San Nicolas | 119 | Prone Stock | Open 19-39 | male | 01:18:08.19 | 314 | 5 |
| Long Course | Vincent San Nicolas | 119 | OC-1 | Open 19-39 | male | 01:28:33.43 | 140 | 25 |
| Short Course | Wade Williford | 1 | Prone Stock | Masters 40-49 | male | 01:19:32.80 | 330 | 6 |
| Short Course | Walker Graham | 300 | SUP 12'6″ | U14 | male | 01:04:42.24 | 176 | 6 |
| Kids SUP Race U12 and U14 | Walker Graham | 300 | SUP (All) | U12 | male | 00:09:19.00 | 6 | 1 |
| Short Course | Wally Buckingham | 205 | Prone Stock | Golden Masters 60+ | male | 01:07:46.89 | 207 | 1 |
| Short Course | Wayne Buckingham | 151 | Prone Unlimited | Golden Masters 60+ | male | 01:03:48.82 | 164 | 1 |
| Short Course | Wayne Limm | 227 | SUP Unlimited | Golden Masters 60+ | male | 01:14:17.78 | 279 | 2 |
| Long Course | Wendy Dewitt | 334 | OC-1 | Sr. Masters 50+ | female | 01:20:55.09 | 110 | 3 |
| Short Course | Wendy Trout | 200 | SUP Under 12'6″ | Masters 40-49 | female |   |   |   |
| Long Course | Wes Huston | 224 | OC-1 | Open 19-39 | male | 01:07:02.74 | 21 | 4 |
| Long Course | Will Obermeyer | 602 | OC-1 | U19 | male |   |   |   |
| Short Course | Will Reichenstein | 591 | V1 | Open 19-39 | male | 00:50:28.90 | 16 | 1 |
| Long Course | Will Reichenstein | 591 | OC-1 | Open 19-39 | male | 01:03:37.61 | 10 | 2 |
| Short Course | William Ashford | 6 | OC-1 | Golden Masters 60+ | male | 01:00:49.74 | 121 | 6 |
| Short Course | William Jewell | 519 | Surfski Single | 70+ | male | 00:50:26.15 | 15 | 2 |
| Short Course | William Prentice | 42 | SUP 12'6″ | Sr. Masters 50+ | male | 01:09:01.12 | 226 | 4 |
| Short Course | William Weiss, Brent Weiss | 308 | OC-2 | Sr. Masters 50+ | male | 00:58:22.53 | 92 | 1 |
| Kids Boat Race | Yaniz Nunez | 498 | OC-1 | U12 | female | 00:00:01.00 | 1 | 1 |
| Short Course | Yann Lauletta | 554 | SUP 14′ | Open 19-39 | male | 00:59:53.83 | 113 | 12 |
| Short Course | Yohei Rosen | 586 | OC-1 | Open 19-39 | male | 00:53:09.33 | 41 | 3 |
| Long Course | Yohei Rosen | 586 | OC-1 | Open 19-39 | male | 01:14:49.44 | 68 | 14 |
| Short Course | Yvonne Chavez | 52 | Prone Stock | Sr. Masters 50+ | female | 01:19:54.76 | 334 | 5 |
| Short Course | Zach Farrell | 323 | OC-1 | Open 19-39 | male | 00:58:53.20 | 100 | 6 |
| Short Course | Zeke Rose | 345 | SUP 12'6″ | U14 | male | 00:58:55.74 | 101 | 2 |
| Short Course | Zoe Hunt | 378 | Surfski Single | U16 | female | 00:55:03.75 | 62 | 1 |
| Long Course | Zoe Hunt, Jasmine Perez | 356 | Surfski Double | U19 | female | 01:30:56.68 | 145 | 2 |
[ad_2]
Source link