[ad_1]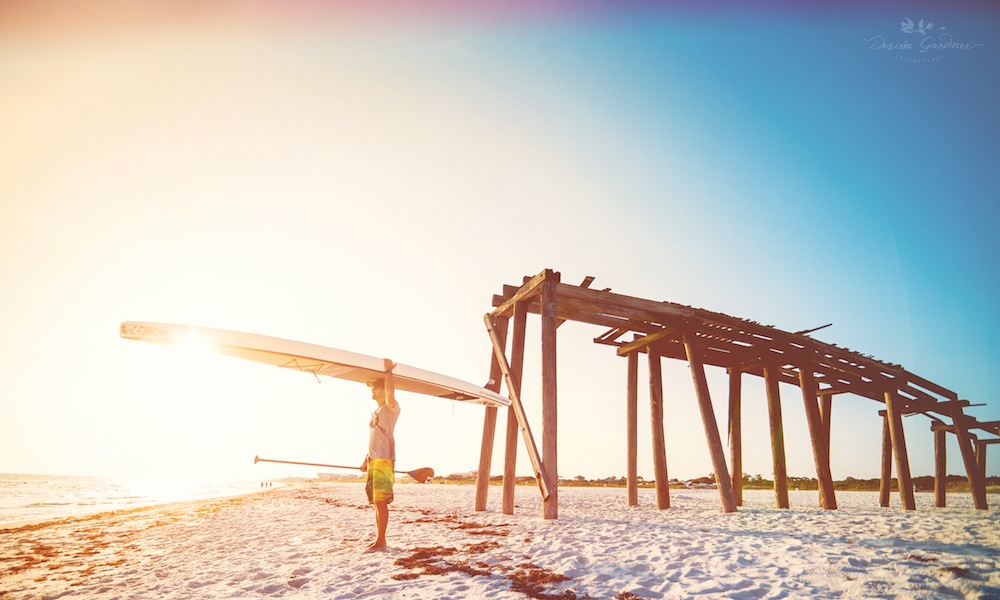 Gabriel Gray with his Great Bear in front of the Pier at Camp Helen State Park. | Desirée Gardner Photography
SAN DIEGO, California – We are proud to highlight the very first photographer in our new series that showcases the work of exceptional photographers in and out of the stand up paddle boarding world. Our first photographer, whose work is incredibly stunning and who is able to capture why so many of us love stand up paddling, is 27 year-old Desirée Gardner. Desirée grew up in Key Largo, but now resides in Panama City Beach, Florida which she attributes as a reason with being so comfortable around the water.
As a child, Desirée played sports growing up and she would spend her summers at Camp Green Cove in North Carolina. When she was just 13 she spent a month paddling the intracoastal waterway and some of the rivers in central Florida with an outdoors program. Currently, Desirée spends as much time outdoors as possible, and when she's traveling she does what she can to get at least some sort of outdoor adventure in. Desirée is a true lover of nature and it shows just that in her photos.
Desirée usually shoots from her kayak when possible, but she loves shooting all sorts of water activities. "SUP just happens to be the one I'm around most these days" she says. We did a Q&A with Desirée to talk about her photography and more. Take a look:
Supconnect: How long have you been a photographer? Desirée: Professionally- 10 years.. However, I got my first 35mm (that's right, FILM!) Nikon when I was 14 and haven't stopped since!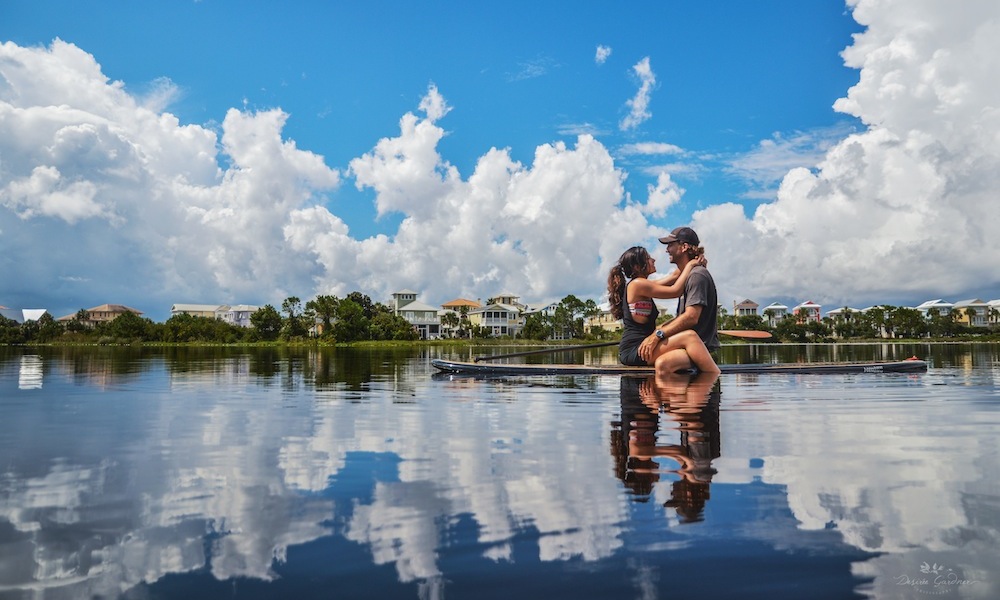 "From my first SUP shoot! Gabriel Gray and his wife Natalie, in the pond behind Gabriel's paddleboard shop." | Desirée Gardner Photography
How'd you get involved with shooting SUP? I met Gabriel Gray (Fight to SOAR, Gray Outdoors, on the Boardworks team) when I was working for one of my magazine clients, where I ended up shooting him and his wife behind Gabe's paddleboard shop. After submerging to my chin to get the frame the way I wanted it (the clouds that day were epic), and getting one of my favorite shots to date, I was basically hooked.
Bryan Mangum from ENO Hammocks and Gabriel Gray hanging over Holmes Creek on the paddle to Cypress Springs. | Desirée Gardner Photography
What's your favorite part about shooting SUP? I really just love being on the water, preferably around sunset, with as little noise pollution as possible (other than the sound of my shutter!). I love shooting people doing what they love to do, and there is really no substitute for that.
Who have you worked with, and is there anyone in the SUP world that you want to collaborate with in the future? Other than friends, the two SUP team members I've worked with are Gabriel Gray and Jessica Chichra from Boardworks. Gabriel and I live in the same town, and I met Jess on the 118 mile river expedition we did in December. I'd really love to collaborate with teams and companies, since they're going to be able to point me toward the people most passionate about what they do. Plus, I have a background in marketing and advertising in the publishing world, so I would love to work with companies to capture the images that will encourage people to get out and explore.
Desirée capturing Gabriel Gray and Jessica Cichra on their Apalachicola River Expedition. | Desirée Gardner Photography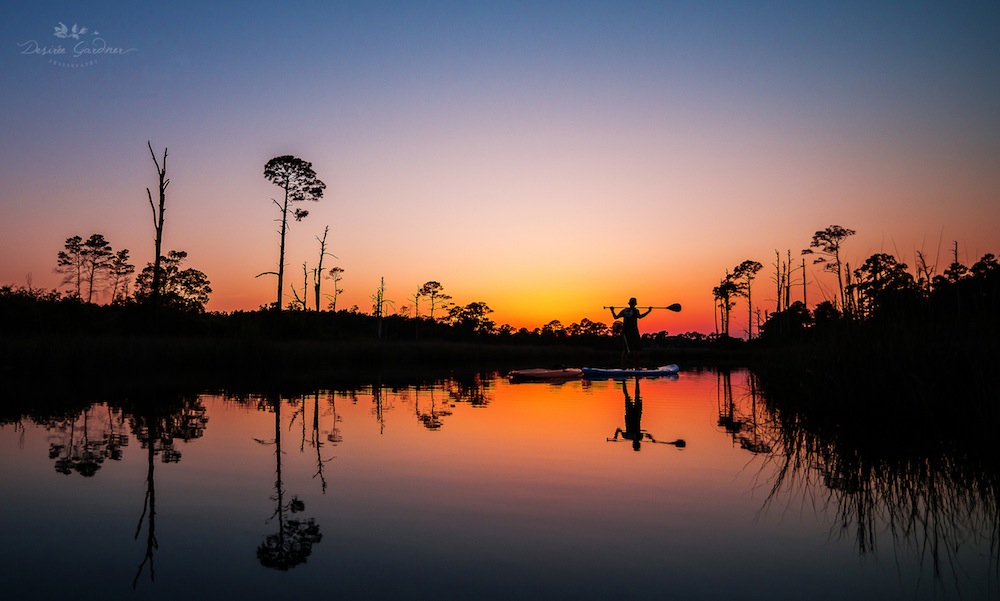 Post-sunset paddling back from exploring Lake Powell. | Desirée Gardner Photography

When not shooting, what do you do in spare time? Shooting is what I do in my free time, too! Honestly, the weddings and the portraits pay the bills (so far!), but shooting landscapes and the adventure photography is what I've been doing for fun. Some little girls wanted to grow up and be teachers, marine biologists, etc… I wanted to be a photographer. I shoot all the time, it's my happy place. I also have a two rescue dogs, and affinity for delicious coffee (black please!), and IPAs.
Any tips for aspiring photographers? Learn how to use your gear, and shoot as much as you possibly can. It's not talent, it's hard work and dedication that yield the best images. Also, find people to collaborate with, people who are just as into what they do as you are into what you do. The creativity and energy bounces around like a ping pong ball, it's really great.
What can we expect to see from you in the near future? I'll be launching a landscapes and outdoor photography website this year, where people can purchase prints and see my commercial outdoor work and the people and companies I've been lucky enough to work with.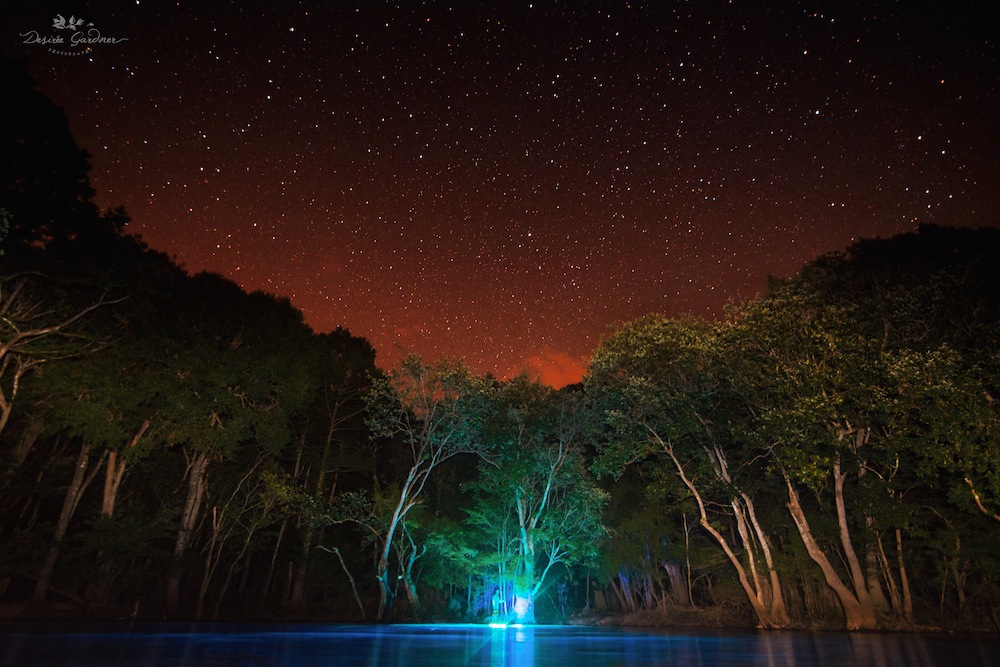 Gabriel with his Nocqua lights at Cypress Springs during a night paddle. | Desirée Gardner Photography
Look out for Desirée's new Landscape and outdoor photography website, coming soon. | Photos: Desirée Gardner Photography.
Anything else you want to add? Mostly I want to just say a special thank you to Gabriel for really opening up this whole new world of adventure photography to me. The majority of my work involves photographing people, so when I met Gabe a couple years ago I was able to consistently combine my love of nature (and nature photography) with my love of capturing people. Not only is he doing some pretty awesome things promoting conservation and bringing awareness to the devastation of our natural waterways, he's just a pretty cool dude. He loves what he does and doesn't waste any time. He is actively living his life, following his passions and dreams… It's admirable, and more people should take note!
For bookings and to learn more about Desirée check out her website. Also, be sure to follow her on her Facebook and Instagram pages for updates and photos from her most recent photo sessions. Check out her current favorite SUP photos that she's taken so far in the gallery below!
Do you want to be a featured photographer on Supconnect? Send us an email with a few photos and show us what you got! 
[ad_2]
Source link