[ad_1]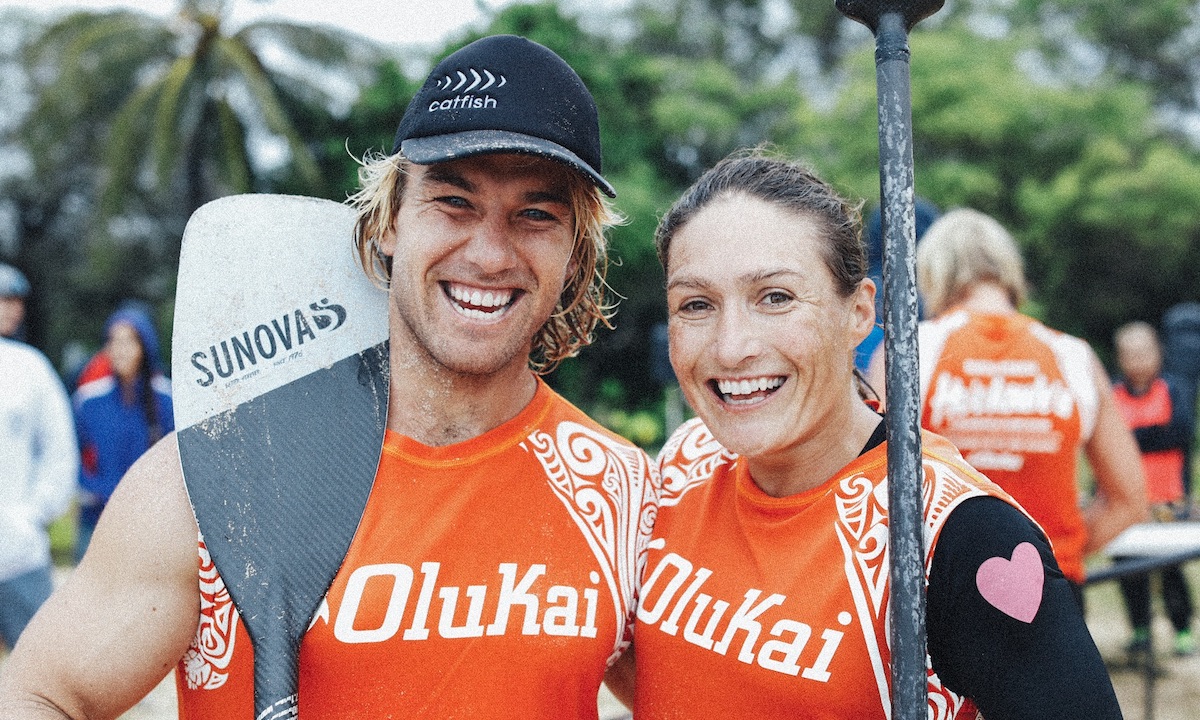 2017 winners of the Olukai Ho'olaule'a SUP race: James Casey and Annabel Anderson. | Photo Courtesy: Olukai
KAHULUI, Maui – The 9th Annual OluKai Ho'olaule'a made event history as Kanaha Beach Park was the start and finish of this prestigious paddling race. Australia's James Casey and New Zealand's Annabel Anderson took home victories in the Elite SUP Divisions. While Hawai'i Island's Kekoa Nolan and Maui's own Lauren Spalding won the Elite OC1 Divisions. The OluKai Ho'olaule'a is typically an 8-mile downwind run from Maliko Gulch to Kanaha Beach Park, but because of extreme weather conditions the downwind run was revised to a course format for the competitor's safety.
The international field of competition was excited to compete on the new race course, creating a new element for veteran competitors like Lauren Spalding who claimed her fourth Women's Elite OC1 victory with a time of 01:10:32.
"It was a little more adventurous because of the weather, but I was excited to try a different course because it's hard when conditions are like this for a race organizer. I mean you're really at the mercy of the weather and they made a really good call," said Spalding. "It was a fun course and it's kind of cool because after you do your first lap you know exactly where you're going and you can see people in the field of competition, and two laps wasn't too bad. Even if it's bad weather it's still so cool to come down and not a lot of races do equal prize money for the [men and women] and I have to take my hat off to OluKai and we are so grateful."
Aerial views of the SUP Elite race. | Photos Courtesy: Olukai
Kekoa Nolan won the Men's Elite OC1 Division with a time of 00:58:23. Right after Nolan crossed the finish line he paddled to Kahului Harbor with his Red Bull Wa'a teammates so they could paddle to Moloka'i from Maui to train for an upcoming race.
In the Elite SUP Divisions the new course produced a pair of new champions in James Casey and Annabel Anderson. Originally, Casey planned to fly out of Maui today, but because the SUP race was rescheduled from Saturday the 25-year-old Australian changed his flight.
"I came from Australia to get here and I actually changed my flight. I was supposed to fly out this morning. I was like, 'I've been here for a week already so I might as well change my flight for one more day.' So I changed my international flight and managed to get down to the start line and I'm stoked that I did," said Casey. "This is my third year. First year, I came in 16th and last year I came in 5th and this year first, it keeps getting better and I'm stoked on that. This year was completely different from the last two years. The last two years was full party wave all the way down, everybody was hooting and hollering. This one was just head down, tail up and paddle your guts out into the wind and get any little bump you can get. I enjoyed and a few of the boys stuck in there and everyone put a really good effort in. The organizers did a great job to get us out in the water."
Annabel Anderson echoed Casey's sentiments on the new course. She won the Women's Elite SUP Division with a time of 00:44:15, and found the race conditions to be similar to home.
"This a standard day of summer's racing in New Zealand this year. We had so many tropical storms and cyclones come down and it was victory at sea. So quite good preparation for OluKai 2017 today," said Anderson. "I came to get some equipment figured out for later in the year, and it just so happened that I had a window of time that coincided with this weekend. I've never been to this race before and I've heard such wonderful things about it and I think we showed the true spirit of why we do things."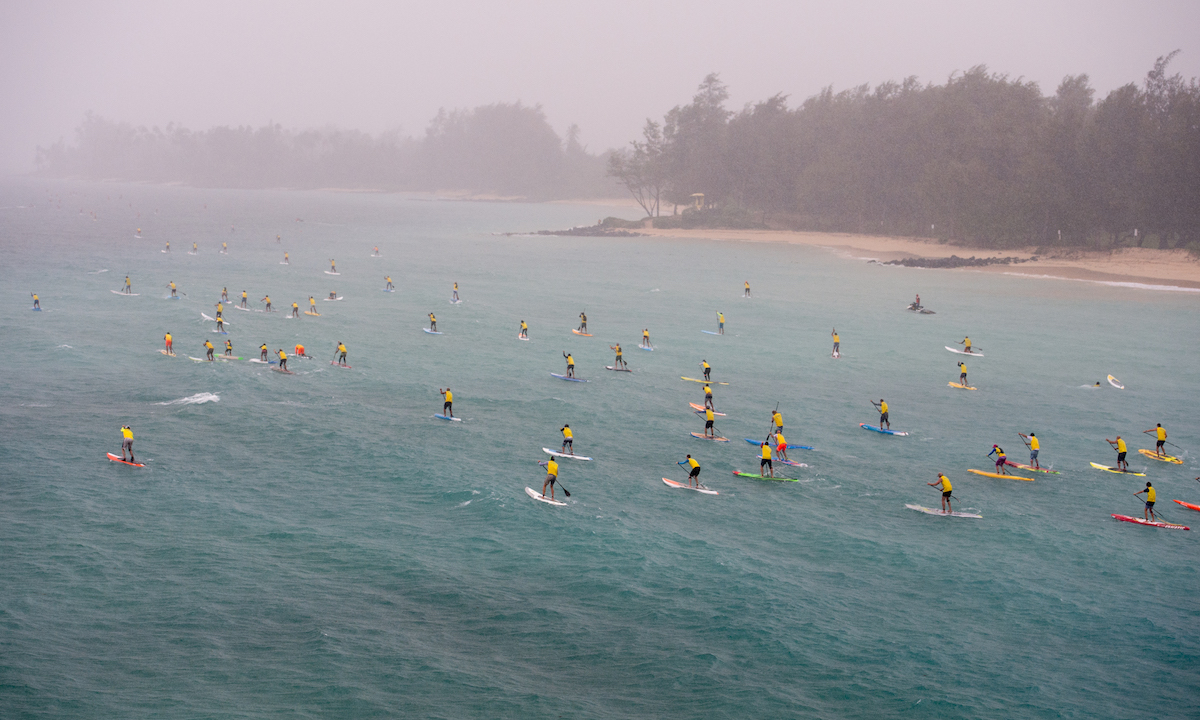 Tough conditions were on hand for paddlers. | Photo courtesy: Olukai
Not only is the 9th Annual OluKai Ho'olaule'a about the competitive spirit of paddling, but it's also a celebration of the iconic Hawaiian spirit of aloha 'āina. This year environmentalist Tiare Lawrence was presented the Edwin "Naleilehua" Lindsay Aloha Award for her diligence in preserving Maui's natural beauty. OluKai also made donations to the Pā'ia Youth & Cultural Center and the Lae Ula O Kai.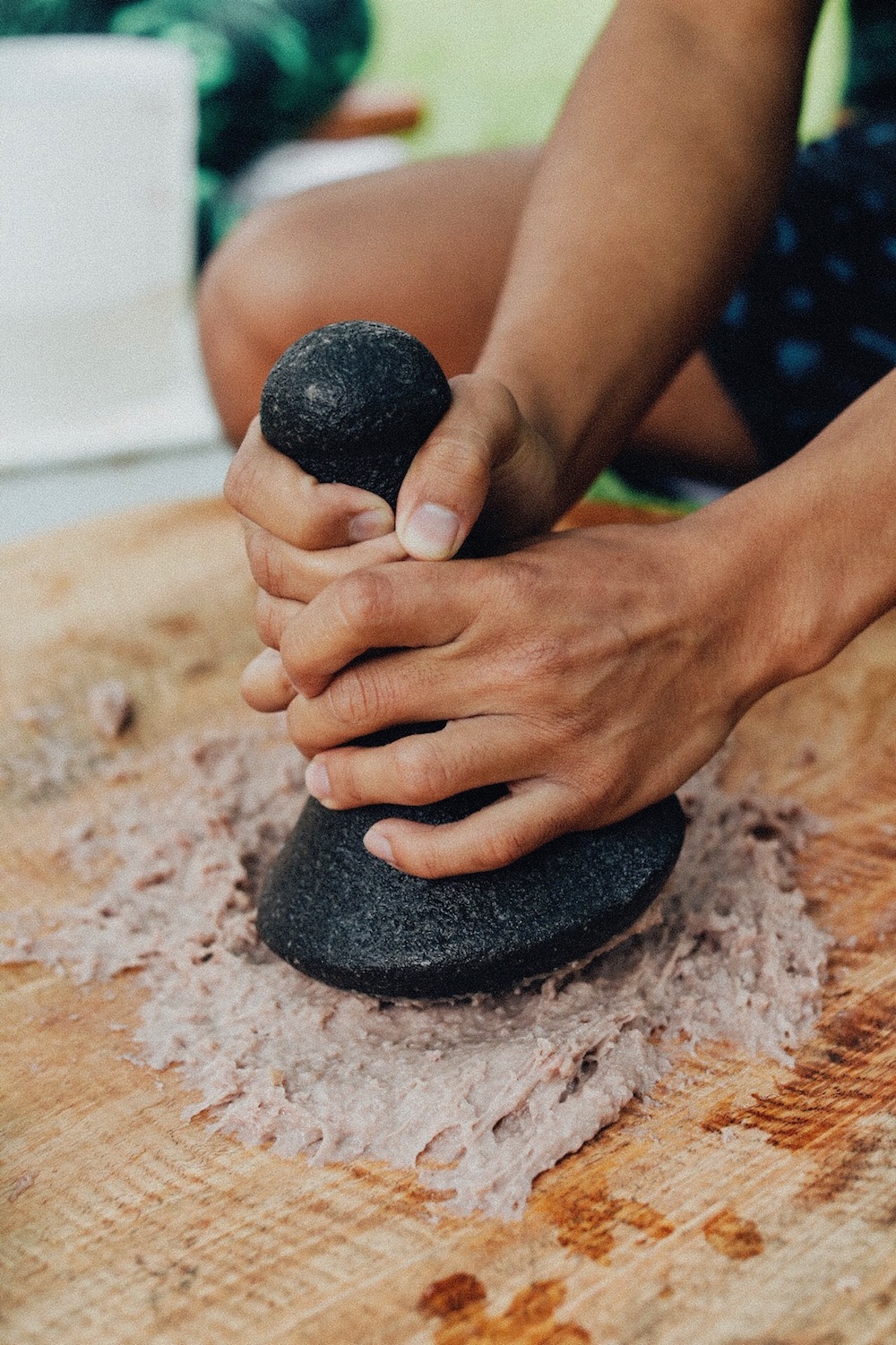 In collaboration with Ama OluKai Foundation, Daniel Anthony and Hui Aloha ʻĀina Momona pounded 350 lbs. of kalo (taro), feeding contestants and spectators fresh pa'i'ai and poi. These starchy super foods are the staple of the traditional Hawaiian diet and perfectly complimented the lū'au at the 9th Annual OluKai Ho'olaule'a.
2017 Olukai Ho'olaule'a Results
Men's SUP Elite
James Casey – 37:13

Danny Ching – 37:49 (404)

Travis Grant – 38:33 (NSP)

Mo Freitas – 39:42 (Focus SUP)

Connor Baxter– 40:34 (Starboard)

Ryan Funk – 41:03
Women's SUP Elite
Annabel Anderson – 44:15

Sonni Hönscheid– 45:13 (Starboard)

Jade Howson – 51:21

Kali'a Alexiou – 52:32

Andrea Moller – 53:41 (SIC Maui)

Erika Benitez – 54:24
Men's OC1 Elite
Kekoa Nolan – 58:20

Patrick Dolan – 58:45

Daniel Chung– 58:46

Danny Ching– 59:59

Kaino Tahoai– 1:01:06

Hititua Taerea – 1:02:49
Women's OC1 Elite
Lauren Spalding – 1:10:32

Leah Ching – 1:13:16

Andrea Moller – 1:13:29

Jane McKee – 1:15:10

Fiona Van Ammers – 1:17:17

Marjorie Kahookele – 1:21:58
OluKai Hoʻolauleʻa will be filmed in HD and broadcast internationally courtesy of OluKai media partner, Ocean Paddler TV. Full race results from the weekend are available here.
For more information visit here or check out @OluKai #OluKaiRace.
About OluKai:
OluKai is a sought after lifestyle brand that believes everyone, no matter where they are, can live Aloha. OluKai products feature thoughtful design elements and handcrafted details inspired by the ocean lifestyle. We are committed to partnering with best-of-class retailers with whom we share an unwavering pursuit of excellence. OluKai's spirit is shared by others through the Ama OluKai Foundation, a 501(c)(3) created to formalize the company's giveback initiatives. Every OluKai sold supports Ama OluKai Foundation's mission in Hawaii. For more information visit www.OluKai.com or #AnywhereAloha.
[ad_2]
Source link