[ad_1]
MAUI, Hawaii – Downwind paddling on a stand up paddle board (SUP) is one of the funnest ways you can choose to ride your SUP. But, downwinders are harder than they look and require certain skills and knowhow in order to have a good time. We've checked in with one of the most decorated downwind paddlers in the world, Maui's Connor Baxter, to get some tips on what you need to know before attempting your first run. Here are his top tips:
1. Choose your run with caution
Be aware of the downwind run that you choose. It doesn't matter where you are in the world, you have to know that particular run. The easiest way to accomplish this is by finding a local from that area to show you around. It is very important to know all the exit points and safety tips involved with that run. If it's possible, I recommend going on a boat to go over the downwind run so you know what to expect.
2. Be prepared
Being prepared is so important! Downwinding is a completely new and different animal as compared with paddling on a lake or in flat water. You have a lot of swell and wind to deal with, which can be difficult at first if you're not used to paddling in those elements.
3. Get the right gear
Picking the right gear is also important! Having the right board and paddle can make a huge difference. Having a downwind specific board will allow you to catch bumps easier, like my favorite board the Starboard Allstar.
Connor during his 7th straight win at the Olukai race on Maui. | Photo: Erik Aeder / Connor on his winning run at the Columbia Gorge Paddle Challenge. | Photo: Gorge-US Photography
4. Be safe
You always need to have safety equipment. Best case scenario is having a safety boat with all the gear, but if not, a camel pack will hold enough supplies. My list for any downwind run is a good coiled leash, water, power bar, cell phone (in waterproof case), $10 to $15 cash, a whistle and a mirror to signal for help in case of emergency, and a pfd.
5. Be hydrated
Be well hydrated before, during and after your run. It's always good to be well hydrated three hours before the downwind run. Then, most importantly, you need to have the right amount of water on you for the time you will be spending on the water. Everyone is different and you have to find how much water works for you. Of course right after finishing, it is smart to get some fresh water into the system.
6. Keep a safe distance
Never go farther out then you would feel comfortable to swim in from. You need to stay in a close enough range to the beach that you will always be able to get back if you lose your board or in case of an emergency.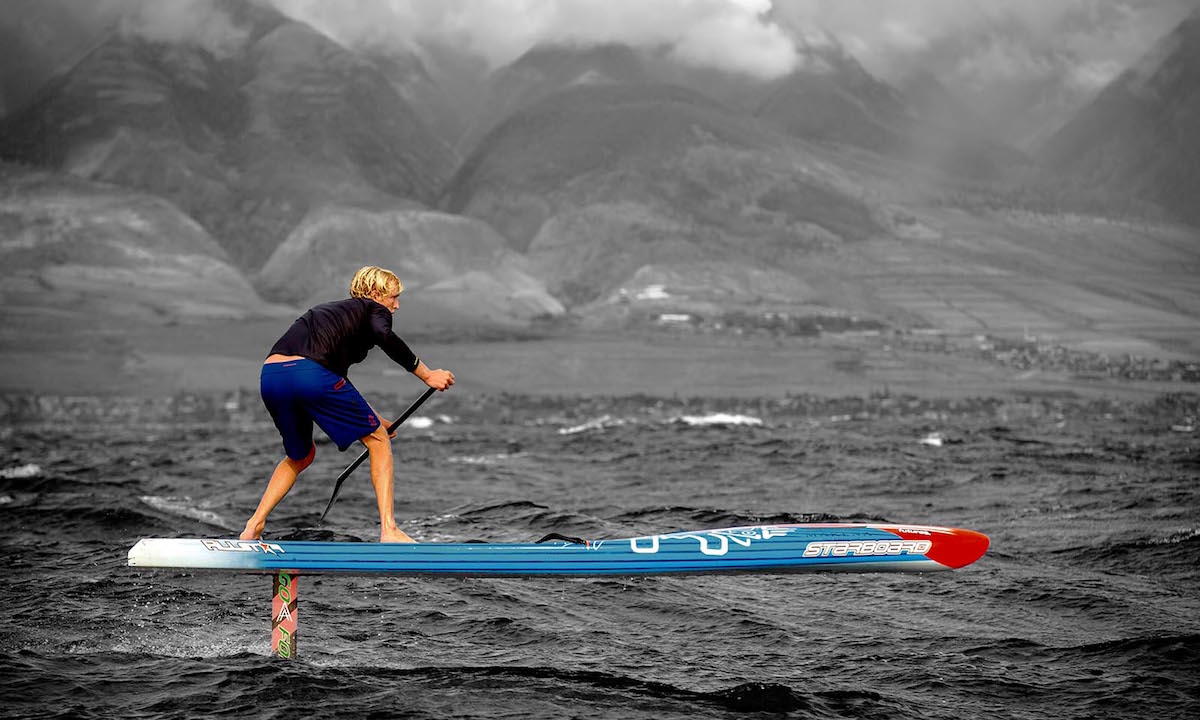 Connor on his favorite downwind board, the Starboard Allstar, with a GoFoil fin attachment. | Photo: Starboard
Downwind paddling can be frustrating at first but it's important to remember to always have fun and never give up!! At first might be hard to catch bumps but don't give up and you will get it!
To see more SUP Tips, click HERE.
© Supconnect.com Exclusive Copyrighted Content
[ad_2]
Source link