[ad_1]
SAN DIEGO, California – We all can appreciate a good photo when we see one and in the Supconnect Photographer Series, we do just that. We connect with exceptional photographers in and out of the stand up paddle boarding world and showcase some of their many fabulous photos. This week, we are stoked to highlight Paul Clark. Paul was raised in Reno, Nevada and now lives in Bend, Oregon. Paul has lived in many of the western states and Europe, mostly as a guide, ski patroller, freelance photographer and regularly calls landscapes of the rivers and mountains of the high desert home.
Paul is an avid stand up paddler and loves the thrill of adventure which is clearly captured in his photos. To get a deeper look into Paul's photography and background in stand up paddling, check out our recent interview with him below.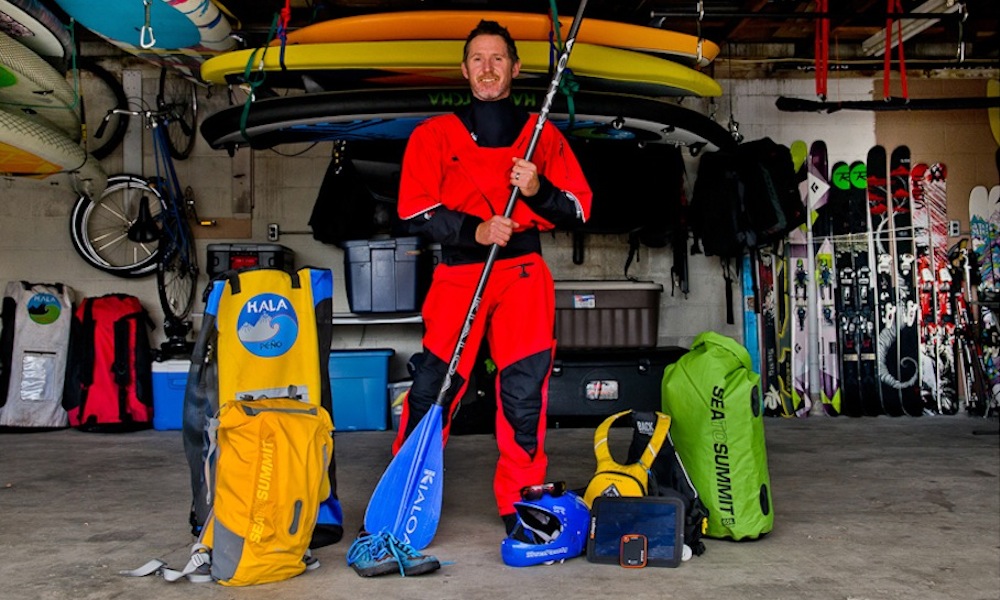 Posing in my super hero costume. | Photo: Paul Clark / Black & Red Photography
How did you get into photography?
I became interested in photography back in college in the '90s. I was a philosophy major and was looking for a way to understand my own visions of the universe when I met this girl who was a fine art photographer. I fell in love both with her and her photography. So, I guess I can say I got into photography because of love for a girl.
What inspired you to start taking photos?
The most inspiring moments for my early photography work where Patagonia catalogues. I was amazed by the places where people were going in those photo spreads, and the lifestyle they represented. I associated with the "dirt-bag" nature of the adventures on rock walls, snow capped mountains, and wilderness water ways. I was inspired to be part of it, and find my own adventures. I attempted to copy the style of Patagonia. Only now can I say I have my own style and voice.
Pictured: (left) Eastern Oregon exploration. (right) Winter touring. | Photos: Paul Clark / Black & Red Photography
Did photography come easy for you or was it something you had to work at?
Photography is hard work for me. It's demanding because it forces me to be both honest and creative. And it is time consuming. Production and post-production takes a lot of time, of course, but it often takes several months for me to process images. I mean, it takes time for the images to "mean something" unique to me. Right after a shoot I will edit some of the shots I liked best from the field. Then I'll sit on them for a while, forgetting about the emotions I had at the time, such as excitement about the moment or frustration I had with lighting or biting bugs or what not. After I forget that stuff, the narrative of the scene is then revealed and has more relevance to a larger audience. Sometimes it takes years for me to sit on an image before I see it's value as narrative. Looking over my library of photos reveals an evolutionary story that is decades in the making.
What came first, taking photos or SUP?
Unlike a lot of other activities I've photographed and participated in, I began paddle boarding before I was interested in shooting it. Most of my SUP related images are of river adventures and expedition paddling that feature me. I often travel alone, so there are a ton of "selfies." My vision of paddle boarding and my personal involvement are one. I can't say that about some extreme sports I have shot, like down-hill mountain biking, rock climbing, or bull riding.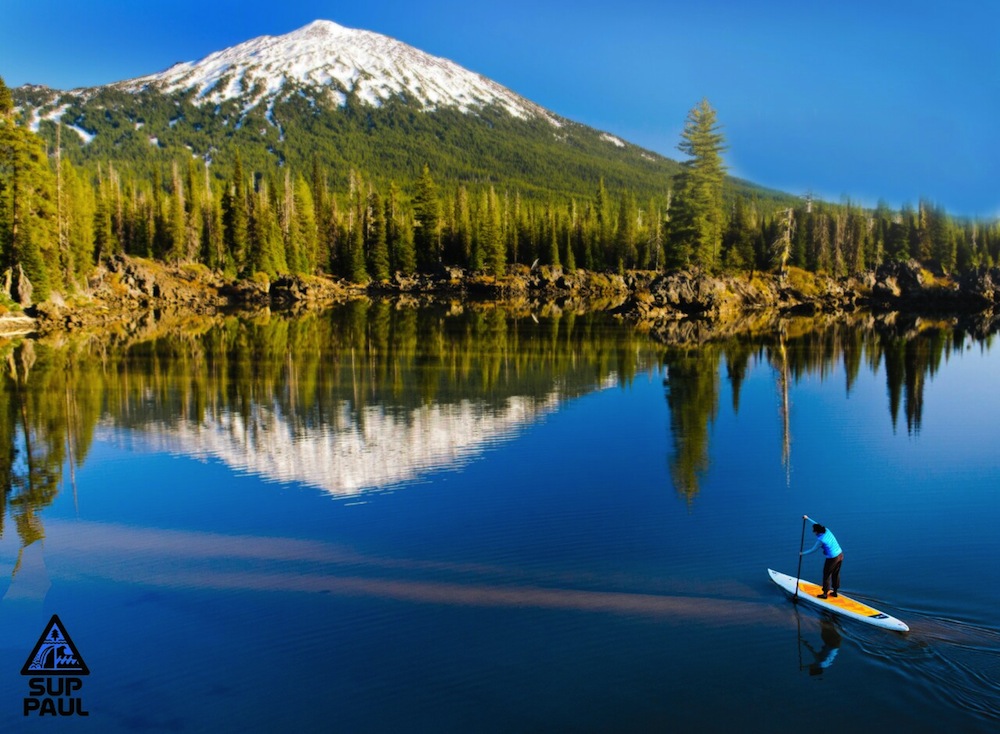 Mt. Bachelor reflection on Sparks Lake, OR | Photo: Paul Clark 
When did you take your first stand up paddle photos and what was the occasion?
I began paddle boarding a few years ago. I thought it was boring as hell. It didn't appeal to me as an activity nor as a visual pleasure. Flatwater and fairweather does little for me. Then, I put a dry bag on a board and saw the potential for more adventurous SUP. I started exploring different places to go with a board, and was taking pictures as a form of documentation. As far as that visual pleasure thing, my library of paddle board images contains a lot of dry suits, long sleeved cloths, and body armor. I think I should start taking more images of bikinis, ha!
You have the nickname of "duffle bag paddle boarder" please explain…
I'm the self-proclaimed duffle bag paddle boarder. Influenced from my background as a pedestrian traveler, I feel alive when moving with a light weight pack loaded with well chosen gear. I have hiked thru the Pacific Crest Trail. I have sea-kayaked the 1000-mile length of Baja's Sea of Cortez coast, twice, both times solo. I love long back country ski tours. Paddle boarding is my way to "take a hike" with a board. Sea to Summit has been very helpful in promoting my vision with this. You will see their brand in a number of my shots.
Pictured: (left) Searching for new rivers. (right) Gearing up for whitewater. | Photos: Paul Clark / Black & Red Photography
Where do you think would be the ideal location to do photo shoots for stand up paddlers?
The ideal location for paddle board photography for me is anywhere people can really express themselves powerfully on a board. The drama of the natural environment and the creativity of the athletes make for the best experiences. This can be a wilderness lake or irrigation canal.
Where has your favorite location been for shooting SUP?
My favorite location to shoot SUP thus far has probably been on the summit of South Sister in the Cascade mountains. We hiked boards 4000ft up the glaciated volcano to paddle in a perfectly blue pool of snow melt. There was both effort and reward on this one.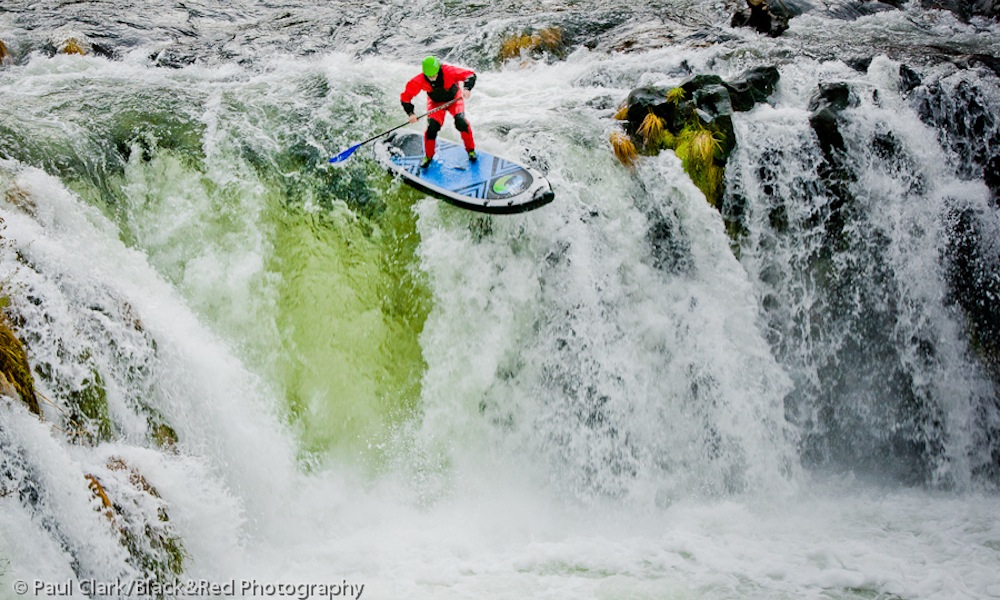 Steelhead Falls, OR | Photos: Paul Clark / Black & Red Photography
What was the most dangerous or most risky photo you have ever taken?
My most dangerous or risky photo ever taken? Hard saying. I'm pretty conservative and risk adverse. However, it's also my motto to do something scary everyday. Paddling off waterfalls, Class IV rivers, or highlining seem to be the things that really get my heart going. Sometimes I see these things and want to photograph other people doing them. Sometimes I see them and want to do them myself, regardless if there is a camera around. Risky activities are one thing. Dangerous things are another. I've been hurt when I let fear take over and still attempt a risky thing. I've also been hurt when I do something only for the shot. I try to do things that are risky but are thought out and performed with experience and calm.
See more Supconnect Photography Features here.
Which of all your photos is your favorite one?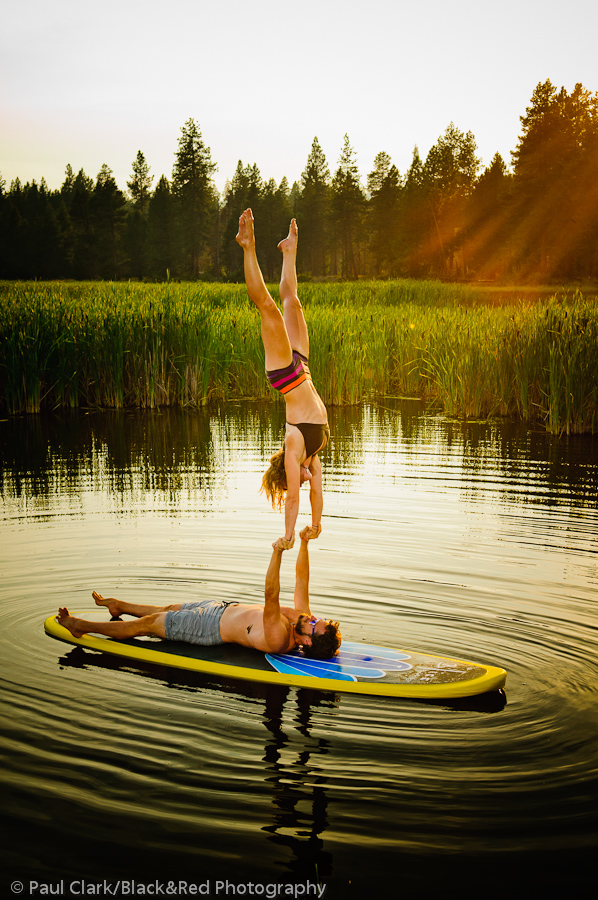 My favorite photo? Goodness, impossible to say. It's probably one that has little commercial interest but is very meaningful to me because of memories associated with it, feelings I was experiencing at the time, and growth that has occurred since. My most successful photo session was a couple years ago when I shot the Yoga Slackers doing SUP acro-yoga. A couple board brands sought me out after that, which propelled my own paddling and reputation.
What's your favorite part about shooting SUP?
My favorite part of photographing SUP is simply being in the field on an adventure. When shooting, there is usually something exciting occurring.
Which do you prefer, SUPing or shooting SUP?
I prefer paddling to shooting SUP. However, I rarely paddle without some sort of documentation.
You say touring is your focus, why do you prefer this over other SUP disciplines?
Touring is my focus. Traveling with multi-day gear is what I identify the most with. To travel on river trips has required me to train in whitewater. I was never enthusiastic about whitewater until running rivers on a paddle board. My skills have gotten better and now I am really enjoying running more and more demanding whitewater. There are some pretty technical rapids near where I live on the Deschutes river. I regularly run laps on these rapids, most often alone. But I am introducing more people to the sport, creating a growing population of whitewater paddle boarders in Central Oregon.
You're a well-traveled paddler it seems, where has been your favorite place to SUP so far?
My favorite place to paddle is where there is nobody else around. Rivers and remote coast promise the solitude I crave. Oregon rivers, Baja, and Panama are locations that have been wonderful to me.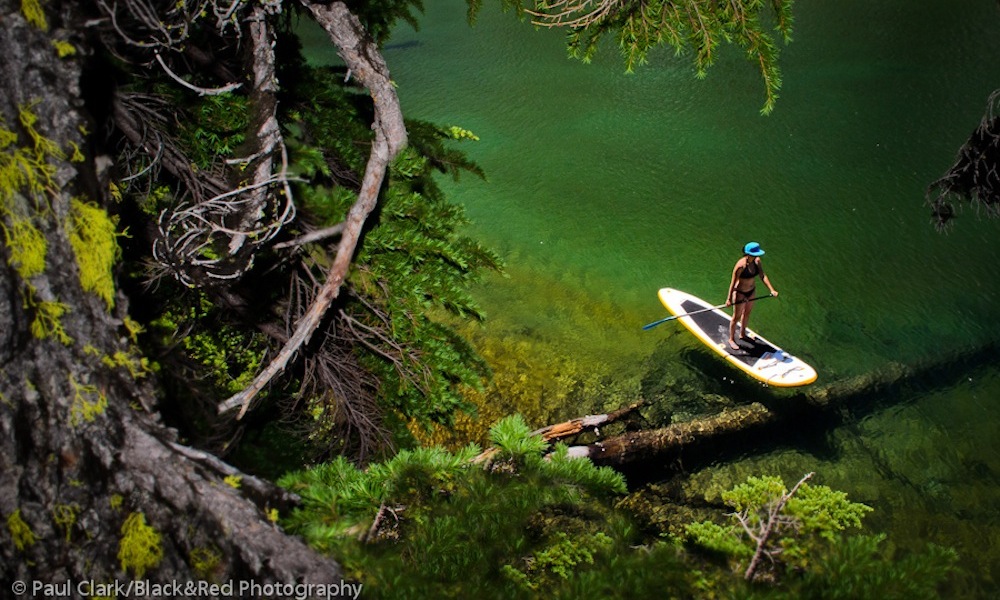 Green Lakes paddle boarding, OR | Photos: Paul Clark / Black & Red Photography
Who have you worked with, and is there anyone in the SUP world that you want to collaborate with in the future?
I have worked with a number of publishers over the years, and my audience is growing. I am a brand ambassador for Hala Gear SUP, Kialoa Paddles, and Astral Designs, which has allowed me to paddle with some pretty amazing people on some exciting projects. More teams and projects in the future. I am in the process of collaborating with a few different video production companies based in Oregon. This will broaden my audience even further and promote adventure paddle boarding.
To see more awesome SUP Photos, click here.
Other than your own, whose photos do you most admire?
Tyler Roemer. Ryan Salm. Corey Rich. These are some of my favorite photographers I have personally known and been inspired by. And the Patagonia catalogue remains an influence after all these years.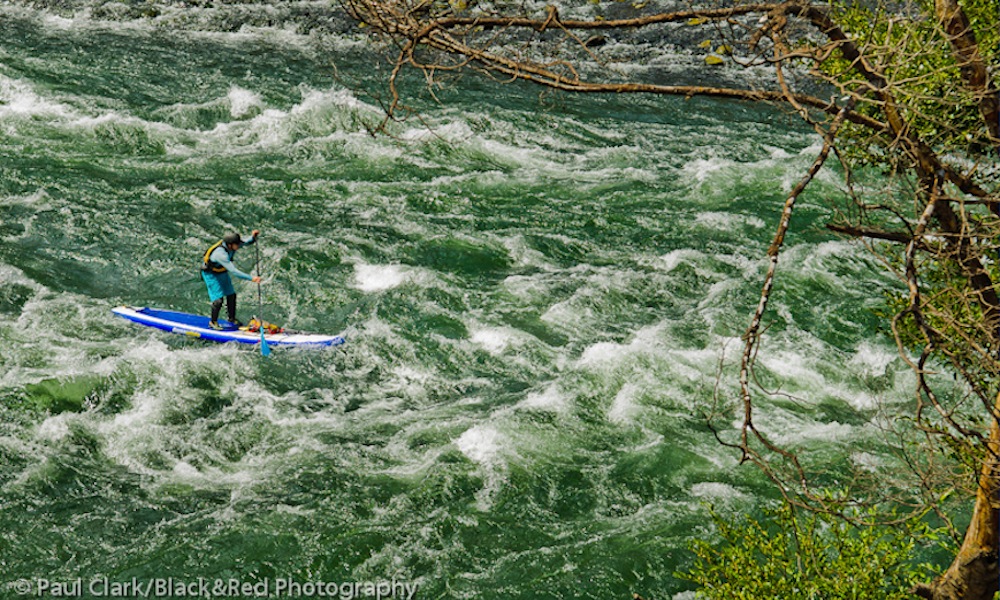 Whitewater touring on the Deschutes River | Photo: Paul Clark / Black & Red Photography
If someone is interested in following in your footsteps, how do you suggest that they go about getting into water sports photography? Please give us an idea as to what it takes to be successful.
My advice to anybody looking to have a career in photography is to really believe in their own self-expression and creative talent. A professional has to be a business person. They have to take relevant business classes as well as technical editing schooling. Even before being a "professional," the photographer should love what they see behind the lens.
What can we expect to see from you in the near future?
In July I will be on a paddle board expedition in Alaska. You will see more and more rivers and remote locations with me and friends and interesting people.
To learn more about Paul and see tons more of his photos, check out his website suppaul.com
© Copyrighted Exclusive SupConnect.com Content.
[ad_2]
Source link